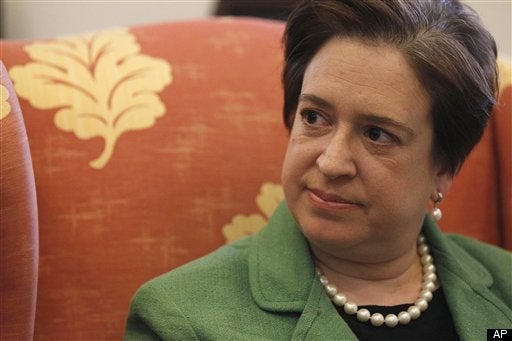 Supreme Court nominee Elena Kagan has released a much-anticipated candidate questionnaire in which she provided detailed information on everything from her past writings to her net worth.
Coming in at 202 pages and with supplemental material to read, the file is a comprehensive microscope of the Solicitor General's legal career. While the Huffington Post will be digging deeper into the material in the days ahead, some early highlights are below. (READ THE FULL QUESTIONNAIRE BELOW)
Kagan delves deeper than previously known into the process by which the president chose her to be his Supreme Court nominee. Noticeably absent in the tick-tock is the name of White House chief of staff Rahm Emanuel (though the likelihood is that he played an important role in advising the president on the decision). Kagan describes the process as such:
I was contacted by Bob Bauer, White House Counsel, and Susan Davies, Deputy White House Counsel, on March 5, 2010, to inform me that the President wished to consider me for a possible Supreme Court vacancy. Between that date and the day of my nomination, I had frequent contact with Mr. Bauer and Ms. Davies. On April 7, 2010, Ron Klain, Chief of Staff to the Vice President, contacted me about meeting with the Vice President. Also that day, I met with David Axelrod, Senior Advisor to the President; Cynthia Hogan, Counsel to the Vice President; and Lisa Brown, Staff Secretary to the President. On April 13, 2010, I met with Ms. Davies and Danielle Gray, an Associate White House Counsel. On April 15, 2010, I met with Amy Sabrin of Skadden Arps, as well as Leslie Abrams, Robyn Carr, and Maya Florence of that firm; Ms. Davies also attended this meeting. I met again with Ms. Sabrin and Ms. Carr on April 28, 2010. I met with Vice President Biden on April 27, 2010, and was interviewed by President Obama on April 30, 2010. I met with Valerie Jarrett on May 6, 2010. President Obama informed me on May 9, 2010 that he wished to nominate me to the Supreme Court. During this period, I also had numerous other communications with the White House staff members listed above, or groups of them, as well as with Daniel Meltzer, Principal Deputy White House Counsel; Julia Kazaks of Skadden Arps; and Attorney General Eric Holder.
The Solicitor General also reveals aspects of her financial worth. She claims $739,783 in "Cash on hand and in banks," $198,532 in "U.S. Government securities," and $824,204 in "Retirement funds" -- for a net worth of $1,762,519.
Kagan confirmed that, if she were confirmed, she would recuse herself from "all matters [before the Court] for which I was counsel of record" -- standard procedure for a nominee.
As for her personal background, a few quirky resume fillers pop out. Kagan was a sports reporter for her college paper, The Daily Princetonian, writing articles like this one on December 6, 1978: "Football goes undefeated over break: Humiliates Penn, 21-0."
Between July and November 1988, she worked as a researcher for the Michael Dukakis for President campaign.
"I was a junior staffer," she wrote, "and do not believe I had an official title. I mostly worked on "defense research" -- i.e., preparing responses to attacks on Governor Dukakis's record."
She also did prep work for Bill Clinton's reelection campaign debates in the fall of 1996.
"I did this work (mostly preparing mock questions and answers) in accordance with the law addressing political activity of White House employees," she wrote.
What stands out most notably about the questionnaire, perhaps, is just how pristine Kagan's career path was. The information is the type of triumphant resume that comes from a star pupil, academic and legal mind that seems eminently qualified for the post of the highest court -- there is remarkably little in the way of curious tics, hobbies or areas of employment. The proof will be in the pudding. There are a host of speeches and articles that Kagan included as attachments. But for the time being, the most interesting characteristic of the file is just how cautious it is.
"An April Fool's article in the Harvard Law Record entitled, "Administration Cuts
Internet in Classrooms" contains made-up quotes attributed to me," she wrote at one point. "Although I did not give these quotes or provide an interview for this article, I am including it as an attachment."
HERE IS THE QUESTIONNAIRE:
Calling all HuffPost superfans!
Sign up for membership to become a founding member and help shape HuffPost's next chapter