In an age of rising populism, fear and xenophobia, what better time to read a rich enlightening book on love, multiculturalism, inspiration and beauty chronicling the life and work of a man who transcends borders and generations.
I believe you can say to the founders of this great nation. "Here I am. A youth. A young tree. Whose roots were plucked from the hills of Lebanon. Yet I am deeply rooted here. And I would be fruitful.
Those timeless words are part of a message penned by Kahlil Gibran (a/k/a Gibran Khalil Gibran) to young Americans of Syrian origin in the inaugural issue of the publication The Syrian World in 1926 and couldn't ring truer almost a century later.
He was a Renaissance man who straddled cultures, lived on several continents, expressed himself in writing (in Arabic and English), illustrated his feelings in art, and became an international celebrity, but whose heart and soul belonged to his Lebanese mountain perch of Bsharri.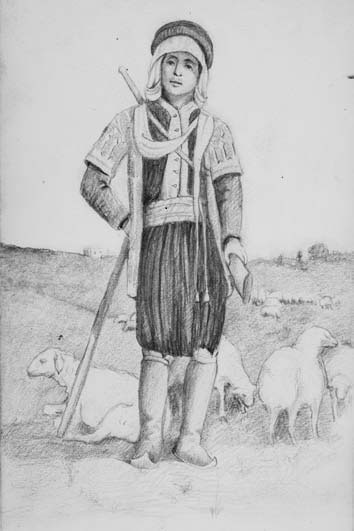 Sketchbook self-portrait of Kahlil Gibran herding
sheep in Lebanon, late 1890s (Courtesy Museo
Soumaya, Fundacion Carlos Slim, Mexico City)
Kahlil Gibran: Beyond Borders is a must-read for anyone who delighted in The Prophet, contemplated The Madman, was transported by The Broken Wings, haunted by Jesus, The Son of Man, and mesmerized by a copious portfolio of art.
"Dear Blanche...I was born...on the sixth day of January in the year 1883...birth, like death is a myth. Yet we are strangely held by myths, even as we are held by words and symbols," he told editor Blanche Knopf of the publishing house by that name.
The 21-chapter, 524-page tome published by Interlink Books is an amazing meal of mezze (nibbling dishes), main courses and desserts served with a generous dose of requisite arak (the anise and grape drink of his native land) to wash down all the delectable ingredients.
The authors Kahlil G. Gibran, Gibran's late cousin, and wife Jean, provide readers with a wealth of information, archival photos, drawings, sketches, paintings, newspaper clippings, copies of publications, notes, references to heritage and immigration, and a fulsome bibliography that would please researchers, scholars, and just plain fans who know of the man's words from books, quotations, and greeting cards.
From a village atop the Qadisha Valley where Gibran was born, to his father's arrest on embezzlement charges when he was eight, to his mother's decision to pack up her children and head for America, to the evolution of his talents and renown, it's a story worthy of an epic Hollywood movie.
Although Gibran received no formal education as a child, he was tutored in Bsharri, a Maronite Christian village.
In the new world he learned English, his second literary language, that eventually opened up vistas in Boston and New York, and acquired some French as he managed in Paris and interacted in a borderless world.
Yet unless the exchange be in love and kindly justice, it will lead some to greed and others to hunger.
It was a struggle adapting to a different culture from his "Oriental" background in today's Lebanon, which was part of greater Syria and under the Ottoman Empire. His inner turbulence and inquisitive mind also put him at odds with religious leaders who questioned his faith.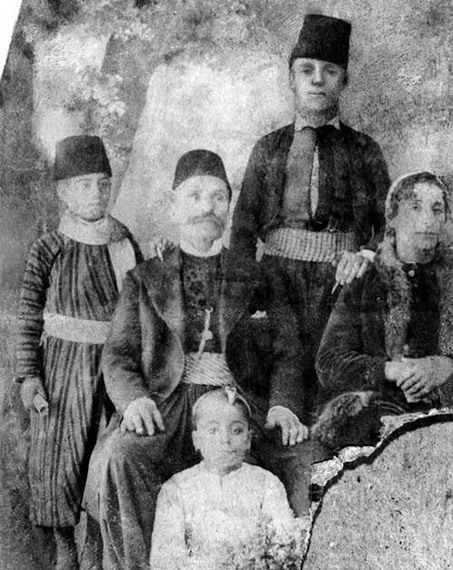 The last portrait of the Gibran family together before their departure
to America in the spring of 1895 (Courtesy Museo Soumaya)
Gibran's work and travels put him in contact with French artist Auguste Rodin, the father of artistic photography Fred Holland Day, Lebanese-American writers Mikhail Naimy and Amin Rihani, and psychologist Carl Jung, to name a few.
His books, articles and musings were published in the immigrant press of the United States as well as by American publishers, and, in the Arab world, including by "Dar Al Hilal" in Egypt, founded by another famous Lebanese writer Jurji Zaidan.
The women in his life - mother Kamila, sisters Sultana and Marianna, friends Mary Haskell, Josephine Peabody, Emilie Michel, Gertrude Barrie, author May Ziade and others - left an indelible mark, as did male mentors and colleagues who channeled his talents and became part of a rich artistic and literary circle.
Gibran's correspondence is another treasure trove recorded in the book and sheds light on his struggles, triumphs, setbacks, and determination to produce.
...Last night I dreamt of Him who gave the Kingdom of heaven to man...if I could only tell you of the sad joy in His Eyes...I sat near Him and talked to Him as if I had always lived with Him.
The hunger of my heart today is greater and deeper than all days...My soul is thirsty for that which is...beautiful. And yet I cannot write nor draw nor read. I can only sit alone in silence...
Gibran died in 1931, following a long illness and his remains were taken back home to his beloved Lebanese mountain to be buried in the Mar Sarkis Monastery. It's also home to the Gibran Museum.
Calling all HuffPost superfans!
Sign up for membership to become a founding member and help shape HuffPost's next chapter