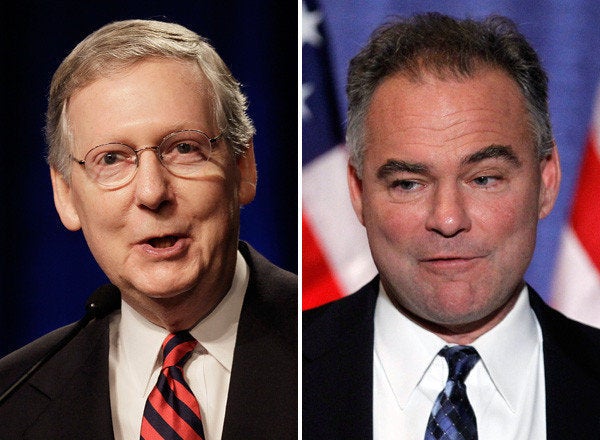 WASHINGTON -- The notion that the results of the 2010 elections could somehow produce an element of political harmony always seemed a bit detached from the realities of governance.
And on Tuesday, the blame game for who soured the post-election environment began (a week before the election actually took place) with Democrats lashing out at Senate Minority Leader Mitch McConnell (R-Ky.) for stating that the "single most important thing we want to achieve is for President Obama to be a one-term president."
"Mitch McConnell's idea of 'achievement' illustrates everything that's wrong with the Republican Party," responded DNC Chairman Tim Kaine. "For Republicans, it's about partisanship over solutions -- obstructing progress to do the bidding of moneyed special interests in the hopes of winning electoral victories. That's not achievement. That's exactly what Americans hate about Washington..."
"Now, the Republican Leader in the Senate - the very man who set his Republican colleagues on a course of politically motivated obstruction even before the President was sworn into office - is promising two more years of politics as usual," Kaine added. "Republicans continue to put their party's interests ahead of solving the important issues facing the country and the American people, and that's just plain wrong."
Kaine's statement came just hours after White House senior adviser David Axelrod issued a (slightly milder) denunciation of his own, calling McConnell's comment "unfortunate for the country." A top Democratic source, however, tells The Huffington Post that Press Secretary Robert Gibbs is likely to whack away at McConnell during Tuesday's briefing.
There were, it should be noted, ample signs of McConnell's posture well before he divulged his desires for a one-term presidency to the National Journal. Back in early August, the senator said that while he was interested in working with the White House following the elections it would have to be done with conservative policies as the base point.
"I'm not going to be very interested in doing things left of center," he said. "It is going to have to be center right. I think the president is a flexible man. I'm hoping he will become a born-again moderate."
Popular in the Community