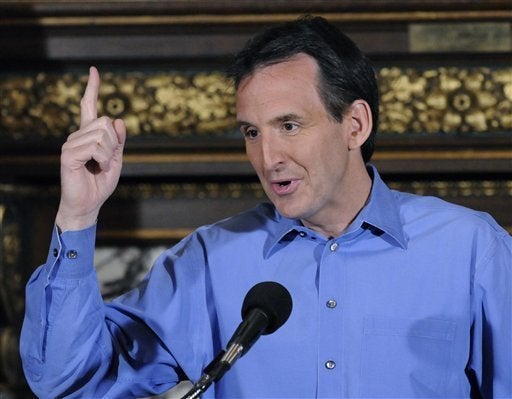 DNC Chairman Tim Kaine penned a letter to Tim Pawlenty on Tuesday, asking the Minnesota Governor to persuade Norm Coleman to concede and, short of that, sign the certification of Al Franken's election once the state's Supreme Court makes its final ruling.
The letter is the latest in a growing effort to ramp up the pressure on the governor - and Republican Party as a whole - to seat Franken, as the Minnesota Senate race drags on more than six months since the actual election. In his note, Kaine claims it is "all but indisputable" that Franken won the election and urges Pawlenty to "use [his] influence to bring this process to an end by asking Norm Coleman to allow his neighbors and yours, their full representation in Congress."
"However," Kaine adds, "if Mr. Coleman refuses to concede and this case is heard and decided by the Minnesota State Supreme Court, I urge you to commit to signing an election certificate for the rightful winner as soon as the Court issues a ruling in this case. To allow this to process to continue into the federal courts for no other reason than to deny for as long as possible the seating of another Democratic Senator would make what has been a bad situation for Minnesotans even worse. I urge you to do everything within your power and influence to bring this process to an end."
The political demands for Pawlenty to intervene in Minnesota's lengthy recount process have, indeed, been mounting. As Kaine notes in his letter, two-thirds of Minnesotans now "believe it's time for [Coleman] to concede." The governor himself, meanwhile, is facing new polls showing that 55 percent of his constituents disapprove of his job performance. And while officials inside the state generally believe these numbers to be a bit overstated, the highest Democrats in Minnesota are in agreement that if the Supreme Court declines Coleman's appeal in the next few weeks, Pawlenty is in a tight bind.
"I would hope and believe that if the Supreme Court orders him to sign the certificate than he will sign it," said Senator Amy Klobuchar, in an interview with the Huffington Post. "He is a lawyer and lawyers usually follow court orders... However, the spin about political pressure is a bit overblown."
Added former Minnesota Senator and presidential candidate Walter Mondale: "If the Supreme Court rules that Franken should be seated... I think he will be under tremendous pressure to respond to what is overwhelmingly the idea of most Minnesotans: that we should have two senators. I don't know what he will do but I suspect he will be under tremendous pressure."
The legal aspects of the Minnesota recount are as intriguing as the politics. Professor David Schultz, of Hamline University argued that if, as expected, the state Supreme Court rules against Coleman, Pawlenty might be duty bound to sign Franken's certificate of election. He points to a March 2009 opinion from the Supreme Courts itself in which it noted that "the plain language of Minn. Stat. § 204C.40, subd. 2, provides that no election certificate can be issued in this Senate race until the state courts have finally decided the election contest pending under chapter 209."
This could be, Schultz adds, Pawlenty's dream scenario: the Supreme Court issuing an order telling him to sign the certificate. "Then, at least, he has the cover from the national Republicans by being able to say, 'Well, I'm under court order to do this.'" On the one hand, he validates Franken's election and angers national Republicans; on the other he declines to sign, waits for Coleman to take the case federal, and angers Minnesotans.
"They are not blaming Pawlenty now," said Professor Kathryn Pearson of the University of Minnesota. "If Pawlenty doesn't sign and Coleman pursues this through the federal courts, however, I think that Pawlenty will end up paying a political price for everyday Minnesotans."
Oral arguments are scheduled for the state Supreme Court on June 1. Most predictions have a decision coming before the July 4th weekend.
Calling all HuffPost superfans!
Sign up for membership to become a founding member and help shape HuffPost's next chapter