Governor Tim Kaine of Virginia woke up this morning to a new reality. He is, as reported by the Washington Post, on the short list to be Sen. Barack Obama's running mate.
Kaine's monthly radio appearance to discuss local issues pre-scheduled for today on WTOP radio in Washington, DC, was cast in different, higher intensity light. Kaine was joined by his colleagues DC Mayor Adrian Fenty and Maryland Governor Martin O'Malley.
It was quite a scene with a catered buffet (which included an omelet station) and a throng of reporters waiting to get an answer to the question of the day: will Kaine be Obama's Vice-Presidential pick?
Listen to the entire audio piece here:
Here are images from the studio:
Immediately following the radio broadcast, we were able to get a few minutes with the Governor and ask a number of questions about his personal reaction to the attention he's receiving and to get his response to Sen. McCain's recent attacks on Sen. Obama's overseas trip.
Kaine on McCain's campaign:
"It's just desperation. They're just looking for a handle to grab on and slow the momentum of this bus down. And, it's a different strategy every couple of days. It really has the air of desperation about it."
Kaine on Vice-Presidential Speculation:
"...I'm not going to make the case for myself because that's not why I've endorsed Senator Obama..."
"And, it still seems unlikely to me, it's nice being mentioned. My Mom likes it, you know, but look, I got on board in February of '07 because I knew the country needed a change in direction and from a good Democratic field-- I thought the field was a good field-- he just struck as the guy who could change the direction of the nation. I'm just so gratified by the way the campaign has been run and the chance we have nationally but also in Virginia."
"It's a little surreal. It's surreal to be mentioned and again it's nice to be considered but I know there's a lot of folks they're looking at-- there's a lot of different skills and attributes that they have to weigh-- personal, geographic, political -- a whole series of things. But, you know, I have grown to have tremendous confidence in Barack's judgment, in the judgment of his team, in very hard moments along the campaign, you know, I've kind of been with him when things were going well and not so well but they've always, in a cool and deliberate way, made a good judgment, and I have no doubt that the pick they make is going to be a strong one."
For more images click here.
All Photos Snapped by Kate Sokolov.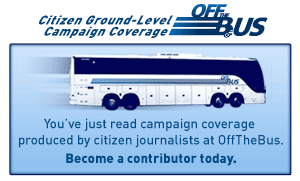 Calling all HuffPost superfans!
Sign up for membership to become a founding member and help shape HuffPost's next chapter