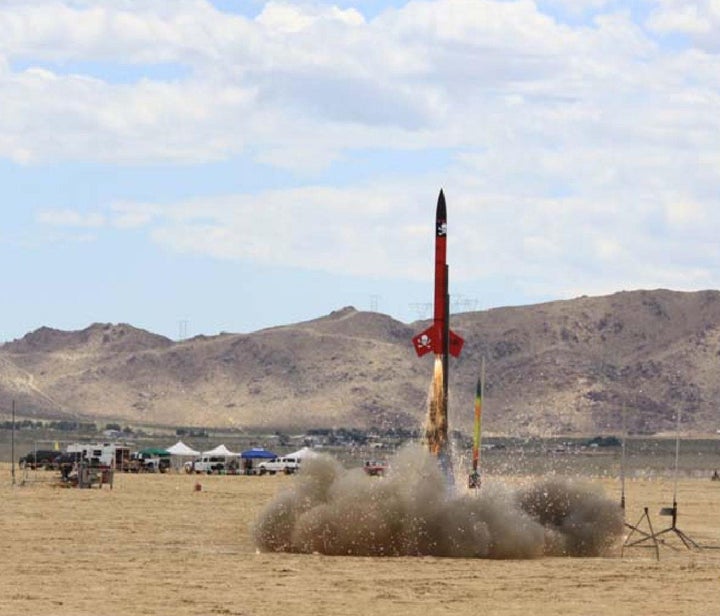 When Kairee Goodin went out to the Mojave Desert back in June 2010 to attend the annual "Large and Dangerous Rocket Ships" festival near Barstow, Calif., she was looking for a fun vacation and lasting memories -- not permanent scars.
Instead, the 21-year-old biotech grad from Seattle, Wash., says she got burned when a high-powered rocket ignited.
As a result of the blast, Goodin claims she suffered first- and second-degree burns to 5 percent of her body, and lacerations to her thighs, legs and buttocks from shrapnel and flying debris.
"She won't wear short dresses or go to the beach any more," Goodin's attorney, Stuart Fraenkel, told The Huffington Post. "It's very upsetting."
The alleged injuries occurred when Goodin's friend Graham Orr drove her by ATV into the middle of an active launch site. Orr, according to Courthouse News Service, is not a party to the complaint.
At one point, Orr went to talk to members of Tripoli-San Diego, a local chapter of Tripoli Rocketry, a national organization that promotes amateur rocketry. The group was preparing to launch a rocket that was 18 feet tall and weighed 300 pounds, modeled after NASA's Delta 2.
According to the complaint filed in San Diego Superior Court, the rocket had five engines capable of producing a combined thrust of 25,000 to 30,000 newtons. Goodin said as she sat on the ATV parked 30 to 40 feet from the rocket, the group members lowered the rocket from its vertical launch position to a more horizontal one, allegedly so it could be placed lower on a launch rod and make a bigger crater during takeoff.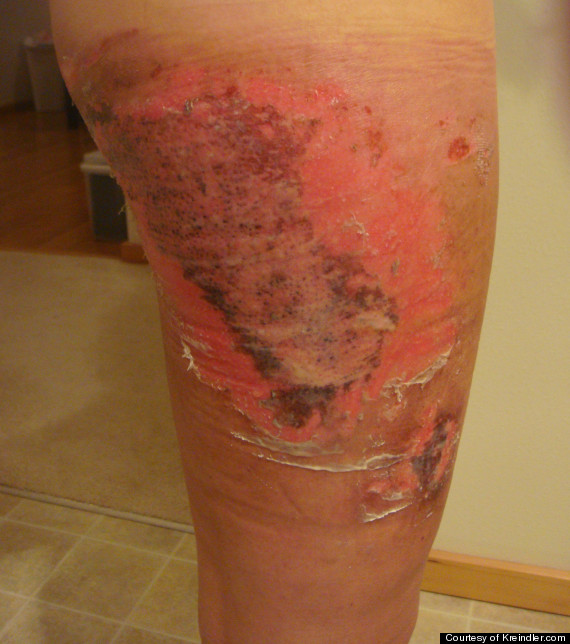 The rocket ignited 20 to 30 seconds later. Goodin said in the complaint that it went horizontally toward her right side. The blast from the heated chemicals mixed with gases and debris caused Goodin to suffer numerous injuries.
According to the complaint, Goodman and several others were taken to a "woefully inadequate first aid station."
Once there, onlookers descended on the scene to gawk and shoot photos as her clothes "were stripped off and/or cut away to assess and treat her burns," leaving her standing humiliated "in nothing but her undergarments," according to the San Diego Reader.
Goodin was eventually taken by helicopter to Arrowhead Regional Medical Center, more than 75 miles away.
Fraenkel, an attorney specializing in aviation law, emphasized that he supports the idea of private rocketry, but criticized the way his client was treated.
"It is appalling to us that you have a group of individuals who literally are playing with dynamite, with no safety precautions, and obviously not playing with a full deck," he said. "Who in their right mind would lower a rocket, point it in the direction of a young woman, knowing that it could explode and ignite?"
Fraenkel said that the only defense that has been offered so far is that his client was standing somewhere she shouldn't have been.
"They saw her before they shot the rocket, so they could have told her the area was restricted," Fraenkel said. "They also could have told her to get out of the way before they pointed the rocket sideways."
The Huffington Post attempted to contact the defendants for comment, but calls were not returned.
Calling all HuffPost superfans!
Sign up for membership to become a founding member and help shape HuffPost's next chapter
BEFORE YOU GO