As a kid growing up in Jersey, Kairi "A.R" Gresham dreamed of playing college basketball and football and received full ride scholarships. Those dreams soon came to an end when he learned that his father had become ill. It was then that he made the ultimate decision to walk away from a full ride scholarship and decided to stay home to assist his mother in caring for his father.
Even though he had decided to not take the full ride scholarship he was still motivated to continue with his education. Gresham attended one of the top technical institutions in the U.S. In order to attend you had to have a high IQ. My parents believed in me and knew that I would be something significant, said Gresham.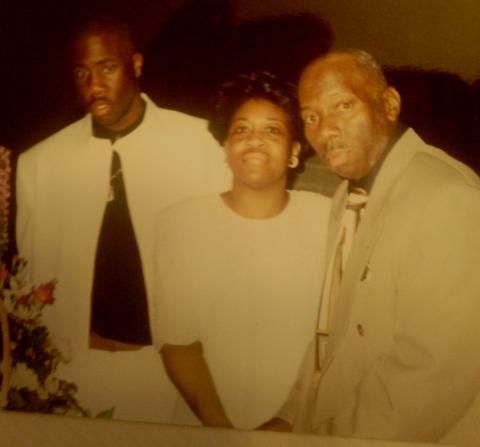 Kairi "A.R" Gresham pictured here with his parents

He later found his passion in the entertainment industry and became an artist. As an artist he had the opportunity to connect with individuals in marketing which became his new found interest. "I got attracted to marketing and it never left me,"said Gresham.
Over the past 16 years he has successfully operated an entertainment marketing company and he, along with his company is responsible for the ownership of about $54 MILLION of commercial real estate properties in Atlanta, GA, an International Headphones company, a Tequila company, a new Mega Radio and TV network company, and several other businesses.
His headquarters building at 160 Trinity Avenue, SW Atlanta 30303 registers at 75,500 total sq. feet, business under one roof is an understatement for Gresham. He is also CEO of the entertainment mega house company OffDaBloc co. that has open up enormous doors for a lot of industry elites.
Now in 2015, he has been voted in worldwide as the INTERNATIONAL CORPORATE MANAGER of the E.I.U.M.T (ENTERTAINMENT INDUSTRY UNITY MOVEMENT TEAM) and his turn-around of net profits for businesses are just staggering to say the least. Still growing to more massive clientele, this brilliant entrepreneur will one day be considered one of the best there ever was, and if destiny has its way, we are soon to see proprietary concepts never seen before from this future mogul.
Gresham spearheaded the ROCK THE VOTE Campaign that helped Barack Obama get into office; It was his attractive resume that captured the attention of Robby Wells, who is seeking to become the next President of the United States.
Robby Wells recently took the Liberty to come to Atlanta and gave Gresham the opportunity to be his National Campaign Manager. Gresham soon learned that he had made history by becoming the first African American male to ever hold the position as National Campaign Manager for a presidential candidate.
"This experience has been very challenging, fulfilling , demanding, and hopeful,"said Gresham. His goal is to be a better leader and philanthropist while offering educational programs and summer camps for young men.
REAL LIFE. REAL NEWS. REAL VOICES.
Help us tell more of the stories that matter from voices that too often remain unheard.