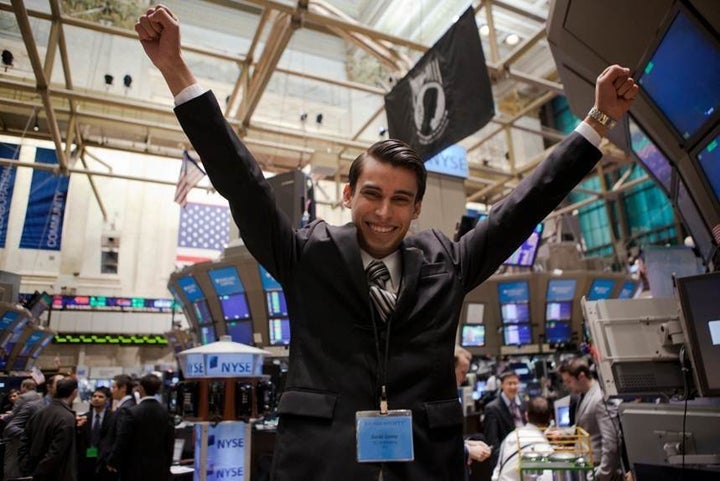 NEW YORK -- Some of the world's most business-savvy college students flocked to Wall Street last Saturday to pitch startups they dreamt up in their college dorm rooms to top executives and political leaders.
The Kairos Society, a networking group for student entrepreneurs, organized the expo, which took place on the floor of the New York Stock Exchange, and was part of a two-day summit of 350 students from the U.S., China, India and countries around the world.
The world's largest stock exchange served as a fitting backdrop for Saturday's event, given that the global financial crisis and its aftermath have inspired a new, socially-conscious breed of student startup founders.
In the aftermath of the financial crisis, students have seen former classmates lose their jobs or fail to find employment after graduation. "The new reality of the job market has forced a whole generation to redefine what a stable job is," reports the New York Times. Despite the fact that roughly half of all new ventures fail in their first five years, starting a business and entering today's workforce can seem equally risky.
To be fair, Kairos fellows hail from the world's most prestigious universities. Many come from wealthy, well-connected families, and would be shoe-ins for entry-level corporate jobs. But they've turned to entrepreneurship because they want to change the world now and make big money while doing it.
One such entrepreneur, owner of one of the 50 student businesses presenting on the NYSE floor, sells products that purify water in impoverished villages. Another sells portable solar panels to farmers. Another Kairos Fellow develops an iPhone application that universities can use to let students look up information such as class schedules, events and maps. (In 2009, Blackboard acquired the iPhone app, called MobileEdu, for $4 million.)
A total of 300 entrepreneurs presented at Saturday's expo to representatives from the NYSE, the White House and the U.S. Chamber of Commerce.
The founder of the Kairos Society, 21-year-old Ankur Jain, is the son of Naveen Jain, the CEO and co-founder of Intelius and a former program manager for Microsoft. A self-made billionaire, the elder Jain now sits on the boards of various innovation-focused foundations and think tanks. Serving as a co-chairman at the X Prize Foundation, he aims to find "entrepreneurial solutions to address the global challenges in education, poverty, agriculture, health, and clean water," according to the foundation's website.
In some ways, early entrepreneurs are taking cues from older generations of self-made billionaires who, after accumulating wealth, merge business pursuits with philanthropy.
The Economist's Matthew Bishop, who gave a speech to the Kairos fellows at the United Nations on Friday, calls this new entrepreneurial approach "philanthrocapitalism." And Atlantic columnist Chrystia Freeland notes its growing popularity amongst today's new global elite. She writes:
"[Today's plutocrats] tend to bestow their fortunes in much the same way they made them: entrepreneurially. Rather than merely donate to worthy charities or endow existing institutions...they are using their wealth to test new ways to solve big problems."
The night before Kairos's expo at the NYSE, the fellows attended a dinner at the estate of another wealthy businessman turned philanthropist: John D. Rockefeller. There, his great grandson, Mark Rockefeller, who's started several small companies himself, spoke about how the goal of entrepreneurship isn't to just create wealth -- it's also to improve society.
Yet, unlike Rockefeller and most modern billionaire do-gooders, the Kairos fellows -- and the new wave of young social entrepreneurs -- want to address humanity's greatest challenges from the get-go. Rather than waiting until they're successful enough to give back, they're embedding social impact into their companies' business models.
The Neverware Juicebox a100 is a server appliance that, when connected to a school's network, allows all of the school's old desktop computers to run Windows 7 at high speeds. This saves the school's money and the environment. Neverware is currently a resident of Dogpatch Labs in New York and is working with a number of organizations to bring fast desktop computing to the schools, organizations, and developing countries that would benefit greatly from this technology.

BPG Motors
Four years ago, when BPG founder Benjamin Gulak traveled to China with his father on business he saw the incredible pollution produced by smoky two-stroke scooters and motorcycles. He knew that electrics would make ideal substitutes - but only if they were cool. So he put college plans on hold and set out to create a practical, non-polluting vehicle with style.

Working with an old set of tools inherited from his grandfather, he built an angle- iron frame, with wheelchair motors, batteries and gyroscopes, and the first Uno was born.

Since then, the BPG Uno has accelerated at an incredible rate, winning second place Grand Award at the Intel International Science and Engineering Fair and being named the one of the Top 10 Inventions of the year by Popular Science. Ben and BPG Motors have since appeared in newspapers and magazines around world.

Solé Bicycle Co.
Solé Bicycle Co. is the maker of hand-made, well-built gear bicycles. Made largely from recycled parts, our products are efficient, adventurous and fun to ride -- supporting a healthy lifestyle, and planet. Solé Bicycles are available online and sold throughout a number retailers in Southern California expanding soon to NY, Boston and SF. We have been featured on Gilt.com and JackThreads, selling quickly out of stock and winning the founders a number of awards and recognition in Entrepreneur Magazine (where they were named among the Top Five College Entrepreneurs of the Year) and Inc. (which named them Newpreneur of the Year.)

ThinkLite
ThinkLite is an efficiency firm that provides energy efficient lighting solutions to businesses and households at no upfront costs. ThinkLite uses advanced technologies to measure energy consumed by lighting; and provides turnkey solutions: audits, analysis, products, installation, warranties, and guaranteed energy savings that reduce monthly lighting costs by up to 90%. In exchange for the services, ThinkLite receives a percentage of the guaranteed monthly savings realized by the customer.

TreeHeir
Tree Heir is a social marketplace that allows individuals to offset their emissions by planting carbon absorbing saplings. Our innovative approach connects donors to their adopted plants by tagging trees with personalized messages allowing for greater understanding of the process and connection to the cause and using behavioral dynamics to maximize participation and engagement.

Related
Popular in the Community