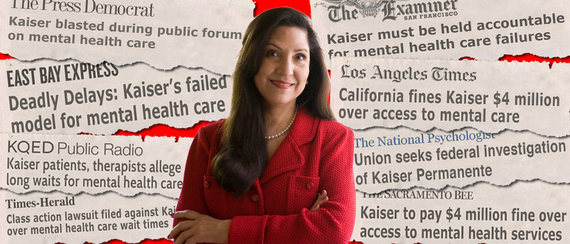 Kaiser Permanente's 2,500 California mental health clinicians are calling for the resignation of Kaiser board member Cynthia Telles and vowing to strike if Kaiser does not immediately fix the problems plaguing its psychiatric services.
As the only member of the Kaiser Permanente Board of Directors with a background in mental health, Telles, a psychologist, is Kaiser's designated leader and spokesperson for mental health issues. Indeed, she was appointed, with great fanfare, for that very purpose in 2003 and is paid $200,000 a year to fill that role. But Telles hasn't used her high profile or her expertise on behalf of Kaiser mental health patients. For four years, she has failed to even acknowledge much less resolve a crisis in Kaiser's psychiatric services that is nearly identical to the scandal that engulfed the Veterans Affairs Administration earlier this year.
In 2013, state regulators fined Kaiser $4 million for its systemic understaffing of psychologists, therapists, and social workers, which forces patients in dire need of psychiatric services to wait weeks, even months for appointments. These ongoing delays in care, which far exceed the legal limit of ten days, have sometimes led to tragic outcomes, even suicides.
Why the understaffing? Why would Kaiser, the state's largest nonprofit health provider and a self-proclaimed model of integrated care, deliberately short change its mental health patients?
The problem isn't funding. "Nonprofit" Kaiser's 2014 profits are on pace to double last year's record haul of $2.1 billion, and the corporation has raked in more than $14.5 billion since 2009.
The problem is a lack of leadership. Telles and Kaiser's other top executives have buried their heads in the sand and refused to heed the warnings of their mental health clinicians. They have failed to address concerns expressed through the chain of command, through the collective bargaining process, and in the media, and they have fought the California Department of Managed Health Care's efforts to hold the HMO accountable.
Mental health professionals have a code of ethics that includes an essential and hallowed principle: to serve others above self-interest and to promote ethical practices on the part of the organizations with which they are affiliated. This is the guiding principle behind the decision by Kaiser's mental health clinicians to strike if Kaiser does not agree to much-needed reforms in bargaining sessions scheduled for early December.
As a psychologist, Telles is bound by this same ethical code to protect the interests of a highly vulnerable population seeking care from Kaiser. But Telles has utterly failed to live up to that obligation. Telles refused to meet with her mental health peers working inside Kaiser clinics when they first sounded the alarm. She did not speak up when Kaiser patients took their own lives. She did not speak up when lawsuits were filed. She did not speak up when journalists took up the story. She did not speak up when the reputation of Kaiser's psychiatric services plummeted. She did not reply to scores of signed letters written by Kaiser clinicians, imploring her to intervene and correct these problems.
Telles' only communiqué on Kaiser's mental health care crisis was a reply to a letter from three Kaiser psychologists who implored her to take action. In her response, Telles, despite ample evidence to the contrary, dismissed the psychologists' concerns as "bargaining tactics" and offered merely to forward their letter to the same regional managers who have ignored their concerns for years. Elsewhere Kaiser made it clear that any future attempts to communicate with Telles should be directed to Kaiser's attorneys.
This is the state of Kaiser Permanente mental health services: leaders hiding in the corporate bunker, hoping the crisis will just go away. Unwilling to take action or to admit mistakes, Cynthia Telles and the rest of Kaiser's executives have hunkered down and lawyered up.
This hypocrisy has lost Telles the faith and confidence of Kaiser mental health clinicians. We call on Cynthia Telles to resign in hopes that Kaiser will replace her with a true advocate for its psychiatric patients.
Click here to read the letter Kaiser's mental health clinicians sent to Cynthia Telles urging her to step down.
Click here to read clinicians' report on Kaiser's ongoing violations.
Sal Rosselli is president of the National Union of Healthcare Workers (NUHW), a member-led movement for democracy, quality patient care, and a stronger voice in the workplace. NUHW represents more than 10,000 workers throughout California, including 2,500 Kaiser psychologists, therapists, and social workers. NUHW.org.
Calling all HuffPost superfans!
Sign up for membership to become a founding member and help shape HuffPost's next chapter