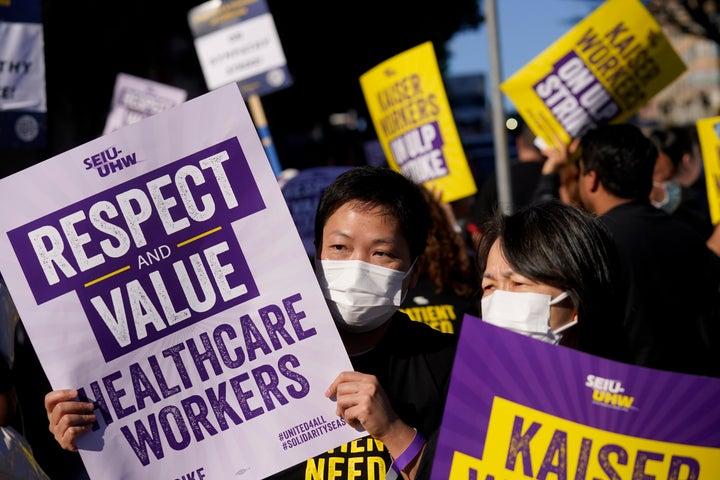 LOS ANGELES (AP) — Tens of thousands of Kaiser Permanente workers took to picket lines in multiple states on Wednesday, launching a massive strike that the company warned could cause delays at its hospitals and clinics that serve nearly 13 million Americans.
The Coalition of Kaiser Permanente Unions, representing about 85,000 of the health system's employees nationally, approved a strike for three days in California, Colorado, Oregon and Washington, and for one day in Virginia and Washington, D.C. Some 75,000 people were expected to participate in the pickets.
"Kaiser has not been bargaining with us in good faith and so it's pushing us to come out here and strike," said Jacquelyn Duley, a radiologic technologist among the hundreds of picketers at Kaiser Permanente Orange County - Irvine Medical Center. "We want to be inside just taking care of our patients."
The Oakland, California-based nonprofit company said its 39 hospitals, including emergency rooms, will remain open. Doctors are not participating, and Kaiser said it was bringing in thousands of temporary workers to fill the gaps. Still, appointments and non-urgent procedures could be pushed back.
Early Wednesday, workers at Kaiser Permanente Los Angeles Medical Center cheered as the strike deadline arrived. The strikers include licensed vocational nurses, home health aides and ultrasound sonographers, as well as technicians in the radiology, X-ray, surgical, pharmacy and emergency departments.
Brittany Everidge, a ward clerk transcriber in the medical center's maternal child health department, was among those on the picket line. She said that because of staffing shortages, pregnant people in active labor can be stuck waiting for hours to be checked in. Other times, too few transcribers can lead to delays in creating and updating charts for new babies.
"We don't ever want to be in a situation where the nurses have to do our job," she said.
Across Virginia and Washington, D.C., only 180 workers were eligible to strike, according to Local 2 Secretary-Treasurer Sarah Levesque. The picketers had to travel miles across the region to meet up, so rather than commuting long distances for three days, they instead chose to participate in a one-day strike and converged in Springfield, Va., on Wednesday.
Patients like Carlos Herrera, 65, walked by picketers in Los Angeles.
Herrera, who was there for a kidney test, said there were few people inside urgent care and his 10:40 a.m. appointment was on time. He said he supports the strikers because they need more people to combat staffing shortages to treat patients like him.
At least 453,000 workers have participated in 312 strikes in the U.S. this year, according to Johnnie Kallas, a Ph.D. candidate and the project director of Cornell University's Labor Action Tracker. That figure includes Kaiser workers.
He said the strike will likely hurt Kaiser's reputation and its narrative of patient care more than its bottom line.
"I do think there's a deep connection between what health care workers had to go through on the front lines of a global pandemic," he said, adding the feeling now is "they really deserve a lot more in terms of pay, staffing, workplace health and safety."
The health care industry alone has been hit by several strikes this year as it confronts burnout from heavy workloads — problems that were exacerbated greatly by the COVID-19 pandemic.
Unions representing Kaiser workers in August asked for a $25 hourly minimum wage, as well as increases of 7% each year in the first two years and 6.25% each year in the two years afterward.
Union members say understaffing is boosting the hospital system's profits but hurting patients, and executives have been bargaining in bad faith during negotiations.
Tonya Harris, who was on the picket line in Irvine, about 40 miles (64 kilometers) south of Los Angeles in Orange County, said medical assistants like her are often asked to double up with doctors — each of whom has up to 20 patients — instead of working one-to-one.
"You're running around and you're trying to basically keep up with the flow," she said, wearing her strike captain vest over her scrubs.
The single mother with two kids going into college said she also can't afford to live in Orange County on her current pay.
Kaiser has proposed minimum hourly wages of between $21 and $23 next year depending on the location.
Since 2022, the hospital system has hired 51,000 workers and has plans to add 10,000 more people by the end of the month.
Kaiser Permanente's operating revenue climbed 7% in this year's second quarter to more than $25 billion. The health care giant said in August that strong investment income helped it turn a $2.1 billion profit for the quarter, swinging from a $1.3 billion loss a year earlier. However, the company said it was still contending with inflation and labor shortages.
Kaiser executive Michelle Gaskill-Hames said the company's practices, compensation and retention are better than its competitors, even as the entire sector faces the same challenges.
"Our focus, for the dollars that we bring in, are to keep them invested in value-based care," said Gaskill-Hames, president of Kaiser Foundation Health Plan and Hospitals of Southern California and Hawaii.
She added that Kaiser only faces 7% turnover compared to the industry standard of 21%, despite the effects of the pandemic.
"I think coming out of the pandemic, health care workers have been completely burned out," she said. "The trauma that was felt caring for so many COVID patients, and patients that died, was just difficult."
The workers' last contract was negotiated in 2019, before the pandemic.
Hospitals generally have struggled in recent years with high labor costs, staffing shortages and rising levels of uncompensated care, according to Rick Gundling, a senior vice president with the Healthcare Financial Management Association, a nonprofit that works with health care finance executives.
Most of their revenue is fixed, coming from government-funded programs such as Medicare and Medicaid, Gundling noted. He said that means revenue growth is "only possible by increasing volumes, which is difficult even under the best of circumstances."
Associated Press writers Eugene Garcia in Irvine, California, and Tom Murphy in Indianapolis contributed to this report.
Support HuffPost
The Stakes Have Never Been Higher
Popular in the Community