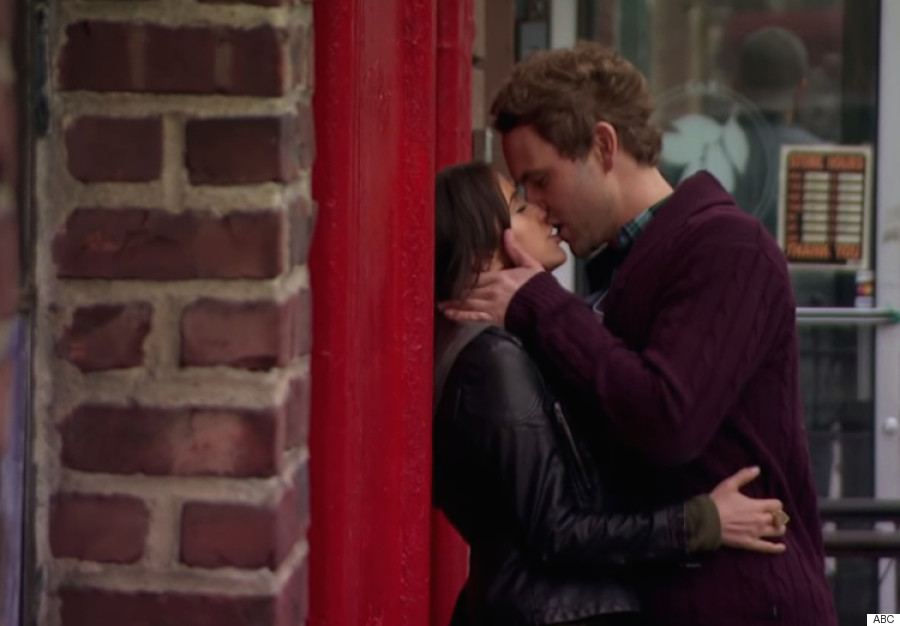 Kaitlyn Bristowe changed the "Bachelor" game this week after having sex with a suitor before the fantasy suite dates, and admitting to it -- gasp! The "Bachelorette" star got freaky "intimate" with contestant Nick Viall on Monday night's episode following a romantic, and steamy, one-on-one date in Dublin, Ireland. "Nick makes me feel like a woman, a desired woman," she said in her confessional.
Yes, there was a lot of whiskey involved and, yes, making out was much more important to them than small talk, but who are we to judge how Kaitlyn goes about finding "the one"? Sex is a part of any romantic relationship, and believe it or not, she's not the only "Bachelor" or "Bachelorette" star to do the nasty on live TV -- ummm, Ben and Courtney's skinny-dipping sesh, anyone?!
"It makes me SO angry that there is such a double standard in this world when it comes to men and women having sex," former "Bachelorette" star Ali Fedotowsky wrote on her blog following this week's episode. "I can assure you that Kaitlyn is NOT the first person to have sex with someone on the show. In fact, I would argue that 95% of the Bachelors and Bachelorette[s] DO have sex on the show. Sure, Kaitlyn did it before the infamous fantasy suite, but does that really matter? I've heard Mike Fleiss (the creator of the show) say that one of the Bachelors had sex with something like 6 of his 25 women!!! I'm not going to say who that Bachelor is, but people didn't slut shame him. So stop judging Kaitlyn for following her heart annnnnnd her vagina ;)."
"Everything happens for a reason," Kaitlyn told The Huffington Post in a sit-down interview on Wednesday. "Maybe this happened to me and now we can speak out about it and other Bachelors or Bachelorettes can come forward and we can address the issue. I like that people have my back, especially people like Ali," she added.
"Obviously, I'm a real person, so yes, I feel guilty after something like that because there are other people involved," she told HuffPost. "I don't know what people are mad at -- whether it's the act of sex in a relationship or if it's like the other guys' feelings -- but at the same time, I'm like, well, I'm dating all of them, so?"
Frontrunner Shawn Booth, whom Kaitlyn had an automatic connection with, seems to be the one who is most concerned about her clear bond with Nick, and her relationships with some of the other men, as well. As the owner of the first impression rose, Shawn seems to have this idea implanted in his head that Kaitlyn is his girlfriend, and only his girlfriend. (It could also have something to do with the fact that she apparently told him he was "it" and "the one" in an off-camera moment.)
"Do you not know what we have? It's insane ... I f--king love the girl," Shawn told a crew member during a behind-the-scenes conversation on the most recent episode.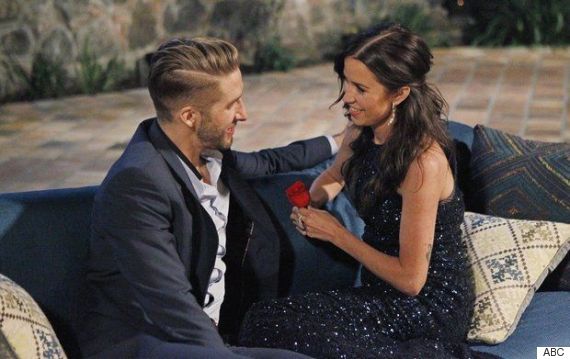 But although Kaitlyn has confessed that she's falling for Shawn, she's still the Bachelorette, which means she still has to date other men until the end of the season. (C'mon, Shawn, you know this, right?!)
"I think I somewhat understand where he's coming from just because it's been so strong between us since the get-go," she explained. "How do you deal with that when it feels like it's so right? But I also, at the same time, was like, 'Oooh, how do I explain this?' I can't even wrap my head around it so I don't expect the guys to, especially Shawn."
Something else she can't seem to wrap her head around is being on a reality TV show. At times, Kaitlyn forgets she's on camera, admitting in a confessional during her date with Nick this week: "I forget there's cameras. I forget there's people involved in this. It's just him and me. I'm ready to just be like, 'Hey, you want to go back to my suite and whatever happens, happens?'" And what happened was a lot of kissing, a lot of touching and a lot of behind-closed-doors dirty talk, that was, of course, recorded without them knowing because THIS. IS. A. DATING. SHOW.
When asked if she and Nick's microphones were on when they went into her bedroom, Kaitlyn paused before saying, "I'm always aware that the mics could be on. We didn't have mics on, but I'm aware that the door is shut and that there's a mic somewhere. So, it's hard."
So yeah, Kaitlyn's goal wasn't for you to hear her sensual moans on Monday night, but hey, secret mics are sneaky bitches, amirite?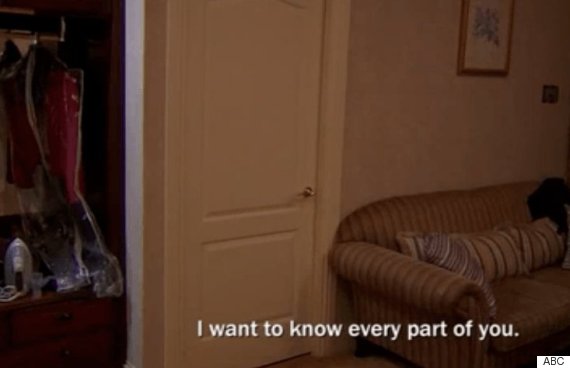 Let's get to the question on everyone's mind, though: Do the guys find out about Kaitlyn's "intimate" night with Nick? "That you will have to watch for," she told HuffPost. But, to be honest, she's sick and tired of talking about it. On Tuesday night in New York City, Kaitlyn met up with former "Bachelorette" star Andi Dorfman, who coincidentally also slept with Nick -- the runner-up on her season -- and was called out on national television after she chose Josh Murray instead of him. "If you weren't in love with me, I don't know why you made love with me," Nick told Andi during the "After the Final Rose" special last year. She didn't take that comment well, so it's no surprise that Kaitlyn didn't mention her own sexual escapades with Nick on their recent dinner date with fellow former "Bachelor" contestant, Sharleen Joynt.
"I don't think [Andi and Nick] speak, but I'm friends with Andi and Sharleen and we just kind of separate our friendships from what happened," she told HuffPost. "We didn't talk about Nick [the other night] because I didn't want to. I was like, can we just have a normal dinner?"
Speaking of normal, can we just have a NORMAL rose ceremony this season? Anyone else over the start-of-the-episode elimination rather than the standard end-of-the-episode one?
"It's throwing me off too," Kaitlyn insisted. "I'm like, 'No! Another cliffhanger? Dammit!' I think there's just so much buildup on so many of these episodes that the beginning of the episode rose ceremony just kind of works."
And the buildup is brewing as the final few episodes of "The Bachelorette" approach. J.J. Lane and Joe Bailey are headed on that dreaded two-on-one date, Kaitlyn and Shawn finally have that discussion and Jared Haibon will slowly steal that frontrunner title -- as Shawn and Nick continue to whine and mooooaaann in Ireland. (Got to hand it to Jared: guy knows how to keep his eye on the prize and away from the drama.)
"Tony [Harris] and Ian [Thomson] tweet about it sometimes being like, 'Yeah, I would be a great Bachelor' ... so I just find it hilarious," she told HuffPost of the least-liked men of the season, while letting out her signature booming laugh. "Oh, they'll learn quickly it won't happen."
"The Bachelorette" airs Mondays at 8 p.m. EST on ABC.
Calling all HuffPost superfans!
Sign up for membership to become a founding member and help shape HuffPost's next chapter