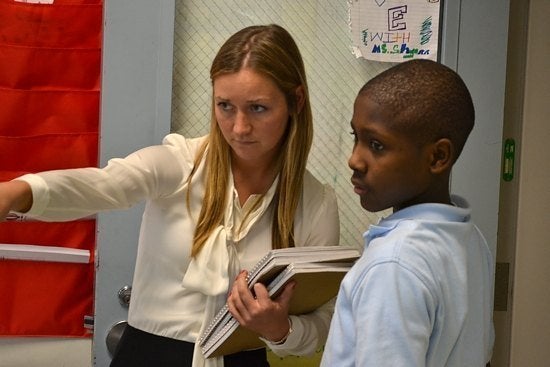 A year and a half after students welcomed the Teach For America recruit with a flash flood in her classroom, Kaitlyn Shorrock is emerging as a model teacher -- and weighing whether to continue her job at one of the city's most challenging schools.
Shorrock, who's 24, is one 30 TFA corps members in New Haven's public schools. Since the fall of 2010, the California native has been teaching middle-school science at Wexler/Grant School in Dixwell.
As the school goes through a "turnaround" focused on improving school climate, she has served as a standard-bearer to other teachers in her demanding-but-friendly classroom management style.
After putting in hours of class prep work on nights and weekends for 18 months, the energetic teacher is finding herself at a crossroads. Come June, she will complete her two-year commitment with TFA, a leading national not-for-profit focused on luring talented young people into urban classrooms and narrowing the racial achievement gap.
TFA takes recruits like Shorrock straight from college or graduate school. In lieu of a standard teaching certification, they attend a five-week summer TFA training course to prepare for the classroom—then take classes during the school year to earn their Connecticut certification. They commit to teaching for two years; they have access to one-one-one coaching and teaching support during that time.
Principal Sabrina Breland said of all the TFA recruits she has come across, Shorrock is "one of the best I've ever seen."
Shorrock "is a great role model, especially for the young teachers," said Breland.
When middle school teachers are struggling in managing student behavior, Breland said, she sends them to Shorrock "to look at how she's doing things."
As her two years wind down, Shorrock said, she hasn't decided whether to stay on with the students she's learned to love—or head back to California to her family.
Young teachers like Shorrock have been enlisted in New Haven's school reform drive, which calls for overhauling low-performing schools into turnarounds, where principals have the power to replace veteran staff. The city's long-running partnership with TFA, which began in 2006, is now targeting vacancies at turnarounds, where young teachers can infuse new energy into long-failing schools.
Shorrock's story highlights one drawback: These bright, hardworking teachers often pack their bags after two years.
Her voyage to Wexler-Grant began in the spring of 2010, when she was a senior at the University of California Santa Barbara. The environmental science major had already racked up some experience as an educator at a campus aquarium. She led field trips for students in grades K through 12, and rose to become head aquarist.
In the spring, as California's economy suffered, she sent out a flurry of applications to a variety of jobs across the country—including SeaWorld and TFA.
When she got a call back from TFA, she started studying the nation's achievement gap. She decided that "this is what I need to do." She'd be "doing the same thing" as at SeaWorld, "but making a difference in a field where they need us."
As she ranked her most-preferred regions, Shorrock included Connecticut because it has a good aquarium (where she now volunteers). She graduated from college in mid-June. Within six days, flew to New Haven for induction into TFA.
She got hired by Breland, who had just taken over as principal of Wexler/Grant, a K-8 school serving 400 kids at 55 Foote St. Shorrock landed a job teaching science in the fifth to eighth grades.
After five weeks of training, she walked in the door of Wexler/Grant in the fall of 2010 as a brand new teacher. She quickly learned what she was up against.
One eighth-grade class informed her their last science teacher, also a TFA corps member, didn't survive one year. "How long are you going to stay?" the kids asked her.
It was a tough class. Shorrock admitted feeling "frightened, intimidated." During the first week, one kid pretended to trip in the science lab and pulled the cord to the safety shower, sending buckets of "brown, copper water" onto the floor.
"It just poured out," she recalled. An alarm started blaring. Within a couple of minutes, the room was flooded two inches deep.
Shorrock recalled watching, stunned, as her students darted out into the hallway in search of dry land.
"You can't let them see you cry," Shorrock recalled telling herself.
She took off her shoes, which were ruined in the flood, walked barefoot into the library, and taught her next class.
Shorrock laughed as she recounted the story in her classroom Thursday at the end of the school day. Then she wiped away a couple of tears.
"It's funny now," she said.
She recalled how she and her students -- some of whom had been without a clear sense of structure the year prior—developed a working relationship.
When she first met the students, she said, they would squirm at the mention of any writing assignment, especially in science class.
"Kids would lay prostrate on the table" instead of putting pen to paper, she said.
One student arrived at her classroom with severe anger management problems. He had just been transferred to a foster home, and he would rarely show up in class. He got in trouble with the law for breaking into cars. When he would get worked up, he would come close to her and taunt, "Are you going to hit me?"
One day, when the student wasn't participating in the lesson, Shorrock asked him to draw his answer instead of writing it. She discovered he was "an incredible artist." Letting him draw proved to be one key to unlocking his inner scholar.
The student made great progress over the year, Shorrock said. At the beginning, she was afraid to be in a classroom with him, even with 15 other students there. She now teaches the student as an eighth-grader. When he comes into her classroom for extra help, she said, they have a good rapport. He now raises his hand instead of blurting out an answer. And he is "writing more than one word before he freaks out."
Like the rest of the teachers at the school, Shorrock had to re-apply for her job in the spring of 2011. Based on years of low test scores and a climate survey that says many kids didn't feel safe at school, Wexler/Grant was tapped as a turnaround school as part of a citywide reform effort. Principal Breland got to pick which teachers could stay; those who weren't chosen were guaranteed jobs at other district schools.
Shorrock called the process "nerve-wracking." She arrived at her interview with data showing how her kids had improved. TFA offers training, as well as mentors throughout the year, to help teachers respond to student data.
Shorrock aced the interview and got to keep her job. One out of every two teachers at the school wasn't so lucky. She stayed on to take part in an attempted transformation, joined by eight new teachers, only three of whom had prior teaching experience.
Shorrock now serVes as a model to some of the newer teachers as they take on the first year as a turnaround school.
A visit to her seventh grade classroom Thursday showed her juggling many tasks with ease—addressing various students' needs while running a fast-paced lesson, where every moment is timed and planned with hands-on tasks.
The class has "a lot of emotional needs, mental disorders and behavioral needs," she said. Seventh-graders are split into two levels based on their math ability. With this class, the lower of the two, she said, "It's gotta be tactile or they're going to lose it."
The lesson for the day—written up on the whiteboard, copied down by students—was how to identify different types of joints in the body. She started by illustrating how joints move. Students learned vocab from a "Brain Pop" video, writing down definitions from what they heard. Then they sorted joints on squares of paper into three categories: hinge, pivot, and ball-and-socket joint.
Shorrock uses a kitchen timer to time activities. When she's not timing, she counts down to make sure expectations are clear. She said that's something she picked up in her first year. When she started, she once made the mistake of giving students 20 minutes to finish a poster, then realized no one was even close to finished. Now she divvies up the day into short, manageable pieces, with as much hands-on work as possible.
She uses three small, soft balls to catch kids' attention when she's asking them questions. She discovered the trick one day last year. She took out an earth ball in her difficult eighth-grade class. She found out that kids who weren't interested in participating would perk up when she threw a ball towards them.
She used that technique Thursday to drill students on vocabulary they had just learned about bones.
During the activities, Shorrock kept a keen eye on students who were struggling for various reasons.
One girl entered class in tears and put her head on the desk. Shorrock handed her some tissues and got her warmed up with modified instructions: "Draw three types of joints."
Another kid —- who "throws desks" when he's angry —- showed up in a bad mood. Shorrock had him start by drawing instead of writing, too. By the end of the class, he was standing up with his peers, shaking his limbs in a Simon Says-type vocab review.
Another kid kept chatting to whoever was next to him. She moved him to a new desk without missing a beat.
She grinned during a demonstration about ball-and-socket joints, showing kids "how I'm going to dance at the [school] dance tonight." At the same time, she remained a strict disciplinarian.
In a down moment, she popped out into the hall to straighten out a handful of kids who were banging on the lockers.
"I expect more of you," she told them in a stern voice. They quickly fell into line.
She ends each class with an "exit slip." Kids have to demonstrate they've learned the goal for the class. On Thursday, that meant labeling types of joints on a piece of paper.
"What's due tomorrow?" she asked.
"Packets," came the choral response, referring to a collection of four days' worth of homework.
"That's music to my ears," she said.
CHALLENGE: CONTROL THE CLASSROOM
Classroom management was one of the biggest struggles after the district started hiring TFA teachers in 2006, said Imma Canelli, assistant superintendent of curriculum and instruction. The district hired 42 brand new TFA teachers that year, she said.
"We were getting people who couldn't control a classroom, and who couldn't get certified. It was like a nightmare," Canelli recalled. Those who failed their alternate route to certification had to leave the district.
Canelli said TFA has put a strong focus on classroom management, which has made a difference. "The majority are good teachers, with good classroom management and are doing well," she said.
The district has an annual contract with TFA. It pays TFA $2,500 per "corps member," the term for TFA teachers in their first or second year. The money goes towards "the cost of recruitment, selection, pre-service training, on-going professional development for the full two years, and the alternative certification program," according to TFA spokeswoman Danielle Montoya.
Canelli said as the district has shrunk its workforce over the years, there are fewer vacancies. Most vacancies occur at turnaround schools, because principals have the power to send teachers to other schools if they're not a good fit, usually replacing at least half of the staff.
Wexler/Grant has two second-year TFA teachers and one in her first year. The fourth locally sanctioned turnaround school, Katherine Brennan, didn't hire any. Hill Central Music Academy, which overhauled its staff through a federal turnaround program in 2010, landed one star TFA recruit.
She said most TFA rookies teach grades K-6, while others have been helpful in filling openings in science and English.
One big question hangs over the recruits: whether they will stay on past their two-year commitment.
Shorrock said she hasn't made up her mind.
On one hand, she feels "a moral obligation, a possessive nature" towards her students' education. She wants to ensure "that the rigor stays high."
"The next teacher could be so much better than me," she said, "but I don't like the idea of not knowing what could come next" for her students. She said she's grown attached to her pupils.
"I don't come to school scared like I did last year," she said. "I love teaching these kids."
On the other hand, Shorrock said, "my entire family is in California."
The decision, she said, will come down to "if I can see myself without my family."
Shorrock said she has discussed her prospects with Katie Williams, another star TFA recruit in her second year at Wexler/Grant.
The duo concluded that "no matter where the course of our lives takes us, we will stay in education."
Canelli, who's overseen the collaboration with TFA since 2006, said TFA teachers have been a great asset to the district.
"Our only complaint," she said, is that they don't stick around. She's noticed that far more TFA teachers drop out after two years compared to their traditionally certified peers.
"The problem is with the TFA is that not a lot of them stay in the field of education. They go to law school, med school, policy. They don't always stay in teaching. You get them for two years and then they make a decision."
A 2010 study by researchers at UConn and the Harvard Graduate School of Education found that 61 percent of TFA members kept teaching more than two years. The number dropped quickly from there—only 50 percent stayed on after 2.66 years.
In Connecticut, 150 of the 400 TFA alumni—those who've completed their two-year commitment—remain in the teaching profession, according to TFA's Montoya.
There are 60 TFA corps members in New Haven—28 at Achievement First charter schools and the rest at city-run public schools, according to Montoya. Another 85 TFA alums teach in New Haven schools, including Achievement First.
New Haven Public Schools hired 12 new TFA recruits in 2009-10, 18 in 2010-11, and 16 in 2011-12.
Canelli was asked if two years of teaching worth it for the district, especially since many teachers hit their stride in their third or subsequent years.
"if you asked me that five years ago, I would have said no," Canelli responded. "But I wouldn't say that now," because TFA has improved the quality of its recruits.
Even if they end up leaving, "I do think two years of a good teacher is definitely worth it," Canelli said—because of the energy the recruits bring, because of how hard they work, and because of their skills in planning curricula and making decisions based on data.
Back at Wexler/Grant, Principal Breland is crossing her fingers that Shorrock will stay.
"If she stayed, it would be wonderful for us, for the students and the families," said Breland. "But we also understand that this is something she's exploring."
Shorrock said if she doesn't stay on, "what I learned at Wexler/Grant will be pivotal" to her career in education. "I can't imagine learning more."