There will be no criminal charges filed against the two St. Louis police officers who shot and killed Kajieme Powell, St. Louis Circuit Attorney Jennifer M. Joyce announced on Tuesday, November 3.
After reviewing forensic, video, 911, police dispatch and witness evidence, and contracting with an outside firm to conduct a 3-D spatial analysis of the shooting, prosecutors "determined a criminal violation against either officer could not be proven beyond a reasonable doubt," as Joyce stated in a 40-page report.
This conclusion rests on their finding that Powell was wielding a knife as he walked towards the two police officers outside Six Star Market on the 8700 block of Riverview Boulevard in the early afternoon of August 19, 2014.
Both police officers and some witnesses testified that Powell had a knife, and prosecutors found that a video of the incident shows Powell at one point pulling a knife out of his pocket, which some have disputed.
Police claimed to recover a knife from Powell, described as "nine inch-long, wood-handled and metal-bladed" in the report. Photographs of a knife are included in the report. One picture has a crime scene tag next to it, but the picture is framed too tight to establish it conclusively as the scene.
The St. Louis Metropolitan Police Department claims its crime lab swabbed the knife and found it to have Powell's DNA.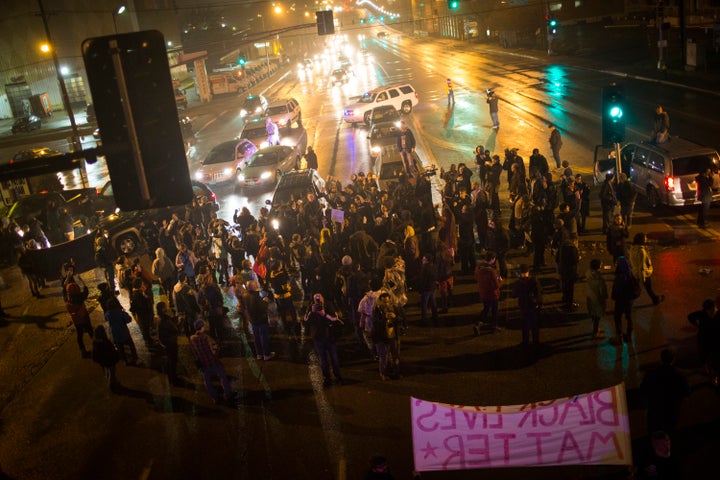 Certainly, the police officers believed Powell had a knife. Based on 911 calls, they were told a man fitting Powell's description had a knife and was acting dangerously. In the video, they clearly directed him to put down a knife as he approached them when they pulled up on the scene.
"Shortly after Officer 1 and Officer 2 arrived on scene, they observed Powell openly displaying a knife in an angry or threatening manner," the report states.
"Under the law, this conduct would constitute the crime of Unlawful Use of Weapon-Exhibiting, a Class D felony. By advancing upon the officers, Powell could also have been committing the offense of Second-Degree Assault on a Law Enforcement Officer, a Class C felony. The officers, therefore, would have had legal justification to arrest Powell."
The police officers' belief they had a lawful reason to arrest Powell makes their killing of him subject to laws pertaining to police use of deadly force in an attempt to make an arrest.
"Under Missouri law, police officers may use deadly force to make an arrest when they reasonably believe that deadly force is necessary to make the arrest and when they also reasonably believe that the person being arrested may endanger life or inflict serious physical injury unless arrested without delay," the report states.
Both officers testified to police investigators that they feared serious injury. Both declined to speak to prosecutors. Knives are legally regarded as a dangerous instrument.
"Under the circumstances, it was reasonable for the officers to believe that Powell was advancing on Officer 1 (who was closest to Powell) to inflict serious physical injury or to commit the forcible felony of assault against one or both of the officers," the report states.
"Therefore, prosecutors conclude that the officers could have reasonably believed the use of deadly force was necessary to protect them from Powell."
The 3-D spatial analysis report conducted by St. Louis Traffic Accident Reconstruction estimated that Powell came within 15 feet of Officer 1 when the first shot was fired. It estimated, based upon the pace of his approach – "significantly above that of a typical pedestrian," according to the report – that Powell could have been in contact with Officer 1 in about 1.2 and 2.4 seconds from the time of the first shot.
The analysis estimated that Powell continued toward the officer another 10 feet after the first audible shot.
Police claimed 12 cartridge casings were recovered from the scene and eight 9mm caliber bullets were recovered from the morgue, four from each of the officers' guns.
According to the City of St. Louis Medical Examiner's report, there were 13 entrance wounds and five exit wounds on Powell's body. One of the entrance wounds was likely a re-entry wound. The medical examiner determined that four of the shots would have been fatal eventually.
The shooting lasted approximately three seconds.
Many have questioned why the officers did not try to subdue Powell with a Taser, rather than shoot to kill. Officer 1 testified to police that "the incident was unfolding so rapidly, he felt he didn't have time to deploy the Taser" and that it "was not a viable option" for his safety.
News and social media coverage of the killing have included claims that Powell struggled with mental illness, and the incident sparked discussion of police interactions with the mentally ill. However, the report points out that "no 911 caller indicated that Powell was or appeared to be suffering from any kind of mental illness or ailment."
Transcripts of the 911 are included in the report. One caller simply said someone had taken some things from the market and refused to return them. The other caller described the conflict that resulted.
"He's upset for – he's got a knife in his hand. He got a knife in his pocket, he got a knife in his pocket, in his right pocket. And he must be threatening the store owner because I seen the store owner come outside," this caller said, with no mention of mental disturbance.
The police dispatches received by the officers, also transcribed in the report, described Powell as "creating a disturbance and refusing to give back items" while armed with a knife. No mention of mental illness was made to the officers.
"Under the law, however, an aggressor's mental state does not change a person's legal ability to protect him or herself from that aggressor," the report states.
The report numbers, rather than names, the two officers. Officer 1 is a 32-year-old white male who graduated from the city police academy in 2011 and did not have Crisis Intervention Team training at the time of the shooting. Officer 2 is a 27-year-old white male who graduated from the city police academy in 2011 and had Crisis Intervention Team training in April 2012.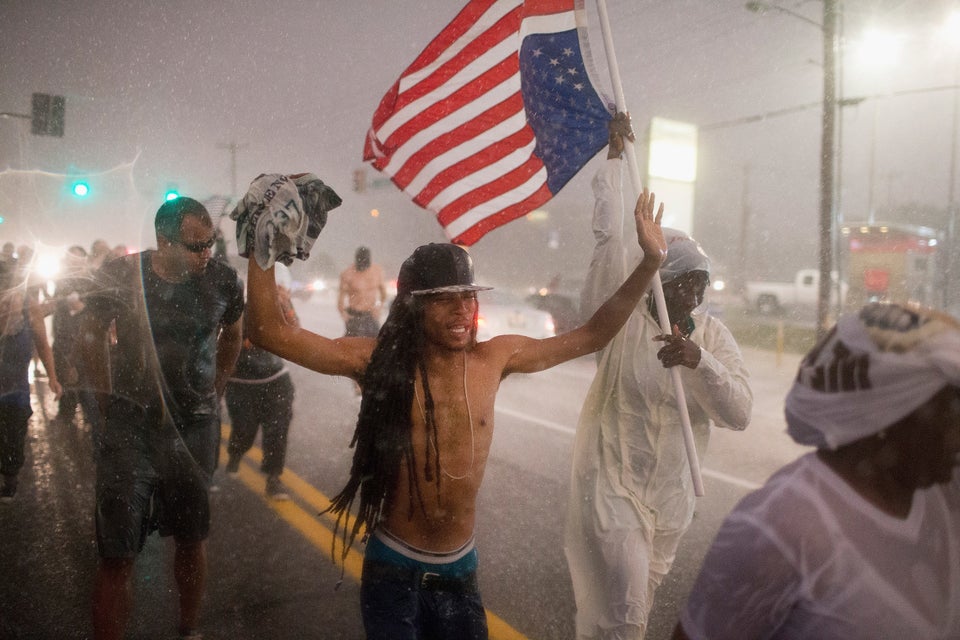 Ferguson Protests 2015
Popular in the Community