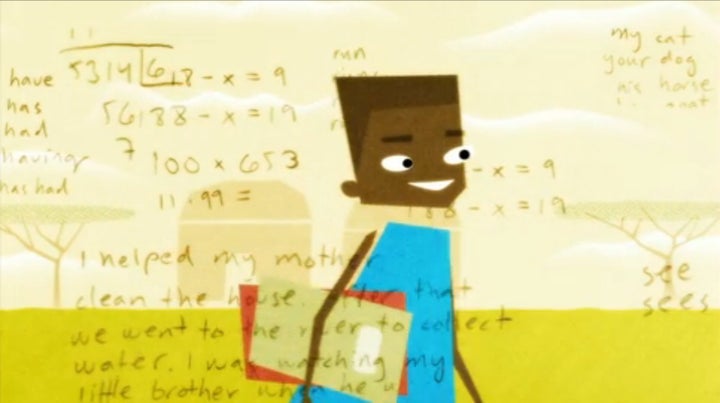 Link TV, one of the nation's largest independent television broadcasters devoted to providing diverse global perspectives on news, current events, and world culture, recently launched ViewChange.org, a new multimedia website to spark progress in improving the lives of people in developing countries.
As part of the launch, ViewChange held an online, short film contest focused on stories showing progress in global development. In all, Link TV named six winners out of 136 entries, representing each of the film contest's six categories. Each winner received a category prize of $5,000 and the Grand Prize winner received an additional $25,000. All the winning filmmakers featured here discuss what compelled them to make their films. All the ViewChange films can be viewed here.
Film: Kakenya
Category: Overcoming Conflict
As it is for many westerners, my first visit to Kenya was the 'vacation of a lifetime'. I saw living, breathing wild animals that existed for me only in storybooks and National Geographic. I met warm and welcoming local tribespeople that opened up a window into cultures and traditions that I wouldn't have imagined. I left Kenya with photos of spectacular savannahs and dramatic African skies.
Six months after my safari, I was in Washington, DC to attend the Vital Voices Global Leadership Awards when I heard her story. Kakenya was being honored -- not for what she had done -- but for the vision that she had to change the lives of Maasai girls. It was a revolutionary vision.
Vital Voices Global Partnership is one of my favorite nonprofit organizations. They identify and connect women leaders around the world. The word, 'leaders' is key here because they know that leaders get things done. Leaders impact hundreds, if not thousands more. So, rather than funding women's projects in general, Vital Voices invests in women leaders, offering training, mentorship, connections, and opportunities to bring their stories to the world stage. One Russian woman said it best, "Vital Voices takes care of those who are taking care of the world."
Kakenya, I learned, had grown up in a Maasai village. Her father worked far away, leaving her mother to raise the children, care for the farm, and maintain the livestock that represent the wealth of a Maasai family. When he was home, he got drunk. He beat her mother, and he spent the little money they had on drinking and eating with his friends.
Kakenya did not want to grow up to be trapped like her mother.
But Maasai girls don't have choices. Their culture doesn't ask a girl what she wants to be because it is assumed that a girl will grow up to be a wife and mother. She will cook for the family and take care of her husband.
At puberty, every Maasai girl endures an excruciating circumcision, and at that point, she is available for marriage. No anesthetic is used, and any girl who remains 'uncut' is considered unclean; a disgrace to her family.
So, Kakenya bargained with the only thing she had. She confronted her father and threatened to run away. She would remain uncut and bring him shame unless he agreed to let her finish school.
The film tells the rest of the story, and I don't want to spoil it, but these few details speak to why I was compelled to tell it in the first place. In what Kakenya is doing, I see a woman who is taking care of the world, and it makes me feel like things can get better. Most importantly, it reminds me that it's women like Kakenya who lead change. From within.
As a director, I don't think I have a right to tell other people how they should live their lives, but my work can still play a part in positive social change. I hope the film will be an emissary for Kakenya, for her students, and for girls' education; even for the possibility that children everywhere can dream their way to a better life.
The stakes are high. The course towards a more equitable life for girls has been mapped, but the outcome is not guaranteed. This school and its students must succeed. Many are watching from both sides of an ideological divide. I want them all to know that I stand with Kakenya. As do hundreds of thousands of supporters who have heard her story and joined in the effort to spread it.
Kakenya is the change agent. Vital Voices brought her story to the world. Now each of us shares in how that story will unfold.
Aaron Kisner won the ViewChange.org film contest and was awarded $25,000 Grand Prize. He donated his prize money to Kakenya, the subject of his film, so that she could add a dorm to the school.

REAL LIFE. REAL NEWS. REAL VOICES.
Help us tell more of the stories that matter from voices that too often remain unheard.