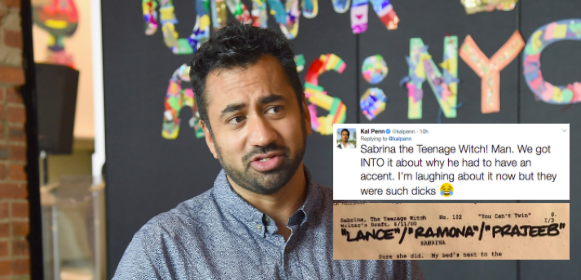 Actor Kal Penn has played a doctor on "House," a therapist on "How I Met Your Mother" and a stoner craving tiny burgers on "Harold and Kumar Go to White Castle." But based on roles offered to him early in his career, you'd think the only character in Penn's acting range is Stereotypical Indian Guy.
The characters available to Penn were painstakingly stereotypical, including a "Gandhi lookalike," a "quirky, Indian lab buddy" whose "language is peppered with Indian cultural references" and "Careem" with "a slight Hindi accent."
"Found a bunch of old scripts from some of my first years trying to be an actor," Penn wrote in a series of tweets.
Penn said he fought back against some of the typecasting, but he was apparently never successful.
When he auditioned for a TV pilot for the role of Parmesh, a "quirky Indian" in his early 20s, Penn tried to persuade casting to let him try the character without an accent. (His request apparently was denied.)
"We got INTO it about why he had to have an accent," Penn said of the popular mid-1990s sitcom. "I'm laughing about it now but they were such dicks."
He also admitted that the stereotyping ruined for him one of his favorite shows, CBS' "The King of Queens."
Penn may have just been a budding actor when he was offered those cartoonish roles (new actors typically don't have the privilege of cherry-picking their auditions), but his experience being typecast as an Indian-American actor sheds light on how Hollywood treats diversity.
"Even at a time when minorities account for almost 40 percent of the population, when Hollywood wants an 'everyman,' what it really wants is a straight white guy," Ansari wrote. "But a straight white guy is not every man. The 'everyman' is everybody."
"There were also some wonderful 1st audition & work experiences!" Penn wrote.
And what happens when shows cast diverse characters outside of stereotypes? According to the ratings for Penn's episodes of "House," more viewers. 
REAL LIFE. REAL NEWS. REAL VOICES.
Help us tell more of the stories that matter from voices that too often remain unheard.
BEFORE YOU GO
PHOTO GALLERY
Celebrity News & Photos: 2017