Kalaupapa, a remote peninsula on the velvety green island of Molokai, was the exiled home of more than 8,000 people who contracted Hansen's disease (commonly known as leprosy) in the 19th and 20th centuries.
Until sulfone drugs were developed in the 1940's, Hansen's disease was considered incurable. And though it is not very contagious, the lack of knowledge and fear surrounding the disease led to forced quarantine. The mandatory isolation was abolished in 1969, and Kalaupapa is now a National Historical Park, but a handful of now-cured patients still reside there voluntarily.
To protect the privacy of the remaining patients, only 100 adult visitors are allowed to visit the park per day, and children under 16 years old are not permitted entry. Kalaupapa National Historic Park Superintendent Erika Stein Espaniola told The Huffington Post that visiting the park is completely safe, but the age limit is in place because many patients have painful memories of being forced to leave their own children behind when they were forced into quarantine. If a visitor asks a patient about the age limit, "be prepared to cry," she said.
As the remaining patients near the end of their lives, the National Park Service is discussing the controversial possibility of loosening the restrictions on visitors. Some worry that allowing more people into the park will change the atmosphere, especially since the park is considered a sacred and very solemn space.
Stein Espaniola told HuffPost that she hopes the National Parks Service will be able to retain Kalaupapa's distinct sense of place. "Kalaupapa is not a recreational park," she said. "Many people see the whole landscape as a large cemetery so people need to know this before they go off to learn and experience Kalaupapa themselves." As the park formulates a plan to open up more, Stein Espaniola says she hopes it focuses on contemplative and meditative experience.
"I think the duality of how sad and emotional the histories can be," she said, "coupled with the beauty of the place, is difficult for people to process and it has an incredible impact."
Among the major Hawaiian islands, Molokai is one of the least visited, but it is definitely one of the most beautiful. The island remains relatively undeveloped, with just over 7,000 permanent residents living there. It is known as the "friendly island" and is a major draw for tourists who want to experience a seemingly untouched paradise.
Today, there are 16 remaining Hansen's disease patients still residing in Kalaupapa, with only 6 living there full-time. They range in age from 73 to 92 years old, ABC News reports. Though they are essentially cured of the disease, they were forced to live part of their lives in isolation and made the decision to continue living at Kalaupapa even after the quarantine was lifted.
Caused by a slow-growing bacteria, Hansen's disease can cause skin lesions, numbness and even paralysis. Because of injuries to numb areas (especially hands and feet), secondary infections and tissue loss can cause a person's fingers and toes to become shortened and deformed, which led to the misleading stigma that Hansen's disease caused people's extremities to fall off.
While the disease is now easily treatable, almost everyone sent to Kalaupapa died there, according to the National Parks Service. Native Hawaiians were particularly susceptible to the disease since their geographic isolation meant they hadn't developed any immunity.
For now, visits to Kalaupapa must be arranged through Father Damien Tours, a commercial tour company named for the canonized Catholic priest who devoted his life to treating the Kalaupapa patients. The tour company includes roundtrip airfare from Oahu or Maui to the remote peninsula as well as a ground tour with historians.
Clarence "Boogie" Kahilihiwa, one of the remaining patients living at Kalaupapa, told the Associated Press that he for one hopes more people, including children, will be allowed to visit the historic site soon.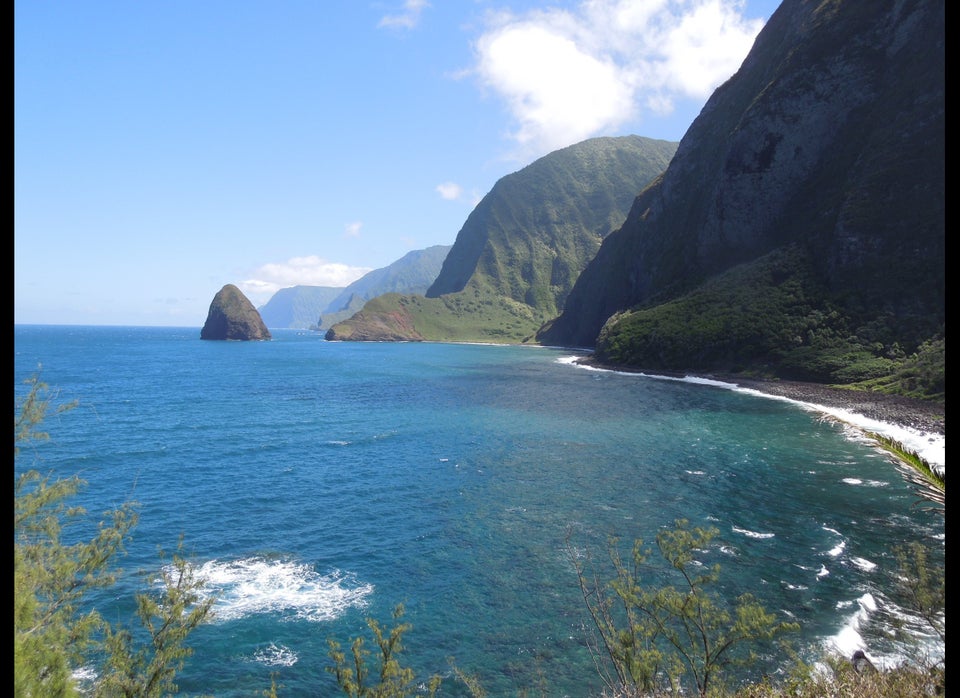 Kalaupapa National Historical Park