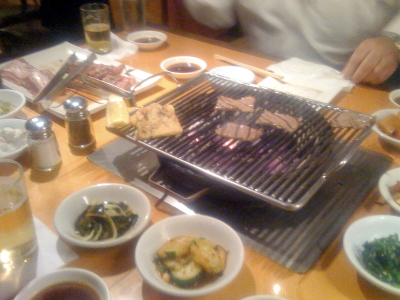 Why is it when people think of late-night eating (or anything involving soaking up alcohol) they immediately gravitate to taquerias and sliders? Quite a few bars and restaurants are now offering late-night nibbles, and over the weekend, I was faced with the prospect of finding a good option to meet a friend from out-of-town. I knew he was an experienced Korean BBQ aficionado, but wasn't sure if he wanted to venture up North after a long day in the sun.
My initial thought was to check out San Soo Gap San, a reliable, 24-hour Korean grillfest located just North of Foster on Western Avenue. I love the abundant vegetarian side dishes, called panchan, which arrive with my meal (I think last time we tried more than a dozen), and the smell of grilled beef is always intoxicating. Just walking into the place is exciting: While many people are sitting down, hovered over charcoal grills, the sight of smoke billowing up to the large overhead hoods while hearing people argue over giant Korean beers is always more fortifying late at night with a group of friends. Problem is, ever since they were Check, Please'd, its been rather difficult to score a table there. I decided instead to go to my old reliable, Chicago Kalbi, on West Lawrence Avenue, which, ironically enough, is actually owned by a sweet Japanese couple.
The building itself is unremarkable - like many of its brethren along this gritty stretch of Lawrence. The Admiral Theater is down the block (bring lots of $1 bills, fellas) and a popular hookah lounge sits across the street in a tiny strip mall. But once you walk inside, you're in for a treat. Chiyo, the always-pleasant, eager-to-please owner, greets you and whisks you to either a table up front or one of the private rooms near the back. The other image upon entry is that of a few giant posters featuring Japanese baseball stars and other Asian athletes, all of whom seem to make Chicago Kalbi a must-visit anytime they play at Wrigley or The Cell.
The kalbi (marinated short ribs) comes one of two ways: Korean-style, with the bone still attached, or Japanese (bone removed). This is where you want to stick with the Korean approach, as the bone adds great flavor and some tasty gnawing after you're done grilling. The marinade itself is a secret combination, but as far as I can tell, contains soy, sesame and garlic, plus some rice vinegar and perhaps a bit of sugar. The beef is sliced paper-thin, and is whisked out to the table as soon as they drop a giant pot of flaming charcoals into the center well in the middle of your table. Chiyo, or one of the servers, will gladly help you grill, but no need, this is really the fun part of a communal meal, Korean-style. Just take the damn tongs and do it yourself. The kalbi is smokey and charred, and the intense beefiness is amplified when you dab a bit of soybean paste onto your little slice, then wrap it up in a nice, big leaf of romaine lettuce.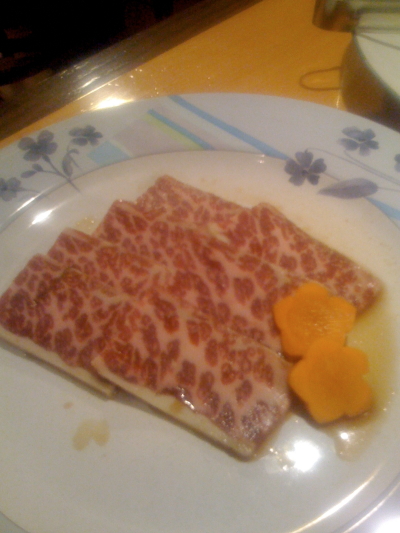 So you're thinking, "What do the Japanese know about Korean BBQ?" Here's where the owners' own culture and connections come in handy: The menu always lists a few buttery-rich Wagyu or even imported Kobe beef as a grilling supplement. The slices come out highly-marbled with that luscious fat, and they're no more than an ounce or two each. I can never understand why someone would want to eat an eight, or even a 12-ounce, piece of this fatty breed, since you need to eat it fairly quickly after it is cooked; if you wait, and let the fat congeal, the whole point of the pleasure has been lost and all you'll end up doing is chewing the fat. With these small pieces, the ratio is in balance, and you can consume it in one or two bites. All it takes is a few seconds per side on the blazing hot grill, and you immediately pop the tender slabs into your mouth; you could give them a quick dip in the provided sesame-soy sauce, but we found them even more addictive with just a whisper of salt sprinkled onto one side. Eating the regular kalbi and the Kobe side-by-side, I couldn't help but think how the owner of a Honda would feel after test-driving a Porsche: You know they're both high-quality vehicles, but when it comes down to it, there's really no comparison. You get what you pay for.
The panchan here is very respectable, and the two kimchis we tried were both knockouts - chili-laced chunks of pickled daikon radish, as well as a fiery pickled napa cabbage. Spinach, potato salad, bean sprouts and pickled cucumbers were some of the other highlights. We also tried some dynamite pork belly that had been slow-roasted until it was fork-tender, dabbed with a smidge of hot mustard, and their tongue (stay with me) tasted even better than advertised: Again, paper-thin sheets of the organ are quickly grilled and dunked into fresh lemon juice, which gives it a bright, citrusy pop. We polished off a few large OB beers and Chiyo sent us out a glass of Korean soju, a clear spirit distilled from sweet potatoes. It had none of the harshness found in so many of those over-hyped vodkas, and like most everything at Chicago Kalbi, it arrived with a smile and tasted like nothing else in town.

Calling all HuffPost superfans!
Sign up for membership to become a founding member and help shape HuffPost's next chapter