Kale benefits your body in many ways, but the nutritional power packed into this winter veggie isn't the only reason to love kale. It's a gateway to cooking with your kids.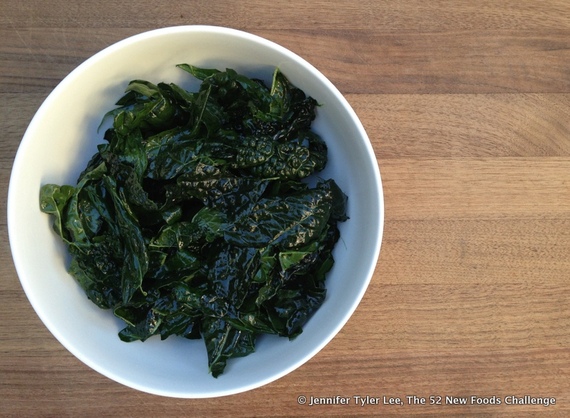 In some circles, kale may be cliché, but for my family there is a simple reason why it ranks high on our family favorites list. It's one of the easiest ingredients to use when cooking together as a family--the benefits of kale are much greater than nutrition.
Studies show that cooking healthy meals at home with your kids improves health, boosts performance at school, and builds stronger relationships. That's all good. But how do you manage to pull it off as a busy parent?
My kids love tearing the big, bold leaves of kale to make recipes that feature this nutritional rock star. No special (or dangerous) kitchen tools required. Crispy Kale Chips have become a staple on our family dinner rotation. Not only are they easy for us to make together, they are flexible. My kids have been experimenting with different seasonings to dress up their chips--cumin, garlic powder and paprika being a few of their recent taste tests. Letting them explore this healthy ingredient, without mom buzzing overhead, helps them build confidence--in the kitchen and beyond.
So when you consider kale, and its benefits, look beyond nutrition. The cooking adventures it inspires are the real benefit to health of your family.
* Do you cook with your kids? Share your tips on what you do to make cooking together as a family easy and fun.

A mother of two, Jennifer Tyler Lee is the creator of the award-winning series of healthy eating games, Crunch a Color®, and author of the upcoming book, The 52 New Foods Challenge (Penguin Random House/Avery 2014), a week-by-week playbook to get your family eating healthy, one new food at a time.
Related