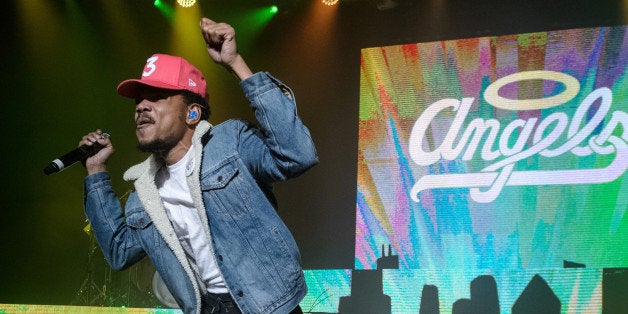 I was first introduced to Chance the Rapper by a guy that I was dating who would listen to "Cocoa Butter Kisses" on repeat. The song was actually pretty dope with features from other Chicago-based artists Vic Mensa and Twista. As I listened to other songs from Chance's first album Acid Rap, which included a feature by alternative black boy rapper Childish Gambino, who I also was a fan of. I was just tuned into the creative lyricism and colorful storytelling. I could not really put my finger on what was so compelling about this weird twenty-one-year-old kid that sounded a little like a cartoon character who admitted to battling an acid addiction. But I liked it. I was feeling him. As I continued to follow Chance over the last year I have fallen in love with his story, his growth, but more importantly what he offers me as a student of religion who looks at the way black bodies navigate the world. Coloring Book offers a developed portrait of being black in the intersection and playing with Christian themes in a secular arena.

When I study religion, particular with respect to African Americans, my lens in focused on how individuals form themselves with respect to navigating the torrential waters of race (and gender) in America. I define religion as those things that continue shape and influence how we understand ourselves, the world we exist in, and make meaning of these things. With this being my foundation for religion, Chance's use of black Christian church rhetoric to tell his story with both a playfulness and intentioned difference makes a strong statement that black identities are formed many ways but also reminds us that the black Christian church still has long reach.

Black church culture is often debated for its relevance and eschewed for a narrow, often both misogynistic and homophobic, nature. As the world becomes more secularized, and the black community more radically individual, one often wonders whether the black church still holds a place in the lives of black folks. Especially for generations from the Millenials forward. While that is still a conversation worth exploring, I would argue that Chance the Rapper demonstrates that for many the black churches still holds relevance, but is interpreted differently. I know because as a born and raised Baptist, and clergy, I practice my spiritual and religious underpinnings much differently than my grandmother. My brand of Christianity includes tongue-in-cheek references to black Jesus, tattoos, hymns, and the gospel according to Lil Wayne. Similarly, Chance's colorful depiction of drug, mixtapes, and existential wrestling shows that religiosity is not limited to the pious.
Chances lyrics are crafted in such a way that his intentions are clear: To be totally himself. By doing this he professes that it is ok to walk miles in your own black skin, praise God, and take a smoke break. Not simply in the music but in his performance of blackness and religiosity. There have been recent articles written about how he disrupts tropes of black manhood because of what has been deemed "black boy joy." Chance disrupts assumptions of black manhood being tied to a stoic, strong, façade. He is "arsty-fartsy," smiles a lot, and holds a childlike excitement and silliness that is both loveable and compelling. He performs in overalls, unassuming jeans, t-shirts, and what has become his standard snapback with a "3" on it to represent his hometown. Watching his performances there is a palpable passion and joy in the craft while expressing a particular expression of his blackness and connections to a black religious framework.
Jesus' black life ain't matter, I know I talked to his daddy
Said you the man of the house now, look out for your family
He has ordered my steps, gave me a sword with a crest
And gave Donnie a trumpet in case I get shortness of breath
These lines from the first bars of "Blessings" had me reeling. It immediately speaks both of a cognizance of contemporary issues of violence against black bodies, the absence of a black father, and a deep connection to the black Christian framework. The hook draws on a gospel song titled "When the Praises Go Up, the Blessings Come Down" and gives nod to the Bible verse that says, "The steps of a good man are ordered by the Lord." Chance offers a worldview that remains deeply steeped in the black Christian tradition yet still positioned in secular society. "How Great" draws on Chris Tomlin's "How Great is our God" for the chorus, which is sung by the Chicago children's choir. It is a soul-stirring gospel rendition with electronic production. It draws on overtly Christian themes using "faith the size of a mustardseed" while also drawing on Harry Potter references. The entire album is a narrative that lives in the intersection.

No lie, the shit preaches. It is a mirror that, in mini ways, reflects my own experiences with religion and how I make meaning. Admittedly a lifelong black Baptist, I am an academic that studies religion in such a way that does not rely on a theistic framework for constituting religiosity or spirituality. This album is the thing that religion nerd dreams are made of: A complex telling of how one navigates a black body and makes meaning. In this case the foundation is the black Christian church.
Chance raps with the lyrical acumen of a spoken word artist, weaving his narrative with the masterful wisdom of a griot. Watching his recent live performances also show a comfort in being an embodied enigma. In Blessings, the reprise feat. Ty Dolla $ign the wordsmith speaks not only of intentionally being modest even with a growing fame, but also makes no bones about his religious stance:
I speak to God in public, I speak to God in public
He keep my rhymes in couplets
He think the new shit jam, I think we mutual fans

The way that Chance the Rapper stands at the intersection of religious and secular has implications on the way one understands blackness and religious experience. He is unabashedly honest about a continued influence and enduring attachment to themes and ritual practices of the historic black Christian denominations as well as openness to exposing his fragility and honest human experience. In sum, Coloring Book is a religious narrative composed over a tight beat.
Popular in the Community