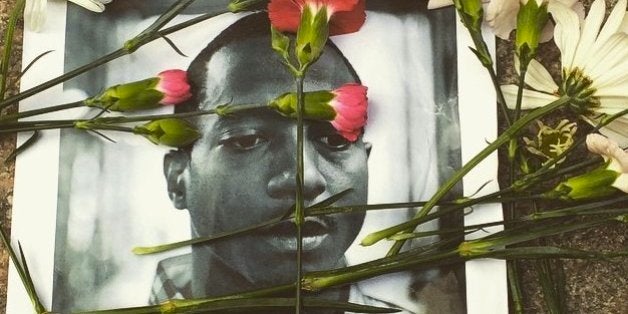 Bronx Community College was proud of Kalief Browder.
At the end of the 2014-15 school year, the 22-year-old had an impressive 3.55 grade point average. He led study groups. He tutored other students. And on June 5 -- just one day before Browder died by suicide in his mother's Bronx home -- he volunteered at a graduation rehearsal for other students.
"He was so happy," Elizabeth Payamps, a Bronx Community College faculty member who worked closely with Browder, remembers of his last day at the school. "He was acting completely normal."
Years earlier, Browder had been robbed of an education. When he was just 16, he was arrested on a burglary charge that would ultimately be dismissed. While his high school classmates went to prom and graduation, Browder languished for three years in New York City's notorious Rikers Island jail.
There, he suffered appalling violence at the hands of guards and fellow inmates, and spent an accumulated and torturous two years in solitary confinement -- where the teen was locked alone in a tiny cell for 23 hours a day.
Browder reflected on the use of solitary confinement in the United States in a research paper for his community college English class this spring.
"Instead of solitary confinement rehabilitating inmates there is evidence of it actually causing severe mental problems for inmates and in the long run leaving the mental disorders for their families to deal with," Browder writes in the paper, a copy of which was obtained by The Huffington Post.
[SCROLL DOWN TO READ BROWDER'S FULL RESEARCH PAPER]
Browder, of course, knew firsthand the horrific mental health consequences of solitary confinement. After being released from Rikers, he struggled to adjust to the outside world. He suffered deep bouts of depression, became increasingly paranoid, spent time in a psychiatric hospital, and made multiple attempts to end his own life.
"Ma, I can't take it anymore," Browder reportedly told his mother shortly before his death. According to his family, it was the demons Browder developed while in solitary confinement that would eventually lead to his suicide.
But in his paper, "A Closer Look At Solitary Confinement In The United States," which he turned in to his professor on May 11, Browder makes no mention of this personal anguish. Like any good academic, he keeps to the third person.
Citing a study from University of Toronto professor Brett Story, Browder's paper traces the history of solitary confinement in America to the early 19th century, when the Quaker church in Philadelphia implemented it as a means of rehabilitating inmates instead of punishing them.
The practice was meant, Browder writes, as a way for inmates to "reflect on the misbehaviors they conducted in the jail or prison and change their behavior."
Solitary confinement then spread throughout American prisons. "However," Browder adds, "many health defects were beginning to present themselves within inmates. According to Story, 'As early as the 1830s, reports had started to materialize about the various mental disorders isolated prisoners were exhibiting. These included hallucinations, dementia, and monomania.'"
"By the late 1800's," Browder continues, "solitary confinement began to be frowned upon because of the adverse mental health issues it continued to cause to inmates and by the early 1900's it was abolished."
Browder's attorney, Paul Prestia, read a copy of the research paper before going to Browder's funeral, at which he delivered the eulogy.
"I learned something from [the research paper] and I'm an expert of sorts on solitary confinement," Prestia told HuffPost.
"I don't believe there's any place for solitary in our society," he added. "It's inhumane and I wasn't aware of its history, and now I am, and I learned it from Kalief Browder, who was the face of [solitary confinement] in this city."
Browder's paper goes on to detail the aggressive resurgence of solitary confinement in the 1980s, and its overuse in the ensuing decades.
"Many inmates who go through these problems of being in solitary confinement are now stuck with mental health issues and some don't even have health insurance to even tend to their care," Browder writes.
He cites a 2013 article in the Law and Psychology Review, in which John Cockrell lists the physical effects of solitary confinement ("chest pains, weight loss, diarrhea, dizziness, and fainting") and its psychological effects ("decreased ability to concentrate, confusion, memory loss, visual as well as auditory hallucinations, paranoia, overt psychosis, violent fantasies, anxiety, depression in huge numbers, lethargy, and trouble sleeping").
And then, in a sentence that today carries an awful poignancy, Browder writes: "Attempts to commit suicide are not uncommon."
Prestia said he hopes New York City Mayor Bill de Blasio will read Browder's paper.
Since Browder's story gained national attention last year, de Blasio has implemented a series of major reforms to Rikers. Perhaps most notably, he and Department of Correction Commissioner Joseph Ponte ended the use of solitary confinement for 16- and 17-year-old inmates.
And in April, the mayor announced "Justice Reboot," a program to clear backlogs in the city's courts in hopes of preventing people from staying on Rikers for long periods of time without a trial.
"I'd like the mayor to continue the reforms, continue them in the direction he's made them," Prestia said. "Kalief was the impetus behind the move to abolish solitary for juveniles, but the city could go further, consider abolishing it for anyone under 21, and maybe go beyond that."
Although Browder became a national symbol of the problems with solitary confinement, Payamps, the Bronx Community College faculty member, said Browder didn't want to be known for his time at Rikers while on campus.
"He kept himself anonymous," she added.
Recently, Payamps met with Browder's mother, Venida, and showed her photos of her son's happy times on campus. Payamps also told her that she is currently lobbying the City University of New York -- which operates Bronx Community College -- to bestow her son with a posthumous associate's degree in business. Upon hearing this, Venida broke down in tears:
"I think Kalief would've graduated with honors had he continued," Payamps said. "He was a really good student."
For his paper on solitary confinement, she added, Browder received an "A."
Need help? In the U.S., call 1-800-273-8255 for the National Suicide Prevention Lifeline.
Support HuffPost
Every Voice Matters
Popular in the Community