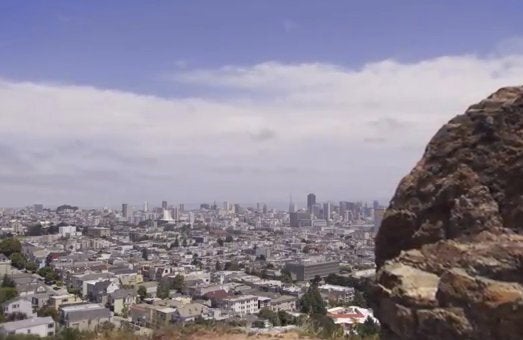 Ready for a healthy dose of vertigo, brought to you by a hodgepodge of gorgeous and classic San Francisco sites, the ultimate collage of Fog City pornography we've ever seen?
The music video for Canadian musician Kalle Mattson's new single "Waterfalls," directed and produced by local videographer Kevin Parry, captures some of the city's finest spaces in unexpected visual splendor (we particularly love the spinning base of Coit Tower).
"I've had the idea of animating a city for years, and it seemed like a perfect fit currently living in SF and wanting to get out and explore the city," Parry told The Huffington Post, explaining that he aims to bring the song's "slow-pulsing and escalating feel" to life in his piece.
"I challenged myself to capture the emotion and pace of the song with wherever this technique would take me," he added. "I chose the 'hypnosis' visuals to thematically tie the video together and layered that over top of the non-narrative exploration of San Francisco."
Watch the video (then watch it again and again, like we did) above. For more, take a look at the slideshow of its individual animations below, courtesy of HypnoSF: