Hello, food lovers of Huffington Post. My name is Yannis and I am going to share with you my knowledge and passion for food. Get ready for flavors that will blow your mind. Together we'll prepare and then, of course, taste lots and various delicacies.
An important fact that you should know about me, is that I was born and raised in Greece. You'll ask me: why is this important? Because Greek cuisine is what I really love and enjoy cooking. Trust me, this is something that will be really obvious in my recipes.
Here I will treat you like my dear guests and friends who come by so we can cook together. Taking care of our guests is an ideal that Greeks have believed and honored since the ancient times.
Guests are always treated like family. In the ancient times they were usually travelers, so they were offered a place to stay for the night, along with drinks, food and desserts. We don't live in the ancient times anymore and you're not asking for a bed, but as my guests I will take care of you. Since it's the first time we meet, I want to get on your good side and sweeten you. So I will start with a dessert. Let's make baklava..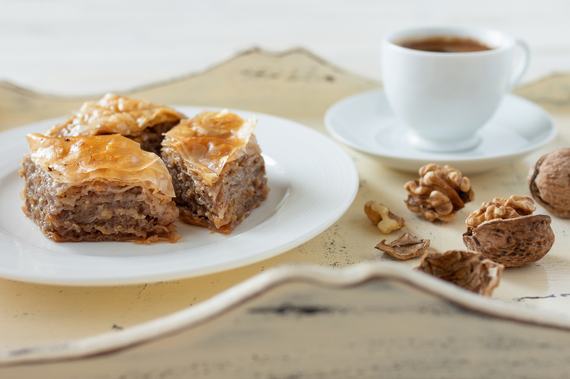 1 package phyllo dough for baklava
½ lb butter, melted
8.0 oz roasted, peeled and ground almonds
8.0 oz ground walnuts
1 tsp ground cinnamon
1 tbsp sugar
1 tsp ground gloves
5 cups sugar
1 lb honey
7 cups water
2 cinnamon sticks
1 tsp lemon juice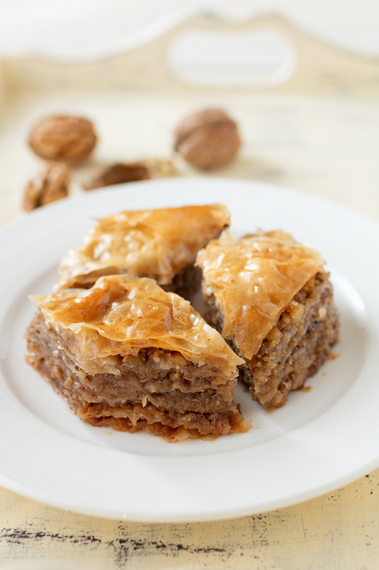 Preparation for the syrup
Heat the water, sugar, honey cinnamon sticks and the lemon juice in a saucepan and cook over a high heat for 10 minutes approximately.
Preparation for the baklava
In a bowl, mix together the almonds, walnuts, cinnamon, gloves and sugar. Grease a 13-by-9 inch baking tray with butter.
Melt the butter in a saucepan over low heat.
Lay 5 sheets of phyllo pastry into the baking tray, brushing each sheet with butter before adding next. Spread some of the mixture over the pastry in the baking tray.
Repeat with 5 more sheets, brushing each one with butter as before and sprinkle the mixture over the pastry.
Lay the remaining phyllo sheets on top, brushing each sheet with butter.

Using a sharp knife, cut into squares or diagonal pieces all the way to the bottom of the tray.
Pour a few butter on the top and sprinkle with cold water.
Place baklava in the preheated oven and bake to 330F for 1h30minutes until it is golden brown and crisp.
Remove the baklava from the oven and pour the cool syrup all over it. Leave it to cool.
Welcome to my blog. I hope you're hungry and if you're not, I promise you that you will be.