A beautiful Lebanese saying can be translated loosely as "dress according to others' taste but eat according to your own."
Personally, I find fashion great with its ever-changing trends, and it is wonderfully fun to follow it, to discover new shops, and upcoming designers -- but when it comes to food, don't give me any fads. I'll take authentic, simple, fulfilling nourishment in a home environment any day over trendy restaurants, chefs who are all the rage and nouvelle/fusion anything.
Kamal Mouzawak is a food activist, a chef, a marketplace founder, an entrepreneur and a spokesman for Lebanese cuisine known around the world. To me, he also represents the very best of what humanity is capable of producing. And that was all before I was lucky enough to get to spend the better part of last week with him in Florence, thanks to the Middle East Now Festival.
In the enlightened atmosphere of acceptance and understanding -- as this wondrous festival known as MENOW has managed to create with its crossroads of cultures and artistic disciplines which include the entire Middle East and range from dance to art, from photography to film, from food to fashion -- Lebanese food personality Mouzawak was the focal point. He prepared, he nurtured, he shared and he encouraged. But most of all, he shined in the midst of a city that truly framed his beautiful life philosophy and embraced him wholeheartedly, along with his delightful cook and friend Nada Saber.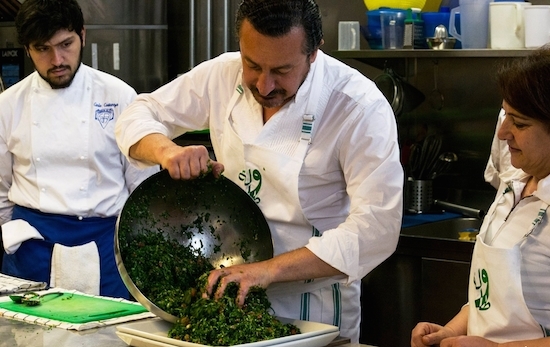 Kamal Mouzawak and Nada Saber (right) at the Scuola Culinaria Cordon Blue, photographed by Antonella Cardillo
During our leisurely lunch at da Sostanza, a small trattoria with the simplest kitchen but full of flavors and authentic Florentine cuisine, or at a dinner prepared by Mouzawak for 150 people at Il Teatro del Sale, chef Fabio Picchi's institution, where these two master chefs shared a kitchen in a true example of what peace could look like, I learned about humanity. From Mouzawak's fully packed cooking class at the Scuola di Arte Culinaria "Cordon Bleu", to a simple afternoon "panino e vino" (a sandwich and a glass of red wine) eaten on the street while chatting with the man who prepared it for us, ending up then at the café Paszkowski for their special banana filled cake, I found the true essence of life.
Because at our core, we all really just want to be nourished.
It was while sitting behind the Odeon cinema, the festival's main venue, at their trendy but still sublimely authentic bistro awaiting a film, that I decided to finally ask Mouzawak a few questions about his philosophy but also his solution for getting back to the root of life, to the essence of what our eating habits should be, if we want to give this world a chance. It was an afternoon I will never forget.
I know you don't like labels, and I agree, but how would you describe yourself to someone who doesn't know you?
Kamal Mouzawak: I work in human development. People understand real estate development, so I say instead, I work in human development. First of all me, and maybe then trying to do something with others. For me life is a journey between point A and point Z, and how I can evolve from one second to another. How did I evolve from yesterday to today... We have our skin decaying, our cells decaying, but our soul may be better, better with time. This is what I do. What I do practically, I do development projects around food and agriculture. Food activist is not a title I gave myself it's something people like to tag me with, but technically, I consider that each and every one of us should be an activist. We are all activists. This is my opinion on life.
In Islam they say, "each act is an act of adoration." Being an activist is a positive way of saying that every single thing you do and every word matters.
In this current, ultra-divided world of ours, do you think people can find a way to communicate, around a table, with food?
Mouzawak: I think it's the best way to communicate. It is the easiest and the simplest way for people to share something that sustains them. And when you are talking about sustenance you are talking about trust and confidence, continuity and perpetuance. Food helps you restore yourself, water helps you ground yourself. Food is a great way to express love, emotions, it's why our mothers and grandmothers cooked for us, they fed us, not only with food but with emotions. They said through food, "we care for you, we love you."
I learned long ago that if you are in the street, in a neighborhood that is a little bit dangerous, just grab a sandwich and eat in the street. It grounds you, and lets other have a different perception of you.
Why do you think the world is so divided right now?
Mouzawak: Because we put tags on everything!
But don't you think we also eat very poorly, in general?
Mouzawak: We are disconnected from the origin of food which is the land. There is no connection at all anymore between food and the origins of it, which is the land and the agriculture. Food is just a commodity on supermarket shelves. Kids think milk comes from a carton and not from something called a cow, with four feet. We are disconnected from the seasons, the producers, and the land.
So how do you suggest we solve this?
Mouzawak: Just by getting back to reality.
What if you are a modest, city-dweller in NYC for example, how do you do that?
Mouzawak: Eat seasonal, buy the least processed possible foods. Buy ingredients, why do you need to buy TV tray foods? Organic is great but I prefer to buy fresh seasonal non-organic products than, lets say, organic frozen peas. There is no perfect solution. It's always the responsibility of the consumer to make the perfect choice every single time. I think each and every one of us can at least buy the least processed food, the freshest possible, the most in season and just eat it. It's easy, that's something possible.
Does discipline play a big part in your life?
Mouzawak: This is my life. There is no difference between what I do and what I like. I don't have a hobby, what does "hobby" mean?! This is a hobby, now, I'm just talking to you.
This feels like a hobby for me too!
Mouzawak: This is our life. Our life is not divided, we want to divide it into sections, "this is work, this is life, this is a hobby" but we are one. I'm going to enjoy what I'm working on, my work is going to be my pleasure at the same time, my friends are my family, this is life. This is what is called Kamal now. All these things, what you eat, what you drink, what you think and what you feel, they are what is called Nina now. I don't do separation. And can't not walk the talk. It's very very important for me. I can't look into someone's eyes and lie about something. That's impossible.
If you could live anywhere in the world, where would you like to be?
To someone who is reading this, what would you say is the one thing they should change in their eating habits?
Mouzawak: I don't give a shit about eating habits. I'd like me to change in life habits. Less anger, more trust, I think this is what I would change about me.
All images courtesy of the Middle East Now Festival, used with permission.