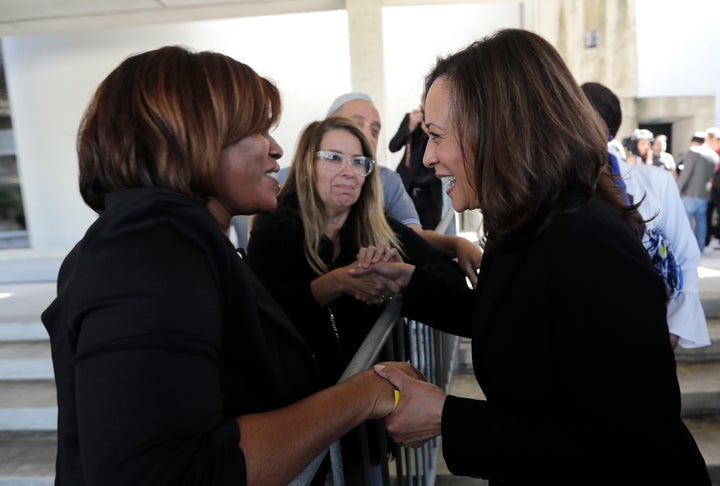 Sen. Kamala Harris isn't saying if she plans to run for president, but her Facebook presence is another story. The potential Democratic 2020 contender is running roughly 1,100 Facebook ads asking their audience to sign a "Protect Mueller" petition — a tactic politicians commonly use to build huge lists of potential voters and their email addresses.
Acronym, a progressive digital firm, first noticed the California senator's ads in its weekly newsletter tracking digital ad spending. And although she leads the pack, it noted, Harris isn't alone.
Reasons to Believe, the political action committee of former Massachusetts Gov. Deval Patrick (D), was running about 600 ads to promote a similar petition to protect special counsel Robert Mueller's investigation.
Democratic Sens. Cory Booker, Elizabeth Warren, Jeff Merkley, Ron Wyden, Michael Bennet and Sherrod Brown, and Rep. Joe Kennedy (D-Mass.) also introduced a few dozen Facebook ads after the midterm elections asking viewers to sign petitions — to protect health care, Mueller or Planned Parenthood, or to "fight corruption" in President Donald Trump's Washington. None of them appears to be running more than a few dozen Facebook ads.
The petitions refer to a bipartisan bill that would bar Trump from firing Mueller, or any other special counsel, as he leads the investigation into alleged meddling by Russia into the 2016 presidential election. The bill cleared the Senate Judiciary Committee in April, but on Wednesday, Senate Majority Leader Mitch McConnell announced he would not bring the bill to the floor.
Harris was already running hundreds of "Protect Mueller" ads, most of which appeared on Nov. 8, two days after the midterms.
"Add your name if you agree that Congress needs to pass emergency legislation to protect the investigation," says one.
And your ZIP code. And your email.
Popular in the Community