Sen. Kamala Harris (D-Calif.) said Congress should reconsider the nation's immigration enforcement system and possibly "start from scratch" by eliminating the Immigration and Customs Enforcement agency.
"There's no question that we've got to critically reexamine ICE and its role, and the way that it is being administered, and the work it is doing," Harris said on NBC's "Meet the Press" on Sunday. "And we need to probably think about starting from scratch."
Harris' remarks came in response to a question from host Kasie Hunt about whether she supports abolishing ICE.
Progressive activists have pushed Democratic lawmakers to support abolishing ICE, the government's chief immigration enforcement arm that was established in 2002 after the 9/11 terrorist attacks, in response to President Donald Trump's push to reduce the numbers of immigrants coming to the U.S. from Latin America, Africa and the Middle East.
Trump's efforts range from banning citizens from certain countries from entering the U.S. to ramping up deportations of undocumented immigrants, shrinking the number of refugees accepted into the country, cracking down on students who overstay their visas and the "zero tolerance" policy at the border with Mexico that led to children being separated from their parents.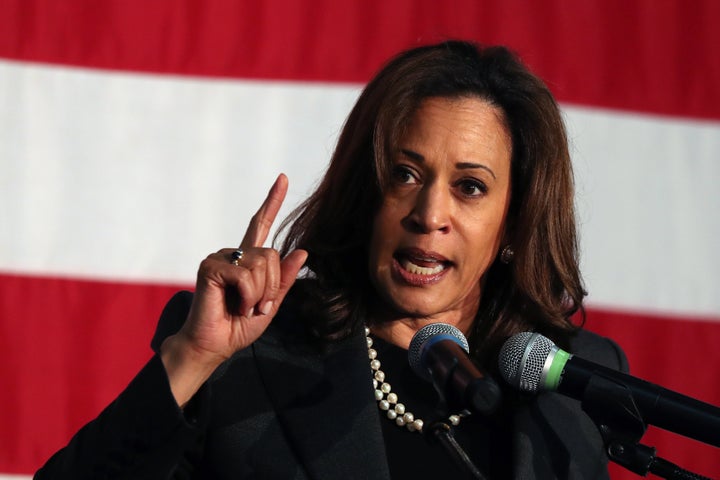 Some Democratic candidates have embraced the "abolish ICE" mantra to spotlight their opposition to Trump's policies and distinguish themselves from their rivals in party primaries.
Cynthia Nixon, an actress and activist hoping to derail Gov. Andrew Cuomo in New York's primary in September, called for abolishing ICE at a rally in Brooklyn last week. Two other candidates waging insurgent primary campaigns against entrenched House Democrats in New York City districts ― Alexandria Ocasio-Cortez and Suraj Patel ― have either called for ICE to be abolished or defunded.
Harris is the most prominent elected Democrat to endorse sweeping change to the immigration enforcement apparatus. Her Sunday comments also represent a change in position for the freshman senator and potential 2020 Democratic presidential contender.
In March, she responded to a similar question posed on MSNBC by noting her past experience as a prosecutor who worked to lock up criminals and saying, "ICE has a purpose, ICE has a role, ICE should exist. But let's not abuse the power. Let's not extend it to areas that are not posing a threat to the safety and the public safety of these communities."
Sen. Angus King (I-Maine), also appearing on "Meet the Press," did not echo Harris' call for starting from scratch in revising immigration enforcement practices and agencies, but he did say Congress needs to consider changes.
"I don't know how you abolish an agency without abolishing the function, and I think the function is necessary," King said. "I don't know if I say abolish, I don't think that makes a lot of sense. But I do think looking at it makes a hell of a lot of sense."
CORRECTION: A previous version of this story misstated the date of New York's gubernatorial primary election. It is in September.
Popular in the Community