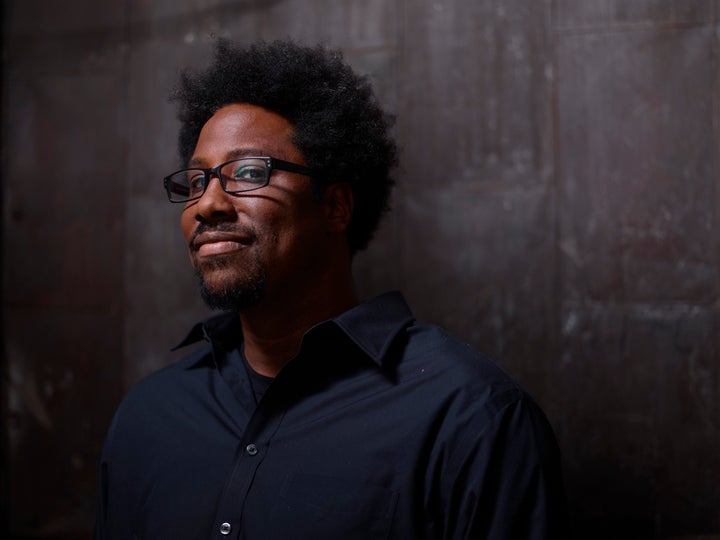 W. Kamau Bell is a comedian, and he's not afraid to admit that he's absolutely, 100 percent, totally freaking biased.
"Totally Biased with W. Kamau Bell" (premieres Thurs., Aug. 9, 11 p.m. ET on FX) is FX's newest late-night, stand-up, current events chat show experiment. Think Russell Brand's "Brand X," but much more topical and -- dare we say it? -- a whole lot funnier.
You may not know Bell, but with a mentor like Chris Rock ("He's like foul-mouthed Yoda") and a show title like "Totally Biased," you have to bencurious about his new show. I caught up with Bell to hear a bit more about the weekly, 30-minute series and to get a taste for what topics he'll cover (any hot-button issue, basically) and what's off limits (nothing). Keep reading for more ...
The show is called "Totally Biased," which makes me wonder ... how biased is it really?
Totally biased. I'm from San Francisco, which means I've been steeped in Bay Area liberalism and politics. I don't just lean to the left -- I lay down to the left. There's things you can't talk me out of. "Maybe gay marriage?" No, it's fine. It's totally fine. "How about immigration?" No, it's fine -- let everybody come over. "I don't know about health care." No, it should be free and we should all get it. I've been to England -- it works perfectly. I'm just totally biased and there's things I can't be talked out of, so I'm going to talk about those things with jokes.
What will the format of the show look like?
It'll be a lot of stand-up, a lot of me in front of a screen talking about things, then we're going to have an interview segment, and we'll do some sketches that are all totally biased. That's how I do it!
Has there been anything in the news the last few weeks or months while you've been prepping for this show that you thought, "Man, I wish I was already on the air to talk about that"?
The Supreme Court ruling on SB 1070 -- I'd be all about that. I think people should be allowed to be Mexican. I'm weird. And I think people who are Mexican should be allowed to walk around in the streets. I'm totally weird. I don't think that a bunch of old people on the Supreme Court should have any decision on who gets to walk around in the streets. I'm weird! I think, for the most part, people are humans ... that's just how I roll. I'm infecting America with my weirdness.
Have you been sufficiently warned about what this kind of exposure could do for you, good and bad? Because some people will just hate you.
Look -- I have over 3,000 friends on Facebook, so I'm already kind of famous. [Laughs.] I don't think you can prepare for that. If the show gets canceled the first week, I won't have to worry about it, so I can't really think about it. I think I'm used to the hate, though maybe not the intensity of it ... we'll see. If people don't hate you, you're probably not doing the right thing anyway.
Any advice from your executive producer Chris Rock?
A lot of advice -- as I've said before, he's like foul-mouthed Yoda. He says really dirty things that I can't repeat to my wife. But it's also like secret Yoda advice -- I don't want to just give it away! He's been totally great, he's been a mentor and this show wouldn't have happened without him and without the good people of FX believing in a kid with a dream.
Tell us: Will you give "Totally Biased with W. Kamau Bell" a shot?
"Totally Biased with W. Kamau Bell" premieres Thurs., Aug. 9, 11 p.m. ET on FX.