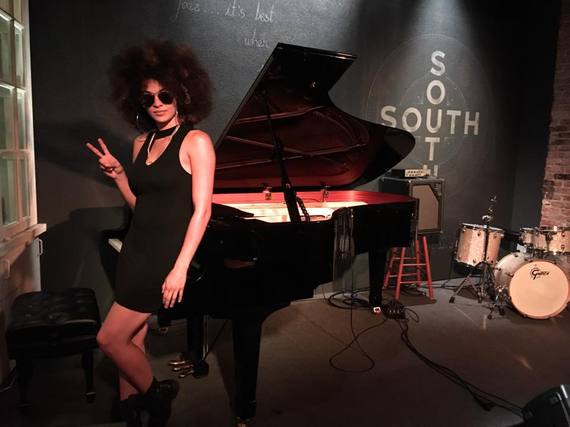 (Courtesy Kandice Springs)

Jazz vocalist Kandice Springs' debut album "Soul Eyes" has been in heavy rotation all summer on WRTI radio. Late night TV audiences know her from knockout performances on Letterman, Kimmel and Fallon's shows. When Prince heard her sing Sam Smith's "Stay With Me" he immediately invited her to perform on the Purple Rain 30th Anniversary show he staged at Paisley Park. Springs, not surprisingly, sold out all four shows last weekend at South Parlor in Philly last weekend, following up with performances at The Grand in Wilmington and onto an extended US tour that concluded in London this fall.
Springs is from Nashville, a musical melting pot, and you can hear many musical flavors -- blues, country, salsa and soul laced through her interpretations of jazz standards and slate of songs from virtually every jazz era. At Saturday's show, Springs made a stunning entrance in 60s soul couture -- large aviator sunglasses, chain necklaces, dancer top and voluptuous afro. The Bynum Brothers stylish new restaurant and jazz venue at 600 North Broad, was a perfect stage to appreciated this electrifying jazz artist.
With her tour bandmates -- drummer Dillon Treacy and bassist Jesse Bielenberg -- also in their 20s, delivered a stellar, trio tight, 90 minute set of jazz standards and half dozen tracks from Springs' album. The camaraderie between the musicians so present and Springs connects immediately with the audience like an jazz vanguard from the day. As they commiserate and mix-up their playlist per show, Springs even plays classical piano interludes precision Ravel, Rachmaninoff and at one point slides in a riff on "I Will Survive" to the delight of the audience.
Vocally Springs has depth and control that is unique in a young singer. On intimate ballads like Bonnie Raitt's 'I Can't Make You Love Me' and "The First Time Ever I Saw Your Face" she keeps inside the musical integrity of the song and still makes it her own story.
On showpieces like On Ellington's 'Sophisticated Ladies' she can belt out this warhorse lyric without trying to sell it. Springs told the audience her early influences were Roberta Flack and hearing Nora Jones at 13 sing Hoagy Carmichael's standard "The Nearness of You" was impressed that Jones dramatically didn't "over sing."
Most impressive is her stunning interpretation of Mal Waldron's "Soul Eyes" made famous by John Coltrane in 1957, and rarely touched since. On the album, the track features a smoldering trumpet solo by Terrence Blanchard, in the live performance; Springs' muscled piano line takes over.
Blanchard is also featured "Too Good To Last," a baleful torch song and a vocal tore de force and one that Springs co-composed. It is a dramatic performance that recalls some of the great female jazz vocalists in its dramatic intensity. In performance, the trio re-orchestrates and Springs' bluenote chords and the pulsing, sonorous bass line by Bielenberg, proves just as potent live as Blanchard's haunting horn is on the recording.
They swung on mid - tempo ballads, Shelby Lynne's "Thought It Would Be Easier" and "Place To Hide" and the jaunty "Rain Falling" which Springs composed in her late teens. "Forbidden Fruit" which she co-wrote and sings with Daryl Hall on a video, and in concert Springs makes it a sultry blues solo.
"The World Is A Ghetto" a protest anthem by the funk-rock group War, with the refrain "Don't you know/that it's true/that for me and for you/the world is a ghetto" was the album of the year in 1973 and is perhaps even more socially resonant now. Springs sings it with passionate sincerity floating over a steely funk hook by this trio. Maybe like she's doing with neosoul fusion, she can bring funk back to the mainstream music as well. Meanwhile, whatever Springs is singing and playing, in concert or on record, she can't return to her Philly fans soon enough.
For information about the U.S. tour check www.KandiceSprings.com
Calling all HuffPost superfans!
Sign up for membership to become a founding member and help shape HuffPost's next chapter