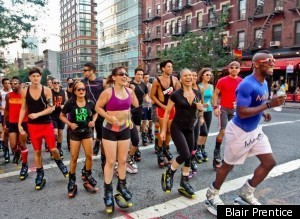 While walking around Central Park a few weekends ago, I spotted a group of very interesting-looking runners. Actually, what they were doing was closer to a combo of gliding and flying, and "spotted" might not be the right word, because they weren't exactly hard to pick out, thanks to the Kangoo Jumps on their feet.
Yes, Kangoo -- as in, kangaroo. These exercise boots, which look like rollerblades with springs attached to the soles instead of wheels, are quickly becoming one of the newest fitness crazes in the country. And it's all thanks to Mario Godiva Green, who was the first trainer to teach Kangoo classes in the U.S.
At the time, I didn't know what these crazy shoes were called -- I just knew I needed to give them a try. I believe it was the search phrase "springy shoe workout" that directed me to the Kangoo Jumps website, and then to Mario's classes. Just a week later I was hesitantly hoping around, testing my balance on a pair of Kangoos at Club H in New York.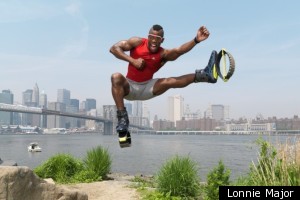 The class was, in a word, FUN. And, if I may add a second word, TIRING (but in a good way). Once you put those boots on your feet, it's hard to stop yourself from bouncing around -- they're like mini trampolines! I was a little nervous about keeping up with the class's rigor, because I don't have the greatest endurance, and I sometimes get intimidated by new workouts and the class "vets" who are already experienced pros. But this class atmosphere instantly cured my worry: the other attendees (fellow newbies included) were welcoming, and a few of the experienced Kangoo-ers chatted with me during a water break to assure me I was doing great for my first time.
At one point, Mario casually mentioned our class was his sixth of the day -- the sixth?! My legs were burning after 15 minutes! Suffice it to say the man has some crazy endurance and strength going on (as if the above photo wasn't evidence enough). And his energy is infectious; even I let out a few whoops and cheers throughout, despite the exhaustion. It's easy to see why people are catching on to Kangoo. It's not just about the workout, it's also about Mario's personality.
This video was shot near the end of Monday night's class. I didn't realize how good of a job I did at hiding myself until Mario sent the footage over. If you want to see what a Kangoo newbie looks like (and proof it doesn't really matter what you look like, at all) I'm on the left side of the screen in the light blue t-shirt.
The steps were easy to pick up, the music was great and if you messed up or forgot the sequencing it was no big deal -- the whole point, Mario says, is to just keep moving and have fun. Yes, I know, lots of workout instructors say those things, and in their next breath they yell, "Come on!" the moment you stop to breathe. This doesn't happen at Kangoo; you do as much as you can, even if that means doing some simple bounces in place of the choreographed steps to give your legs a break.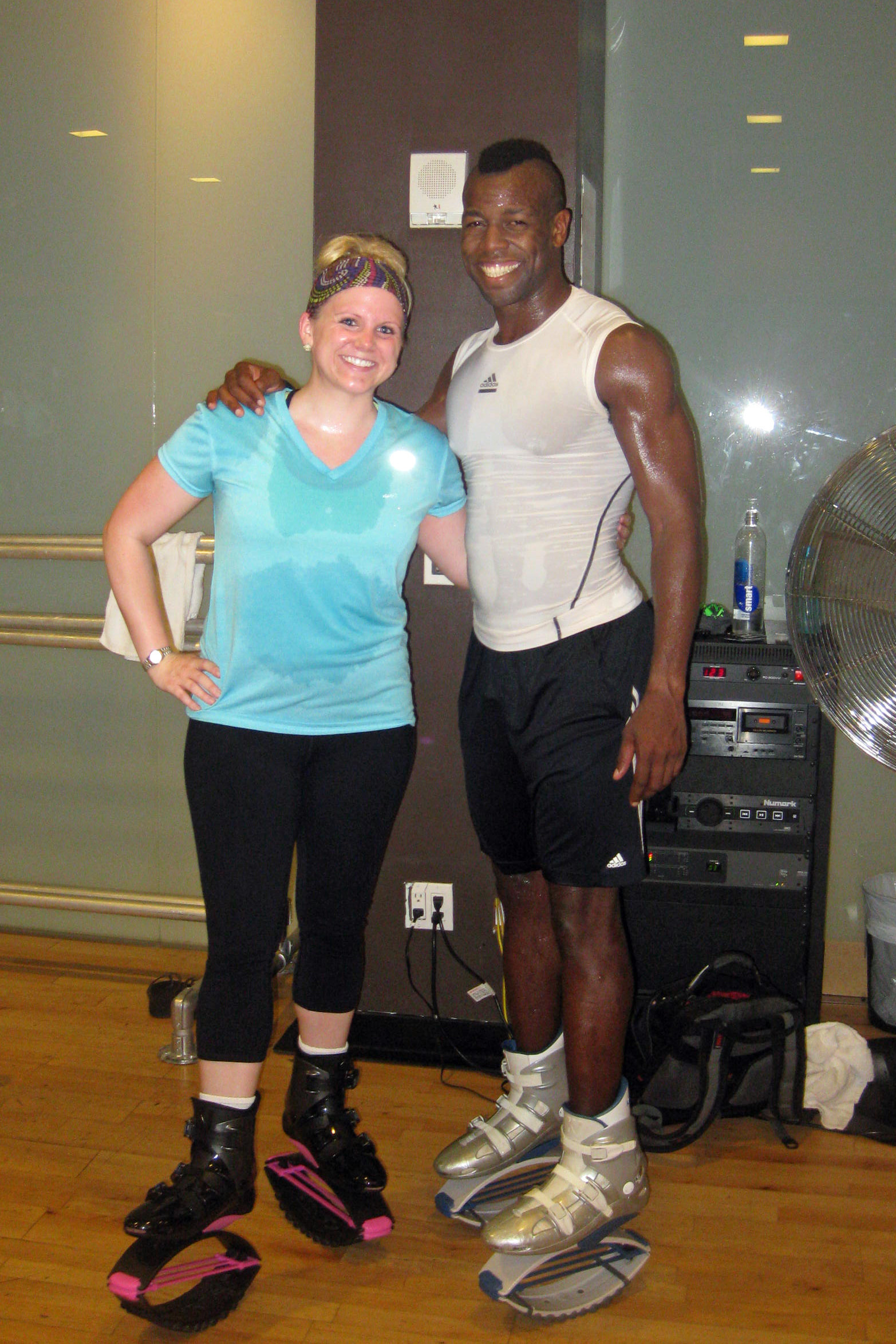 After class, I got a quick photo with the king of Kangoo himself. I think the sweat marks on my shirt speak for themselves.
Kangoo classes are now offered in 22 states and most major U.S. cities. If you're in the New York area and want to try out Kangoo (styles include hip-hop -- the class I took -- bootcamp and running), you can find Mario teaching various classes at Club H and New York Health and Racquet Club. Kangoos are provided, but if you fall in love you can purchase your own, too (like some of my classmates did). Visit www.mariothetrainer.com for his class schedule.
Popular in the Community