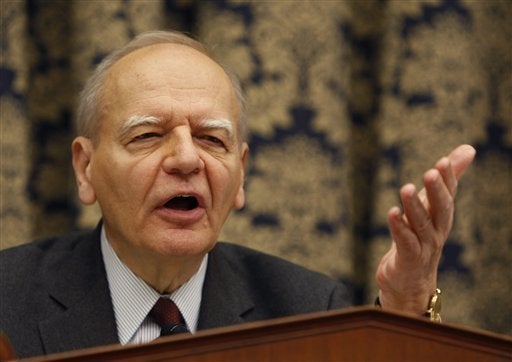 Rep. Paul Kanjorski (D-Pa.), a senior member of the House Financial Services Committee, raised $164,500 from finance, insurance, and real estate interests during the second quarter of 2009, according to an analysis of Federal Election Commission filings by the nonpartisan Public Campaign Action Fund.
"Anytime you take $164,000 from just one sector of the economy," PCAF Campaigns Director David Donnelly told the Huffington Post, "clearly those that are giving to him hope he helps him out."
Donnelly's group reported earlier this month that the 71 members of the committee had raised $62.9 million from the industry in lifetime campaign contributions. The top recipient was Rep. Spencer Bachus (R-Ala.), who has raised $3.62 million, followed by Kanjorski, who has raked in $3.12 million.
On Monday, the committee did a favor for Wall Street, punting on proposed legislation to create a Consumer Financial Protection Agency in response to industry pressure. The committee will wait until after the August recess to take up the bill.
In an effort to see Kanjorski shake the money tree in real time, the Huffington Post visited a fundraiser Wednesday night at a home in Northwest Washington. Upon setting foot in the house, the Huffington Post was immediately asked to leave.
There's no telling who attended Wednesday's fundraiser. Event organizers and Kanjorski's office declined to provide details about the guest list for the run-of-the-mill event, and arriving guests politely declined to speak with a reporter.
It was just one fundraiser of at least at least a dozen happening that day. Fellow committee members Joe Baca (D-Calif.), Suzanne Kosmas (D-Fla.), and Lynn Jenkins (R-Kan.) also found time to raise money, according to the Sunlight Foundation.
Freshman members like Kosmas and Jenkins have received some attention for the ease with which they raise money from Wall Street after winning their seats.
Last week Rep. Maxine Waters (D-Calif.) complained about the fundraising, saying she was "shaken" buy "the huge amount of money that the bankers and financial services community representatives are going to spend to lobby members of Congress."
Donnelly said finance, insurance, and real estate industry PACs have been bringing smaller checks to fundraisers lately. He sees fewer $5,000 donations and more contributions in the $1,000-to-$2,500 range.
"They're withholding some donations until after the votes," he said. "I think they are waiting to see who their friends really are...They'll top them off when they see how they vote."
Donnelly hates the game, not the players. He laments the fact that members of Congress who don't devote time to fundraising risk losing their jobs to better-funded opponents. But he said that the Fair Elections Now Act, which would allow candidates to fund campaigns with a mix of small contributions and public money, is nearing 70 cosponsors and may get a hearing next week.
Calling all HuffPost superfans!
Sign up for membership to become a founding member and help shape HuffPost's next chapter