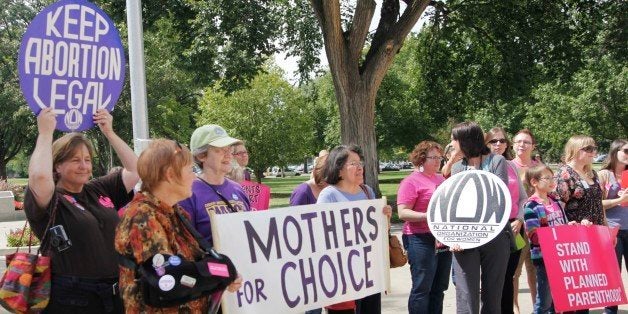 But the father-daughter pair of Drs. Herbert Hodes and Traci Nauser have continued to provide abortions and other reproductive health services, with more than 40 years of combined experience serving Kansas patients between them. Their clinic in Overland Park, the Center for Women's Health in Kansas, is one of only three that offers abortions in the state. Over the years, they've weathered restrictions such as insurance coverage bans for the procedure, mandatory parental consent and ultrasound laws, a 24-hour waiting period, new licensing regulations that almost forced them to stop providing abortions and state-mandated speeches they must give to their patients.
Now, Hodes and Nauser are serving as plaintiffs in a lawsuit against a new law that could block them from using the most common method for second-trimester abortions, called dilation and evacuation (D&E). The suit, filed by the Center for Reproductive Rights, seeks to have the legislation blocked before it takes effect July 1. A hearing for the suit hasn't yet been scheduled.
The law in question bans what the anti-abortion advocates behind it describe as "dismemberment abortion" by prohibiting doctors from using forceps, clamps, scissors or other instruments to remove a fetus from the womb. Reproductive rights advocates say the measure is a public relations stunt, aimed at using graphic language to turn people against the procedure altogether. Its supporters think the policy "has the power to transform the landscape of abortion policy" in the United States.
Since nearly 90 percent of abortions are performed in the first trimester, the ban would affect the approximately 8 or 9 percent of abortions performed using D&E. Ninety-five percent of second-trimester abortions are performed with the D&E method.
Oklahoma Gov. Mary Fallin (R) signed a similar bill within days of Kansas Gov. Sam Brownback (R) approving the measure in early April.
In a Thursday conversation with The Huffington Post, Dr. Traci Nauser explained why she believes the ban would force her to resort to under-studied, unnecessarily risky medical procedures instead of the generally accepted standard for care. (The interview has been edited for clarity and length.)
HuffPost: Could you explain how the law banning dilation and evacuation would impact your practice -- and what the alternative looks like?
TN: The standard D&E procedure that is performed currently is the safest, most effective and efficient surgical method to provide a second-trimester pregnancy termination. It's definitely the most common procedure that's performed at this gestational age. It's safer than a full-term pregnancy, the risk associated with a full-term pregnancy. Banning it does nothing but increase the risk and safety to women. We feel no woman should have to undergo a risky invasive procedure because of the politicians' personal and political agendas.
HuffPost: It must be exhausting to constantly be litigating and constantly facing these measures that would dramatically affect what you do.
TN: My father and I are deeply committed to providing our patients with the safest medical care available. This specific law would force us to choose between that commitment, which would literally be a criminal offense, or putting the lives of our patients at increased risk, and that's totally unethical to us. I don't think the general public really realizes how these laws are just a severe intrusion into the doctor-patient relationship, and really are going to put the lives of all pregnant women in Kansas at risk.
HuffPost: How does it feel to have the state's government telling you how you're able to perform the procedure?
TN: Doctors make decision with their patients on the ways to take care of any clinical situation, based on our medical training, our experience, our expertise and evidence-based science. The politicians and their personal or political agendas literally have no business being in that physician-patient process or in our exam rooms. They're not doctors.
HuffPost: It's unique for a father-daughter pair to be working together in this way. Why did you decide to pursue this path?
TN: He used to always take us to the hospital where we'd see his patients. In the beginning that was just fun to go to the doctor's lounge and eat doughnuts and stuff like that, and the nurses loved seeing us as kids.
I remember my favorite teddy bear had a big tear in it, and my father did surgery to fix it, and I was like, 'Oh my God, that's the best thing ever.' Since then I've done that for my son and he thought it was the greatest thing ever, that I did surgery to repair his favorite monkey. (He'll kill me if you put that in the article).
As I got older I learned that he took care of women and all of the particular medical situations they have, and part of that was learning he did abortions. I don't think as a young kid I had any idea what that was, but I did know that there were people who picketed our house and our cul de sac every Sunday from 3 to 5 p.m. In the beginning we would actually have to leave the house so our parents could keep us away from all that. Eventually, as we got older that wasn't something they needed to do. We'd stay home, and we would even be out in the yard playing and ignoring the picketers while we were there because we had such great support from people in the neighborhood.
When I was a senior in high school I got to watch a delivery and thought it was the most beautiful thing ever. In my residency I saw patients who were in situations where they had to make difficult decisions about what was best for them and their families, taking into account their personal beliefs, values, desires and goals for their futures, and I realized how important it is to be someone who will provide abortion services.
There are very few ob-gyns who are willing to be brave enough to do it. The majority are pro-choice and will talk to their patients about all three choices you have with a pregnancy, and then they refer their patients here, but they're not willing to put up with the potential picketers and people not liking you, or the potential shame that is put on you. But they know that there has to be someone who is going to take care of their patients. They refer their patients to us for all different reasons, and a lot of the patients that get referred to us are desired pregnancies, people who find out later in the pregnancy that there's something not right with the fetus, or the mother's health is in danger. Those patients get referred to us from all over the Midwest.
HuffPost: Is there anything else you'd want to share about what it's like to be a provider in Kansas, with only three clinics performing the procedure?
TN: It's a privilege to be a provider in Kansas because the patients need us, and the other doctors in other cities in the Midwest need us. When the laws keep coming down on us, trying to take away the rights of our patients, the other ob-gyns wonder, "What's going to happen to our patients if you guys can't take care of them?" That is a scary thing, what is going to happen to the patients if we're not able to take care of them?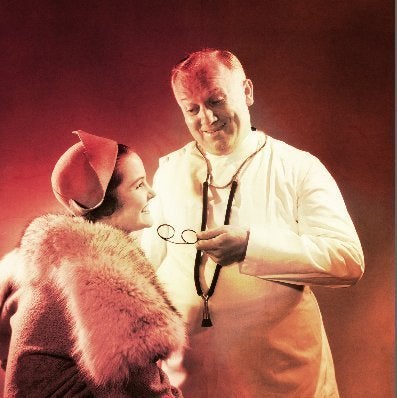 Myths About Abortion That Need To Be Busted
Popular in the Community