Kansas Gov. Sam Brownback (R) signed a bill Tuesday that made his state the first to ban a procedure used for most second-trimester abortions.
The Associated Press reported that Brownback signed the legislation in a ceremony at his residence, with anti-abortion advocates standing behind him.
The law, which was drafted by the National Right to Life Committee, is set to take effect July 1. It would effectively outlaw the dilation and evacuation procedure that is used for most second-trimester abortions and about 9 percent of all abortions performed in Kansas. Abortions in the state are currently generally allowed up to 22 weeks into a pregnancy, and this law could ban abortions as early as 14 weeks post-fertilization.
The legislation, which redefines the dilation and evacuation procedure as "dismemberment abortion," is part of a campaign by anti-abortion advocates to influence public opinion by using graphic language. Abortion rights proponents, on the other hand, say the procedure is often the safest and most compassionate way to terminate a pregnancy in the second trimester. They have argued that the bill would force abortion providers to consider methods that are less safe.
Both sides of the abortion debate understand that the ban on the dilation and evacuation procedure is meant to be a trial balloon for the Supreme Court, which in 2007 upheld a federal ban on a late-term procedure described by its opponents as "partial birth abortion."
The Kansas bill is part of a continued wave of legislation restricting abortion access. In the first three months of 2015, according to the Guttmacher Institute, 53 abortion restrictions had been approved by at least one legislative chamber, and nine had been enacted.
Before You Go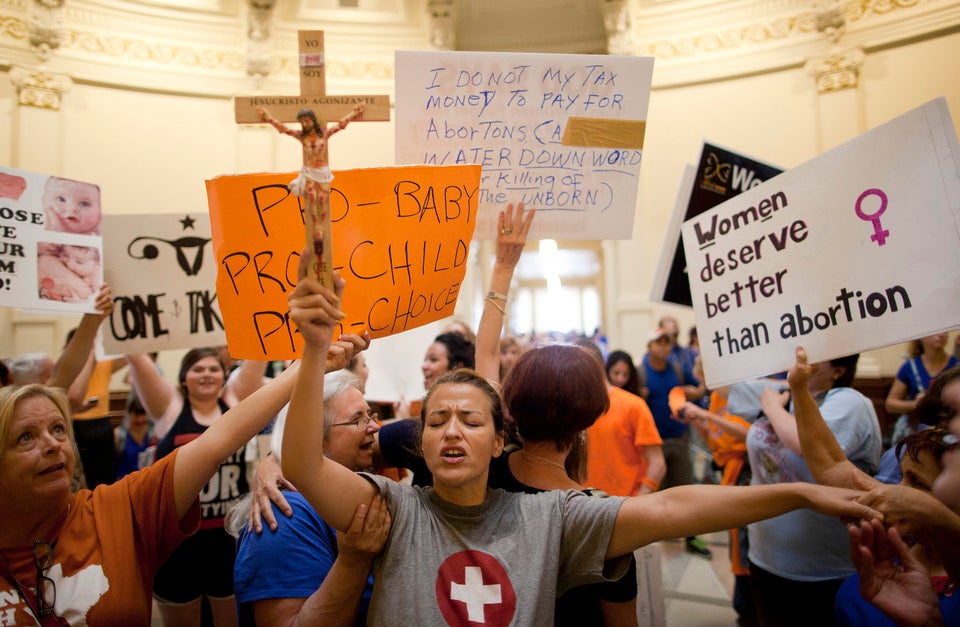 Abortion Protests Around The Nation
Popular in the Community