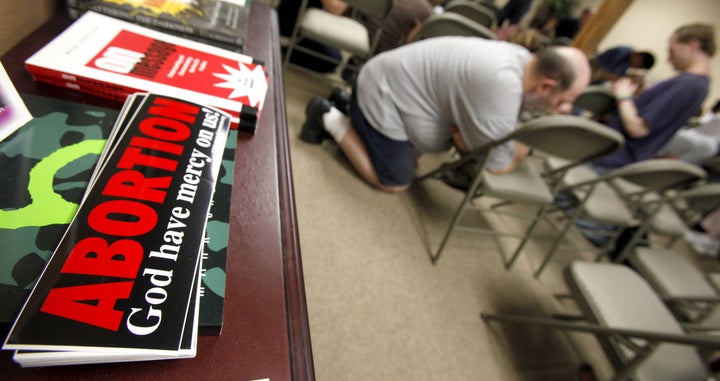 Following a request from Kansas Gov. Sam Brownback (R), conservatives in the state's House of Representatives introduced legislation Wednesday that would impose new restrictions on abortion.
The bill would require parental consent -- in some cases, that of two parents -- for teenagers seeking such a procedure. The proposal also includes language that would allow law enforcement to access state health records regarding abortions performed in the state.
As The Associated Press points out, legislation of this type has particular significance in Kansas, the state where abortion doctor George Tiller was murdered by an anti-abortion activist in 2009.
[Republican state Rep. Lance Kinzer] said the legislation was aimed at preventing another doctor from coming to Kansas to begin providing late-term abortions following the May 2009 killing of Wichita's Dr. George Tiller. Kinzer also said the law would bring Kansas in line with the federal ban on a procedure opponents call partial-birth abortion.
According to the Kansas Reporter, Kinzer's bill has been cosigned by a bipartisan group of 63 state lawmakers, in what they described as a measure to close "loopholes and lack of enforcement that allowed Kansas to become a late-term abortion destination spot."
Planned Parenthood spokeswoman Sarah Gillooly, however, says the proposal is an unnecessary restriction on abortions, especially considering the state's past with Tiller.
"I think it's totally unfounded fear. What physician would want to provide that care in the state?" Gillooly told the Associated Press, referring to the climate in Kansas following Tiller's slaying. "I think if the legislators were interested in reducing the number of abortions in the state of Kansas, they would stop mandating intrusion into the lives of Kansas families and start focusing on reducing the number of unintended pregnancies through affordable birth control and sex ed."
Popular in the Community