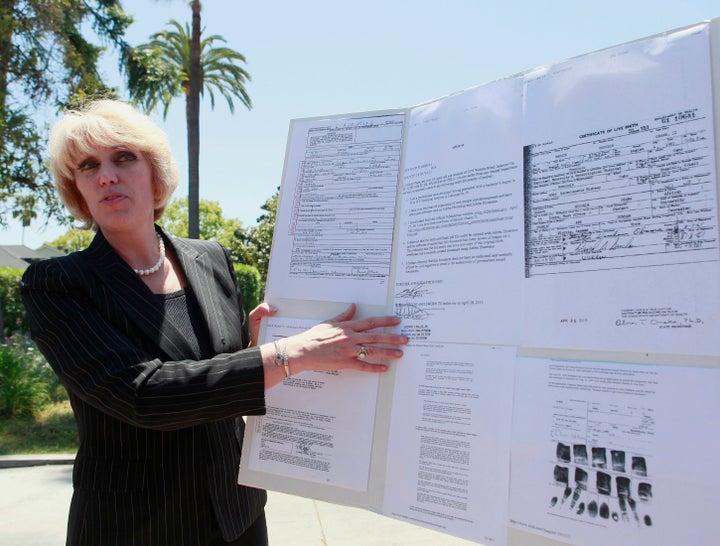 WASHINGTON -- In a meeting dominated by birther queen Orly Taitz, the Kansas Objections Board voted unanimously to accept President Barack Obama's citizenship and retain him on the state's presidential ballot.
The all-Republican board voted to accept a withdrawal of an objection to Obama's eligibility that was filed by Kansas State University employee Joseph Montgomery and accepted paperwork submitted by Obama's campaign attesting to the president's citizenship. Montgomery withdrew his objection on Friday, saying that he and his family had received threatening phone calls.
According to observers the board tried to conclude the meeting quickly, but Taitz interjected herself into the discussions, which Secretary of State Kris Kobach, the board's chairman, allowed.
"She kept trying to make her case from the floor," Topeka City Councilman Chad Manspeaker (D), who attended the meeting, told The Huffington Post. "Mr. Kobach gave her time."
According to Manspeaker, Kobach stated early in the meeting that the only people who could speak during the meeting were Montgomery and board members. Scott Rothschild, a reporter for the Lawrence Journal-World tweeted during the meeting that Kobach told Taitz that her "objection is not timely."
Manspeaker said Taitz, a California-based dentist and attorney, tried to tell the board that Montgomery could not withdraw his objection because he was doing so "under duress." Montgomery told HuffPost last week that he, along with personal and professional contacts, had received calls about the complaint he had filed, but he declined to go into the details of the calls. The objections board last Thursday voted to delay a final decision on Obama's eligibility until today, saying that they wanted information about Obama's birth from Hawaiian officials and noting they were upset that Obama did not send a representative to the meeting.
Montgomery challenged Obama's eligibility based on the president's father's citizenship in the United Kingdom and Kenya, saying in his complaint that citizenship came "primarily" from the father. Obama's mother and maternal grandparents are Kansas natives. Obama campaign attorney Kip Wainscott sent a letter to the board calling Montgomery's claim "baseless" and noting that multiple courts have determined that Obama was born in Hawaii. Former Hawaii Gov. Linda Lingle (R) has also confirmed the validity of Obama's birth records.
Manspeaker said that representatives for Lt. Gov. Jeff Colyer and Attorney Derek Schmidt, the other two board members who did not attend today's meeting, motioned to accept the withdrawal and Obama's papers, and moved to adjourn the meeting. He said Kobach's decision to let Taitz speak briefly prolonged the meeting. Manspeaker noted that Kobach, an informal advisor to Mitt Romney, was clear in telling the roughly 25 people in the room that the purpose of the meeting was to accept Montgomery's withdrawal. Under state law the objections board meets whenever an objection to a candidate is filed.
"She kept talking. He could have removed [Taitz] from the room but politically that was a bad move for him," Manspeaker said of Kobach, a Tea Party favorite who helped write Arizona's immigration law. "The one thing I will say is that he attempted to do everything right. He tried to spell out what was happening."
Manspeaker did note the irony of Taitz objecting to Kobach's actions.
"You had the birther movement going up against the guy who is a right-wing supporter," he said. "You had the birther movement calling him phoney baloney."
Popular in the Community