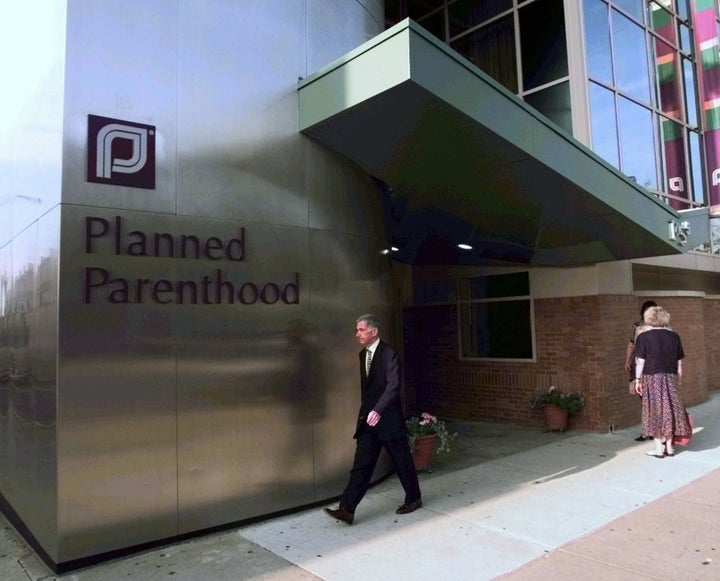 The new Kansas bill places Planned Parenthood at the very bottom of the priority funding list for family planning funding under Title X, a federal grant program that funds reproductive health services for low-income and uninsured patients. Planned Parenthood of Kansas and Mid-Missouri currently receives $334,000 a year in Title X funding, all of which it uses toward preventative health care, including pap tests, cancer screenings and STI testing and treatment, according to the health care provider.
The bill is part of a nationwide effort by the states to strip Planned Parenthood of government funding, which conservatives say is being used to pay for abortions, though the Hyde Amendment has outlawed federal funding for abortions for the past 30 years.
"The fundamental issue here is not -- although I wish it were -- the ability to further limit legal access to abortion, but rather who pays," said Kansas House Judiciary Committee Chairman Lance Kinzer (R-Olathe).
Since Republican congressional lawmakers failed to defund Planned Parenthood during federal budget negotiations in April, state lawmakers have been busy figuring out ways to cut funding to the family planning provider without explicitly doing so. Indiana Gov. Mitch Daniels (R) signed a bill earlier this week preventing Medicaid from contracting with "any entity that performs abortions" aside from a hospital, which effectively singled out Planned Parenthood.
The Kansas bill could leave thousands of rural and low-income patients without access to affordable health care. A 2009 report by the Guttmacher Institute found that a majority of low-income women consider a family planning center like Planned Parenthood their primary health provider. Moreover, Planned Parenthood estimates that 73 percent of its clinics are in rural or medically underserved areas, where patients have very limited options for affordable health care.
"This amendment will be disastrous for thousands of Kansans, particularly those living in rural counties," said Peter Brownlie, president of Planned Parenthood of Kansas and Mid-Missouri. "By effectively eliminating Planned Parenthood as Title X provider, patients may be forced to endure long wait time for live-saving cancer screenings and the possibility of having to drive hundreds of miles to the nearest low-income family planning provider," he said. "This amendment is an attack on poor women, and it is repugnant."
State legislatures across the country, including Indiana, Texas, North Carolina, Oklahoma, and Tennessee, are considering or have passed bills that would cut off funding for Planned Parenthood, but not without resistance. The Indiana branch is fighting back against the state's defunding bill in federal court, and the Planned Parenthood of Kansas may now do the same.
"Planned Parenthood of Kansas and Mid-Missouri is seriously considering all options -- including litigation -- to protect the health care needs of our patients, particularly low-income women and families," Brownlie said in a statement. "There is no question: If the measure acts as intended, Planned Parenthood and thousands of patients will be unfairly punished."
Popular in the Community