KANSAS CITY, Kan. — Mahnaz Shabbir was 12 when a teacher walked into her sixth-grade classroom and asked her to come to the front of the room and explain why her cousin wasn't eating. Mortified, Shabbir told the class that her cousin, who had recently moved to the U.S. from India, was observing the Muslim holy month of Ramadan, which requires fasting.
When her friends played "cowboys and Indians," Shabbir, whose parents came from Hyderabad, India, was always made to play an Indian. This felt different: Her teacher had singled her out in front of her overwhelmingly white, Christian classmates.
That was 1971. But it was a humiliating lesson, and one that she carried with her for decades: Keep quiet about your religion.
So Shabbir did just that. She didn't wear a headscarf in public. She talked about Islam only to people she could trust. She moved across the country: First to Wisconsin, then to the University of Missouri-Kansas City for business school and finally to the Kansas City suburbs, where she settled down with her husband.
Shabbir, who has kind eyes and a disarming smile, came to love the Midwest for everything the cities to the east were not. The people were nice. The spaces were vast. The stores were clean. She got a job doing strategic planning and business development at a hospital system. Her husband, an immigrant from Hyderabad like her parents, worked as a physician. They built a spacious home outside Kansas City, with wide windows, a winding staircase and a golden chandelier in the foyer. She had children of her own — four boys.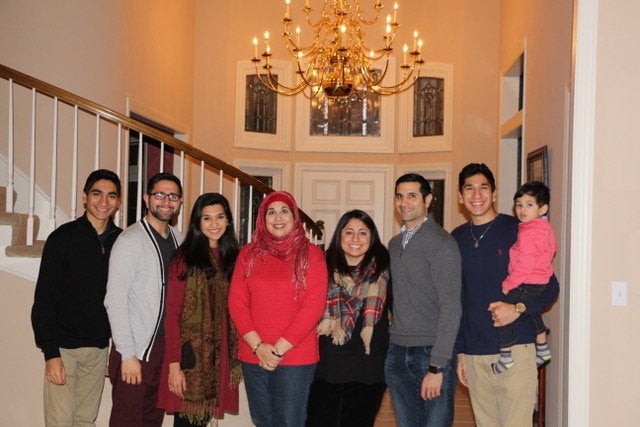 But after the Sept. 11, 2001, terrorist attacks, the anti-Muslim whispers turned to shouts, and Shabbir couldn't shake something inside her. Kids called her second-oldest child, a high school student named Syed, a "terrorist." A man told her eldest child, Ali, that Muslims should be locked up. When the man asked for Ali's name, he said it was Al.
Shabbir spoke to the principal and counselors at Syed's school. She started to attend talks to help combat stereotypes about Muslims. Then she went again, and again, and again. Women's groups, churches and the NAACP asked her to help dispel myths about Islam.
She published a column in the Kansas City Star. "[T]here has been so much negative information about Muslims and Islam, I knew I couldn't be silent," she wrote. "I had to speak out and let others know the truth. Thank God, for people who want to know the truth."
In 2003, she quit her job at the hospital and started a consulting firm focused on combating Islamophobia. She led diversity trainings at middle schools. She became the chair of an independent citizen advisory board that investigated racial profiling by police. She worked on human relations at the school district and at interfaith groups dedicated to improving understanding between religions.
One time, a veteran told her he would help protect local mosques. A mother told Shabbir that her child, after attending one of her local "Meet a Muslim" programs, pushed back against one of his peers at school who said Muslims were "the problem."
In 2006, her husband returned from his pilgrimage to Mecca. He appeared exhausted. Within a day, he died, leaving Shabbir to care for their four children alone. Four years later, Shabbir made her own pilgrimage to Mecca. She wore a headscarf. Afterward, she decided not to take it off.
"Oh, isn't it much better than [just after] 9/11?" people ask her now.
"No, actually,'" she tells them. "It's worse."
The attacks on her children haven't stopped. Someone pushed down her youngest child, who is in high school, and told him he blended into the rug. People called her second-youngest, Abbas, a monkey and a sand nigger. Abbas got into the first fight of his life when someone told him the same thing another person had told his brother Syed: that their late father was a terrorist.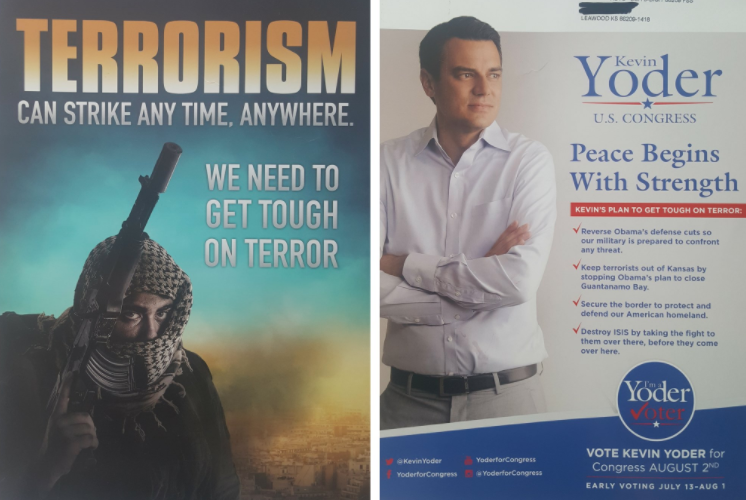 It's also a political cudgel: Last July, Shabbir opened her mailbox to find a postcard from U.S. Rep. Kevin Yoder (R-Kan.), who represents her district. On the front of it was an Arab man with a large gun against the backdrop of a smoldering city. "Terrorism," it warned, "can strike any time, anywhere."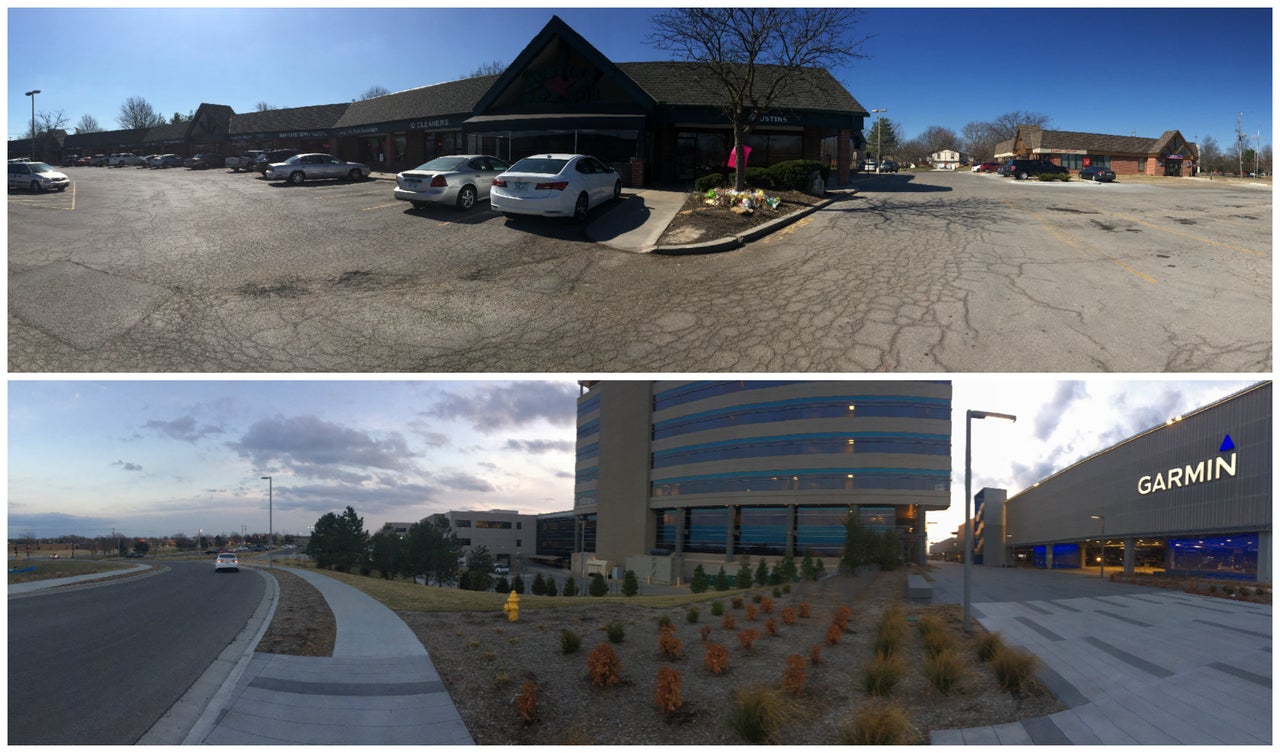 Then, one day last month, a man entered Austins Bar & Grill in Olathe, Kansas, minutes from Shabbir's home.
At the bar, the man noticed Srinivas Kuchibhotla and Alok Madasani, two 32-year-old Indian men who worked at Garmin, a technology company that makes GPS-enabled gadgets. He asked them if they were in the country illegally. He asked them what type of visas they had. He told them to get out of his country.
Some people say the bar kicked the man out. But he returned with a gun. He shot Madasani, Kuchibhotla and Ian Grillot, a 24-year-old who tried to stop him. Then he fled. Adam Purinton, 51, of Olathe, has been charged in the shooting.
Madasani and Grillot survived the attack. Kuchibhotla did not.
He was 32 — roughly the same age as Shabbir's oldest children. He was from Hyderabad, where her parents and late husband were born.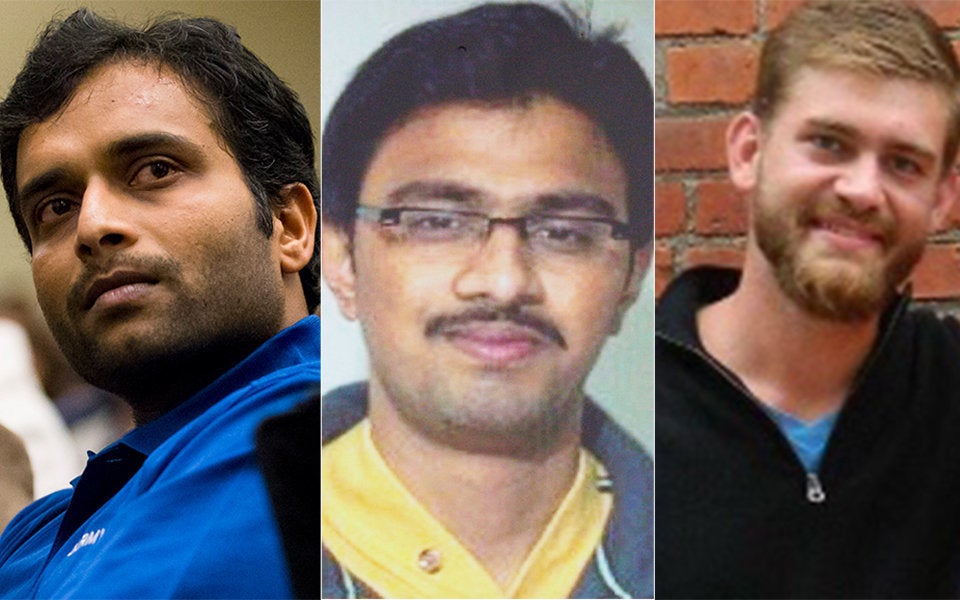 "It could have been any one of our boys," she said. "It could happen while we're here. Right now. Right at this moment it could happen."
Shabbir wanted President Donald Trump to speak out. But for days, he said nothing.
At the vigil, Shabbir spotted Congressman Yoder. She walked up to him and looked him in the eye. There is a Pandora's box of hate that has been opened, she told him. It's the duty of elected officials to do what they can to close it.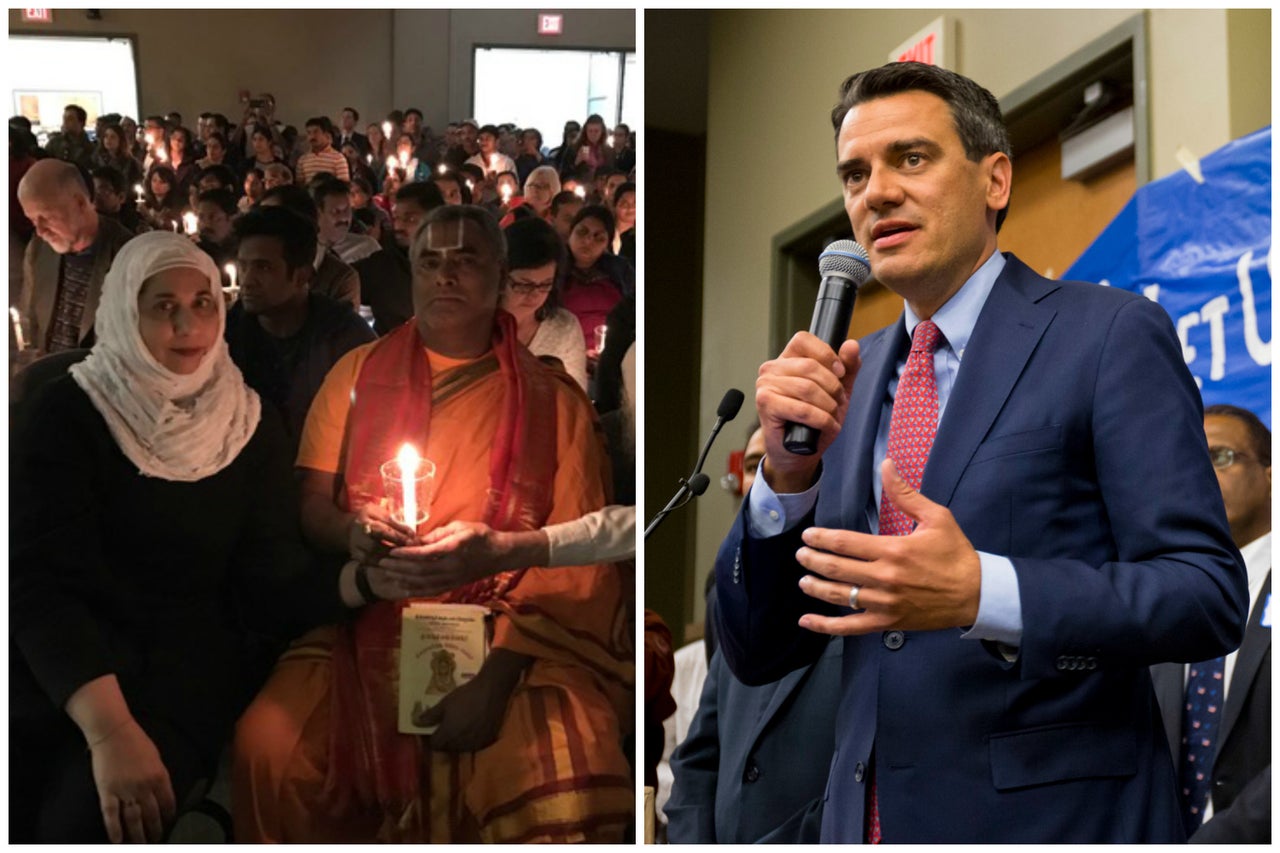 "Last night, our community sent the strong message that love will overcome hate," he said. "Thousands of concerned citizens in my district came together to support one another and our growing and vibrant Indian community in this time of great tragedy.
"We show the world that our diverse political and religious views are what make our community and our country great. Mr. Speaker, in addition to this moment of silence, let us renew our commitment to treating each other with respect and embracing civility in our public discourse."
Before You Go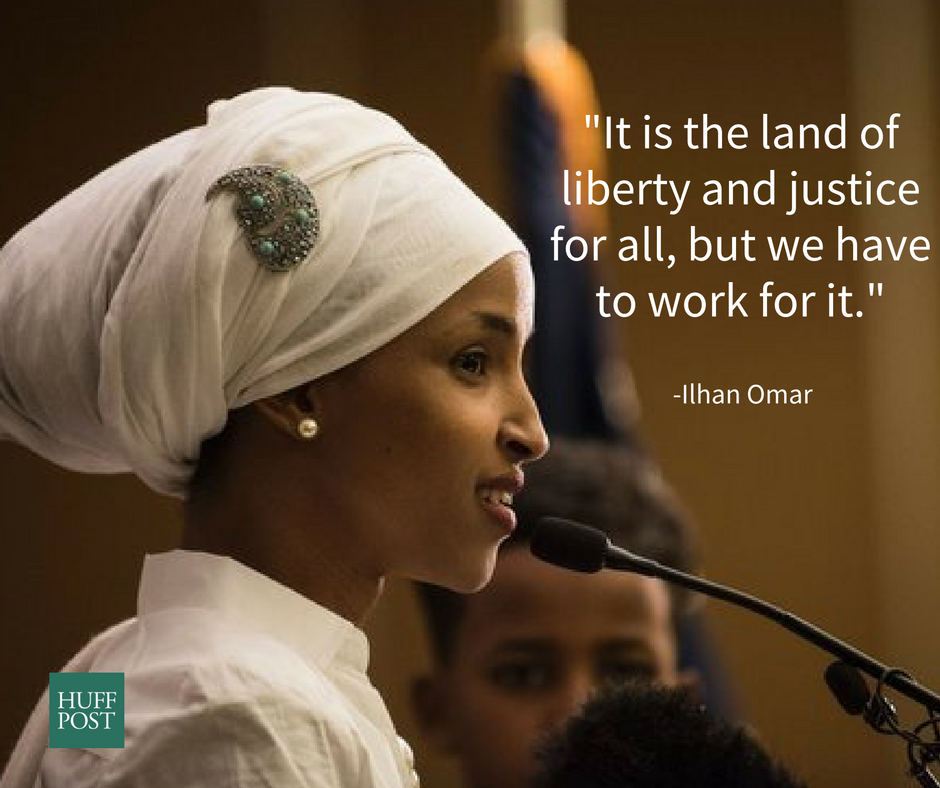 Muslim Women Who Made A Difference In 2016
Popular in the Community