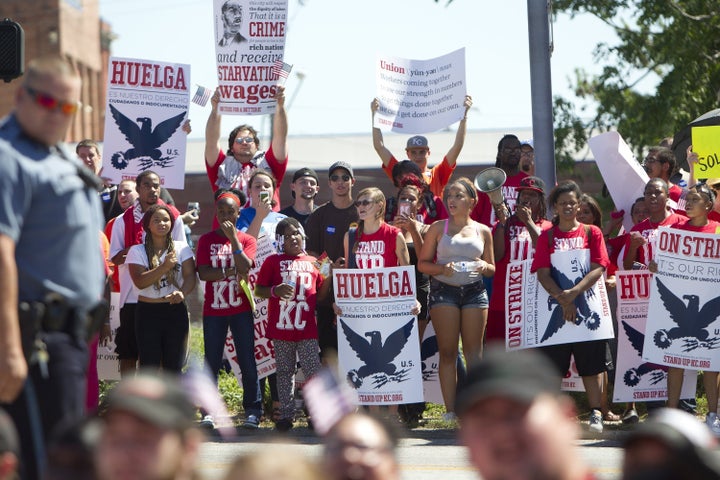 The city council will consider an ordinance Thursday that would put the measure on the November ballot, according to KCTV. Under the proposal, which is being backed by local fast food workers and civil rights activists, the city's minimum wage would increase by $1.25 every year until 2020, when it would hit $15.
The city council had already approved raising the minimum wage to $13, but that measure is now on hold as a business-backed group called Missourians for Fair Wages is attempting to collect enough signatures to force a referendum on it. 
The Republican-led Missouri General Assembly could also present a challenge to Kansas City's efforts to increase its minimum wage.
In July, Missouri Gov. Jay Nixon (D) vetoed a bill that would have prevented cities from raising the minimum wage over the statewide level of $7.65, calling it "a clear example of unwarranted government intrusion."
"Local voters ought to have the right to decide these issues," Nixon said in a statement. "Just as there should be an appropriate allocation of responsibilities between federal and state governments, so too should the precept of local control apply to the relationship between state and local governments."
But according to KCTV, the legislature could override Nixon's veto during a special session in September. Doing so would not only end Kansas City's $13 and $15 proposals but would also put a stop to efforts in St. Louis to increase the minimum wage there to $11.
PHOTO GALLERY
What Minimum Wage Haters Won't Say
Calling all HuffPost superfans!
Sign up for membership to become a founding member and help shape HuffPost's next chapter