And we're still on the search to find out what fashion looks like to people living in cities all around the country.
Kemora J. Williams is a 23-year-old pre-kindergarten teacher who has lived in Kansas City, Missouri for five years. When she's not chasing around 4- and 5-year-olds, she spends her time writing and modeling her wardrobe for her Instagram followers.
Williams calls Kansas City "very chill" and feels like her style reflects that vibe. Find out how she achieves that look, what the most popular trends are in her city right now and more below.
What makes the style in your city unique?
The style in Kansas City is unique because everyone is able to tell who they are as a person using their style.
What are some trends that are popular right now in your city?
Off-the-shoulder shirts, pops of color and mixing prints.
What are some of your favorite personal trends?
Some of my favorite trends would have to be floral print, cardigans, and I am now starting to love boyfriend jeans, leather jackets and oversized sweaters for the fall.
What are some trends in your city that you hate?
Trends that I really dislike in Kansas City are the furry slide sandals that a lot of women wear, and crop tops.
Do you feel like your style reflects your city? Why or why not?
There are some days that I feel as if my style reflects Kansas City because it is a very chill and artsy place, and there are some days that I give off that chill and artsy vibe with the clothes I wear.
What does your style say about you?
Honestly, it depends on the day. Some days my style says that I have no rules because I am creative without boundaries. However, it could also say that I love vintage, because I have some old pieces that could never go out of style in my closet.
What are your favorite places to shop? Both local and department stores?
Do you feel pressure to be stylish in your city?
I do not think Kansas City pressures me to be stylish, but more so to be creative and unique with anything I decide to wear.
Do you think it costs a lot of money to be stylish in your city?
Honestly, I think it depends on exactly the type of style the person has. If you are the type of person that likes to wear name brand everything, then yes, it can be extremely expensive. But I'm not that person. If it looks cute and is of quality, then I have no problem wearing it. Personally, I do not think it costs a lot of money to be stylish in Kansas City. There is a nice variety of places to go shopping that are reasonably priced.
Do you feel pressure to be well-dressed at your job?
Considering I work with 4- and 5-year-olds at an early learning center, I'm not really pressured to dress well but to dress comfortably and presentable. However, depending on what is going on at the school, my pressure to dress fashionably may change because I want to represent myself and my workplace well. For example, I dress better on days that I might have professional development or parent teacher conferences versus the days that I am teaching.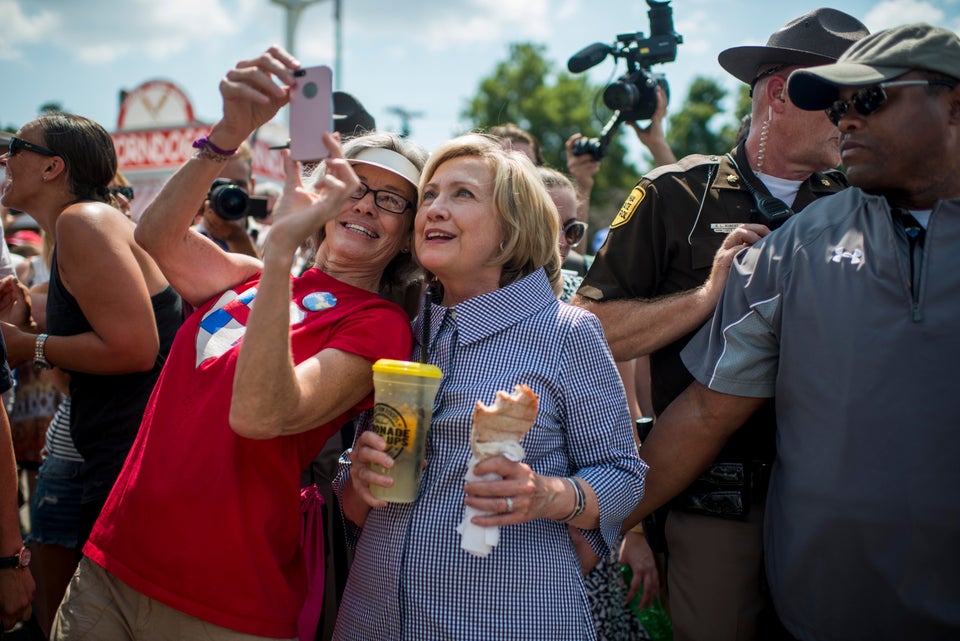 Politicians At The Iowa State Fair