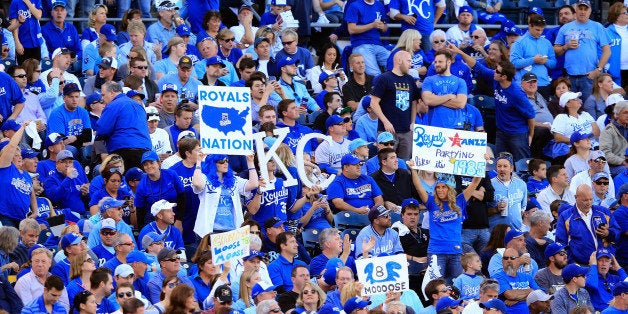 I never write about baseball. But today, I'm writing about baseball.
I hate that I clicked on the article "13 Reasons the Kansas City Royals are the Worst" because my click added traffic to a page I wish would quickly fade out of my Facebook news feed. Everyone's entitled to their opinions, including San Francisco writers who prefer their city's team over mine.
But after reading a downright mean article that's not only picking on the team, but our fans, I want to stick up for the city I call home. The city that, like it or not, is making headlines and charming America.
Here are 5 reasons that the Kansas City Royals team (and actually, Kansas City) ISN'T the worst. No need to find 13 reasons.
I think our Mayor Sly James actually said it best in his Open Letter to America posted on his blog. So, I'm just expanding on his 5 points because I agree that Kansas City is a wonderful place and applaud a team that's reminded us all why.
1. We are hardworking -- not needy.
The KC Royals fans look to this World Series team as one of the hardest-working teams in the league. We don't have the biggest budget or the flashiest roster. We know that. It's been part of the struggle.
But our team is made up of hard-working guys who are passionate about baseball. They've stuck it out and made KC their team.
This country was built by passionate people willing to work hard whether it generated huge profits or not. In this World Series, we're watching a team bring back a bit of nostalgia and the American Dream.
2. We are friendly -- not cold.
The friendliness of KC is due to a culture where we offer hospitality and kindness to both our neighbors and our visitors. I find it amazing that Royals players have celebrated with fans after the games.
We're fans that don't only support our multiple teams, but we support one another. Just look at one of the best stories to come out of the World Series so far:
A man who lives near a young kiddo fighting cancer at Children's Mercy started an online campaign to get the kiddo a ticket to the World Series. His campaign got the attention of Joe Torre, who reached out to the kid and invited him to the game.
Then, StubHub got involved and donated more tickets so other sick kids could attend.
Our fans may be quirky or dumb to others, and sure, some are silly. But overall, we've got heart.
3. We are classy -- not pompous.
The sea of blue fans at the Royals games is made up of people who can easily afford to buy World Series tickets on a whim -- even those who live and work in "cow town." There are lots of businesses and innovations around here and many people in KC do very well for themselves.
However, they're classy about it.
They're sporting the same $30 "Take the Pennant" t-shirt as the dude who works minimum wage and scraped together tips to buy it. We're not arrogant or pompous. We're in it together -- even the celebs who've come out to the games.

photo on Flickr/by Mark Whitt
4. We are edgy -- certainly not boring.
Kauffman Stadium is one of the most beautiful stadiums in the country. It's hard to debate that.
As the "city of fountains," our team plays in a stadium that we think is extremely beautiful and gives a nod to our town. We're literally invested in it, as we've voted to allocate funds to make sure it's kept up.
We think it's an asset that residents from two states can come together and support a team and a stadium. We might not have some of the same landmarks other U.S. cities do, but we prioritize adding beauty, culture and "edge" to what we do have. And we happen to like it.

Photo on Flickr / by Dallas Clemons
5. And we are fun -- as evidenced by our propensity to combine good music and good barbeque whenever possible.
The KC Royals, and the fans, are fun. Watching the highlights of what led up to the World Series games, it's just downright fun to watch our baseball team.
Regardless of if the Royals win or lose this World Series, this has been a very fun October. Staying up late to watch extra innings, carving "KC" in our pumpkins and watching the entire town go "blue" is something beyond words -- it's given us a sense of humanity and connectedness that we all long for.
For all of us in KC, this past October will be an incredible memory that we all talk about for the rest of our lives.
That is reason in and of itself that the Kansas City Royals AREN'T the worst.
Related
Popular in the Community