At long last, there will be October baseball in Kansas City.
With one swing of his bat, Salvador Perez gave the long-suffering Royals fans at Kauffman Stadium something they hadn't been able to celebrate since 1985: A win in the MLB playoffs. Having waited 29 years since the team's last postseason appearance, those fans had to wait into the 12th inning on Tuesday night before Perez sealed a thrilling 9-8 win over the Oakland Athletics in the American League Wild Card Game with an RBI single down the left-field line to score teammate Christian Colon from second base.
"This team showed a lot of character tonight," Royals first baseman Eric Hosmer said after the win, via The Associated Press. "We weren't going to quit."
The Royals came to bat in the bottom half of the 12th inning facing a 8-7 deficit, but pulled level after a one-out triple by Hosmer and a RBI single by Colon. Two pitches before the game-winning knock, Colon stole second base to move into scoring position. It was the Royals' record-tying seventh steal of the game.
About an earlier, the home side had trailed entering the bottom of the ninth. Facing a 7-6 deficit, the Royals forced extra innings when Nori Aoki plated pinch-runner Jarrod Dyson with a sacrifice fly to right field. Before being driven in by Aoki, Dyson swiped the Royals' sixth base of the night.
Perez's walk-off hit in the 12th capped a game that more than lived up to its "wild" billing thanks to a widely-panned strategic misstep by Royal manager Ned Yost, a pair of home runs from A's first baseman Brandon Moss and those late rallies by the eventual victors. The long-awaited postseason win sent the Royals into the Division Series against the Los Angeles Angels and let Yost off the hook for his dubious decision to pull starting pitcher James Shield from the game in the sixth inning.
With the Royals leading 3-2, Yost pulled the player known as "Big Game James" in favor of rookie Yordano Ventura after the first two A's hitters reached base. The move backfired almost immediately. Moss drove Ventura's third pitch over the center-field fence for a three-run home run.
When it was all said and done in Kansas City, retired Royals legend George Brett's reaction pretty much summed up the way that most fans at Kauffman Stadium were feeling.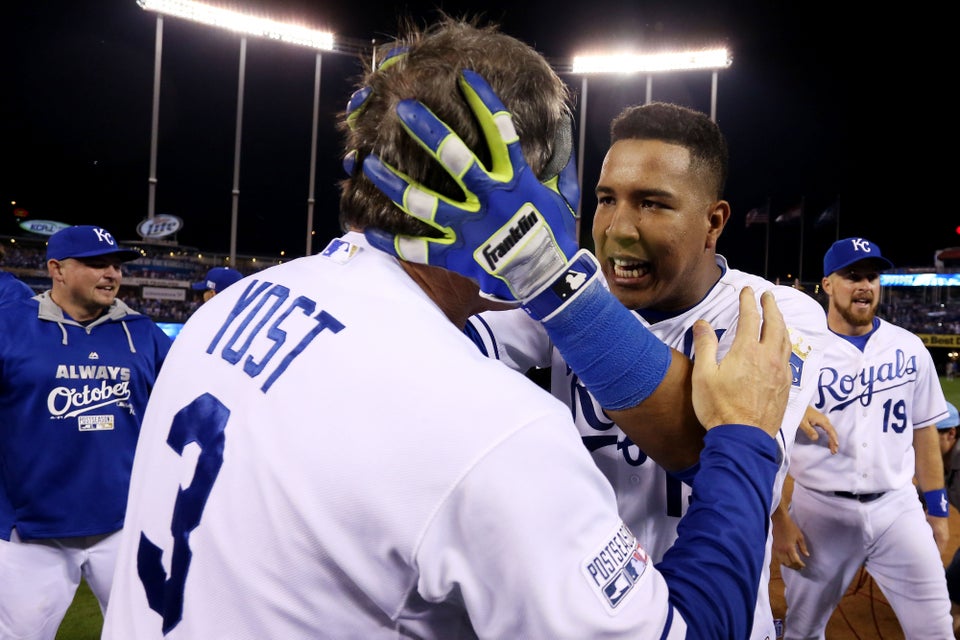 PHOTOS: Royals Win 1st Playoff Game Since 1985
Popular in the Community