The KSFCR, an umbrella group for the state's college Republicans, last week unanimously passed a resolution supporting a repeal of the death penalty in Kansas. The resolution marks the first time the group has taken a position on the issue.
"Our job is to inform the party where our generation stands on social issues," Dalton Glasscock, a junior at Wichita State University and chairman of the KSFCR, told The Huffington Post Monday. "In the past, college Republicans have largely just agreed with the national party. But we need to show the generational shift."
Glasscock said that for young conservatives who oppose the death penalty, it's ultimately a matter of consistency. He noted that the KSFCR has "a 100 percent pro-life state board."
"I am pro-life, from conception to natural death," said Glasscock, who also cited the "the fiscal cost" of capital punishment. "But it's not just about life -- it's about the inherent distrust of the government that's common in my generation."
Abolishing the death penalty is usually thought of as a goal of social progressives, but Marc Hyden of the group Conservatives Concerned About the Death Penalty said it's quickly becoming a conservative cause, too -- albeit for different reasons.
"The narrative is changing around the death penalty," Hyden told HuffPost. "The state Republicans took the death penalty off their platform, so it makes sense the College Republicans went along with this resolution."
"My experience in talking to colleges across the U.S. [is that] younger people tend to be more skeptical of government power," he went on. "And there's no greater power than taking a human life."
Clayton Barker, executive director of the Kansas Republican Party, confirmed that after years of supporting the death penalty, the state party now holds a neutral stance on the issue.
"We do a platform every two years, and this year it was left out," Barker said.
Hyden noted that in states that have the death penalty on the books but rarely use it, support for the punishment eventually tends to wane. Kansas is one such state -- the last time it carried out an execution was 1965. It has abolished and reinstated the death penalty three times since the early 1900s. The most recent attempt at abolition, in 2010, fell one vote short.
While Glasscock sees the shift against death penalty as an issue of particular importance to millennial conservatives, Hyden notes that many older Republicans have long opposed the punishment and are only now gaining enough momentum to issue meaningful calls for abolition.
Yet even as those calls grow louder -- especially in conservative Midwestern states -- there's still plenty of pushback.
Nebraska legislators successfully repealed the state's death penalty earlier this year, in a push that drew bipartisan support and even survived a veto attempt by Gov. Pete Ricketts (R). The state's harshest penalty is now life without the possibility of parole -- but a group of Nebraskans have mounted an effort to restore the death penalty by ballot referendum.
"I just think -- move delicately. It's OK to have different opinions with somebody. But have conversations," Glasscock said, acknowledging that there are strong feelings on both sides of the issue. "My recommendation is to investigate and know where you stand instead of just believing [an issue is right] -- and [be] willing to change your opinion."
Glasscock said that hearing stories from death row exonerees ultimately caused him to change his views, which had previously been staunchly pro-death penalty.
"I can't support a policy that would endanger one innocent life," he said. "Even if it's the worst of the worst, we can incarcerate them so they're not a danger to society. It's not worth endangering an innocent person."
Hyden offered an ambitious forecast of what the future holds for capital punishment -- not only in Kansas but around the country.
"There are a handful of states I'm telling everyone to keep their eye on in coming years. Delaware, New Hampshire, Montana -- they had a 50-50 tie last time they voted on [repealing the death penalty], and they don't use it much either," he said. "But I think Kansas is pretty close."
Rick Halperin, an expert on the death penalty who leads Southern Methodist University's Embrey Human Rights Program, said he strongly agreed with Hyden's assessment.
"Kansas has had a recent history of strong abolition efforts," Halperin told HuffPost in an email, adding that the strongest anti-death penalty movements tend to be the ones that bring together a bipartisan coalition. "In today's climate, it has become much more politically acceptable for those from the political right to join this cause."
A major common factor linking states like Kansas, Montana and New Hampshire is that they haven't used their death penalty in years, according to Fordham Law professor and death penalty expert Deb Denno. Montana's last execution was almost a decade ago, while New Hampshire hasn't carried out an execution since 1939.
"The entire culture is changing," Denno told HuffPost. "The pieces of this puzzle have been here for decades... and now we're lining up the dominos in a certain way and watching them fall."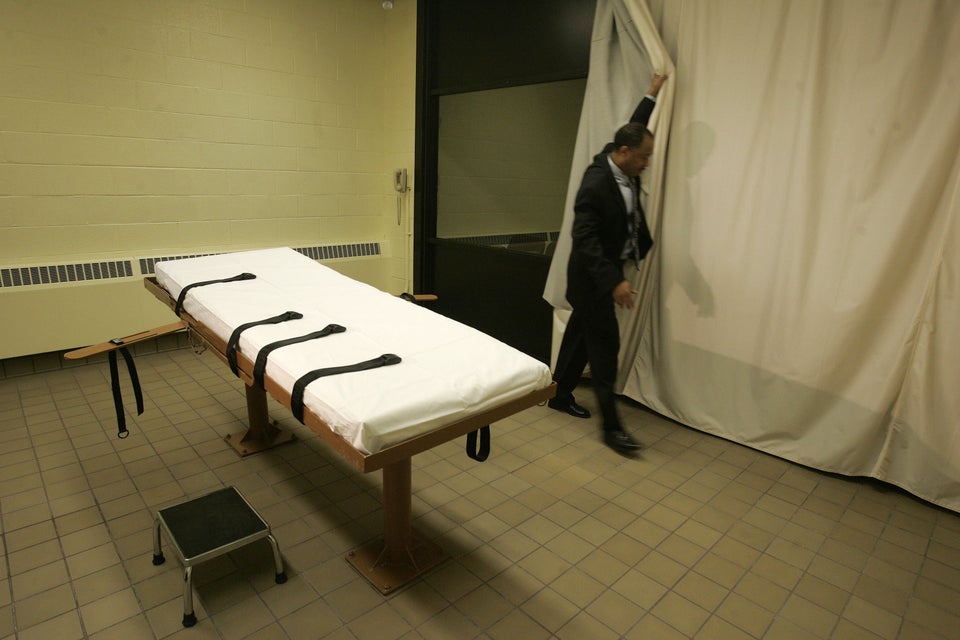 Capital Punishment Methods
Popular in the Community