A number of lesbian, gay, bisexual and transgender rights advocates joined HuffPost Live this week to sound off on a controversial new Kansas bill which prevent lawsuits against someone who refuses, for religious reasons, to serve to members of the LGBT community.
"If they're gonna try and say they're doing that as Christians, I don't think that's something that you can say because if you read the Bible with any sense of honesty, you don't at all see Jesus or the Christians there looking to protect their own interests in a way that will put down others and discriminate against others," author and blogger Emily Timbol noted. "This bill and any bill like that ... that's not Christian."
Sandra Meade, who serves as state chair of Equality Kansas, said the bill had been created "simply to appease the extremist constituents" of some conservative lawmakers.
"Unfortunately, it really has no practical effect other than the serious issue of enabling government employees to continue to discriminate and the harm that it does to businesses," she said.
Before You Go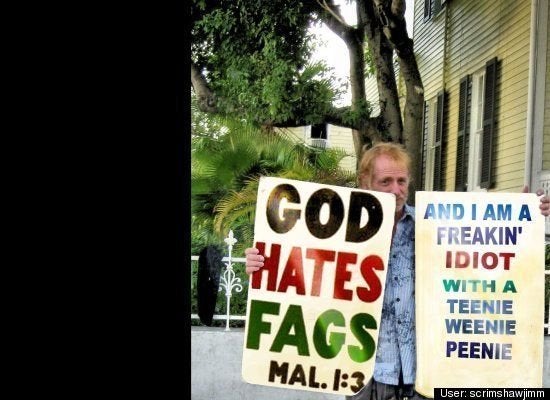 Anti-Gay Protesters Getting Owned
Popular in the Community