OVERLAND PARK, Kansas -- A boring thing happened in Kansas last week.
In a nondescript conference room in a nondescript community center, a group with a nondescript name vented about that most nondescript of policy matters: budgets.
Members of Republicans for Kansas Values, a stodgy group of lawmakers past and present, assailed the state's increasing deficits, depleted trust funds and lowered credit rating. All these grievances were laid at the doorstep of the state's Republican governor, Sam Brownback, whose re-election the group opposed. One member, in what probably counts as a dramatic gesture among moderates, said he would unload all his state bonds were Brownback to win again.
Brownback's Democratic opponent, Kansas state House Minority Leader Paul Davis, himself pretty nondescript, looked on solemnly -- or as solemnly as one can during a discussion of fixed-income financial instruments.
Kansas has been anything but boring since Brownback swept into the governor's mansion in 2011, hoping (as he put it) to turn the state into a "real life experiment" of far-right policy ideas. He drastically cut income taxes, a major source of funding for schools and infrastructure; declined federal dollars to expand Medicaid; and railed against reproductive rights, same-sex marriage and undocumented immigrants. When moderate Republicans in the legislature tried to rein in his fiscal agenda, Brownback and conservative groups like the Koch brothers' Americans for Prosperity orchestrated a purge, spending lavishly on the moderates' 2012 primary challengers. Brownback triumphed, and the state Senate's bloc of moderate Republicans was eviscerated that year.
"This is sort of the Koch brothers' playground," lamented Wint Winter Jr., a former state senator and founder of Republicans for Kansas Values. The state is home territory for the politically active billionaires Charles and David Koch, where they were born and where their company, Koch Industries, is based.
The Davis campaign is gambling on a backlash -- to Brownback's budget cuts and all the partisan battles. Kansas Republicans still identify with no-fuss moderates like President Dwight Eisenhower and Senate Majority Leader Bob Dole, multiple local officials told The Huffington Post. And they aren't exactly thrilled that their governor has turned the state into a petri dish of tea party ideology. Status quo might be boring, but it kept the schools funded and the roads pothole-free.
"Kansas Republicans are let-the-dog-out, bring-in-the-milk kinds of people," Winter said. "Don't give us flash, don't give us extremes."
Two weeks before the election, moderates' anger has yet to subside. Some of these unassuming rebels might be older, slower-moving and prefer polyblend pants and Cosby-esque sweaters to the tea party's tricorn hats. But they could well determine not just Kansas' future but the balance of power in Congress. The taint of Brownback's low approval ratings is hampering the statewide campaigns of other Republicans like two-term Sen. Pat Roberts and Kris Kobach, the firebrand secretary of state who has become a national figure for his work targeting undocumented immigrants.
"I'm a traditional, fiscally conservative Republican, and my party has left me and has pushed far, far to the right," said Sheila Frahm, a former state Senate majority leader and lieutenant governor who held Dole's U.S. Senate seat for five months after he resigned to run for president. "The 'experiment,' as the governor has called it, has not worked. And now you have this rebellion."
Brownback, for his part, is putting up a fight for his party's centrist wing, resulting in something of a moderate arms race. After the Republicans for Kansas Values event, the Brownback campaign blasted out a scathing statement from its own allied group of aisle-crossers, Democrats for Brownback, which contended that Republicans for Kansas Values represents "less than one-tenth of one percent of all registered Republicans in Kansas."
During a Topeka campaign stop, The Huffington Post asked Davis about Democrats for Brownback. He scoffed, "What? Are there two of them?"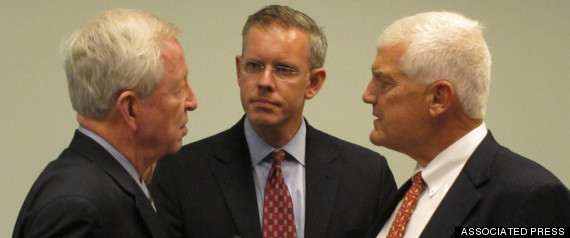 Paul Davis (center), the Democratic candidate for Kansas governor, confers with two Republicans -- former Kansas Senate President Steve Morris (left) and former state Sen. Wint Winter Jr. (right) -- before a news conference on Oct. 14, 2014. (AP Photo/John Hanna)
Hiawatha is known as the "City of Beautiful Maples," but with its modest and well-kept homes, picturesque town square and surrounding lush farmland, this northeast Kansas town of 3,000 could just as well be called the "City of Norman Rockwell's Fever Dream."
A banner spanning one of its main thoroughfares announces the town's 100th annual Halloween parade, which residents boast is the oldest such continuing festivity in the country. Hiawatha was reportedly the inspiration for Riverdale, the fictional Midwestern setting of the "Archie" comic strip. "Real" America doesn't get much realer. It just so happens that this little slice of Americana is also run by a lifelong Republican who is seriously mad at Sam Brownback.
Crosby Gernon, Hiawatha's mayor since 2005 and a member of Republicans for Kansas Values, worries that Brownback's cuts to the state's income, corporate and sales taxes are starving the municipal services that have made his community an attractive place to raise families.
"It's almost a race now to see who can be the most conservative and not really offer solutions," Gernon said. "This 'experiment' that Brownback wanted to create has failed miserably."
Hiawatha's schools have been forced to reduce extracurricular programs and non-core classes like art and music. Class sizes have increased, and school officials said that the only thing that has prevented cuts to core classes like math and English are teachers who have consented to pay freezes.
Such conditions have made the school system, historically Hiawatha's biggest employer, a less attractive place to work. It's not just students who've been hurt, officials argued to HuffPost, but the town as a whole. They feared that people who might otherwise consider moving to Hiawatha are going elsewhere, like nearby Nebraska.
"It used to be that you'd start working with us when you were 18 and would work with us for your whole career," said Penny Hargrove, superintendent of Hiawatha Public Schools. "Now, because of the uncertainty of whether we'll be able to keep funding levels from one year to the next, people are a little leery to work with us."
If you're a breadwinner for a family of four, Hargrove said, the starting salary for a teaching position wouldn't lift you above the poverty line -- which is $23,850, according to the U.S. Department of Health and Human Services.
"I've don't think I've ever seen morale so low," observed Chris Vitt, a biology and anatomy teacher at Hiawatha High School and 31-year veteran of the school district.
But what really scares local educators is consolidation, a scenario in which Hiawatha's population drops so much that its schools are forced to merge with those of nearby towns. Gernon and Hargrove worry that the declining quality of public services could bring about such a fate.
"The heart of rural communities are their schools," Hargrove said. "You've grown up in this community, and now they're going to blend with one of their archrivals. When you lose that school, you lose your identity as a community."
"We try to be fiscally responsible and pray that our enrollment doesn't go down to the point where we're forced to do that," she added. "But we've just continued to cut and cut and cut."
The Brownback campaign insists that school funding has increased by nearly $400 million statewide and cites reports showing increases in per-pupil funding levels. But the governor's detractors, like Mayor Gernon, contend that such numbers are bookkeeping gimmicks that belie the dire situation on the ground. Specifically, the critics argue that the Brownback administration's reclassification of KPERS, the state's teacher pension fund, as part of the general education budget has misleadingly inflated school funding levels.
Kansas' financial woes have left many locals seething. "Look at the Koch brothers," said Gernon. "How much money do you think Brownback has put in their pockets by cutting the personal income tax? Who have they employed?"
Gernon sees the eroding schools as contrary to Kansas' identity. "There's this perception at some levels of the state government that people in public education are just wasting money," he said. "It's amazing how our schools have survived." The Kansas constitution requires the state to provide its children with a solid education.
"We've never had a legislature that was so ..." Hargrove said before trailing off, noting that her role as a nonpartisan administrator forbade her from engaging in political activity.
Gernon finished Hargrove's sentence for her. "... hostile," he said.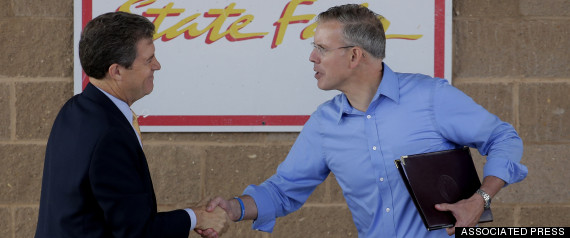 Republican Gov. Sam Brownback (left) and his Democratic challenger, Paul Davis, shake hands after a debate at the Kansas State Fair on Sept. 6, 2014, in Hutchinson. (AP Photo/Charlie Riedel)
Former state Senate President Steve Morris (R) is the type of politician who typically wins elections in rural southwestern Kansas. He's an Air Force veteran who served two tours in Vietnam and describes his record as staunchly pro-military and pro-life. He's pragmatic, sometimes overly so. When Morris' interview with HuffPost had to be rescheduled to breakfast, the matter of finding a restaurant arose. He demurred, saying the previously agreed-upon meeting place would do just fine. The thing was, it was a Red Lobster.
If he believes something works, Morris is loath to change it, and it's that attitude that got him into trouble. He was one of the center-right legislators in 2011 who allied themselves with Democrats to curtail Brownback's overhaul of Kansas government. The consequence for him: a barrage of attack ads from groups like Americans for Prosperity, Club for Growth and Kansas Right to Life, all with Brownback's blessing. One ad featured a photoshopped image of Morris in a tuxedo holding a stack of burning dollar bills.
Despite his conservative bona fides and no-frills style, Morris lost his 2012 primary to state Rep. Larry Powell.
Now, two years later, Morris is actively working to defeat not only Brownback but other tea party-aligned lawmakers in his state. He has endorsed Manhattan, Kansas, Mayor Jim Sherow, the Democratic candidate challenging Rep. Tim Huelskamp in Kansas' 1st Congressional District, which includes Morris' hometown of Hugoton (and more than half of Kansas). He might be a low-key guy, but the language Morris uses when discussing Brownback and his allies is anything but.
"If anyone is not 100 percent pure on every issue, they're going to get you," Morris said, nestled in a booth at a Topeka-area Denny's (the Red Lobster was closed for breakfast). "When I was elected in 1992, I considered myself a conservative Republican. The labels have changed -- I don't feel like I've changed."
"There are three hallmarks of this administration: incompetence, intolerance and intimidation," he said, decrying its allegedly fast and loose use of statistics and hostility to ideological differences.
"Sam's probably the most partisan person I've ever been around," Morris added, recalling a conversation he had with the governor about education funding and his feeling that his concerns were only being paid lip service. "The next week we'd have the same conversation as if we'd never had it before. The week after that, the same conversation. It was disconcerting."
Kansas politics was once "a bastion of reasonableness," Morris said. He traces his own political awakening to 1968 when, as a student at Kansas State University, he met GOP presidential candidate Nelson Rockefeller, one of the patron saints of 20th century Republican moderates.
After the check was paid at Denny's and business cards exchanged, it was noted that Morris currently resides on Eisenhower Street, named for the state's most famous moderate lawmaker. Asked if it would be okay to print the name of his street, Morris smiled.
"I'm proud to live on Eisenhower!" he said.
Before You Go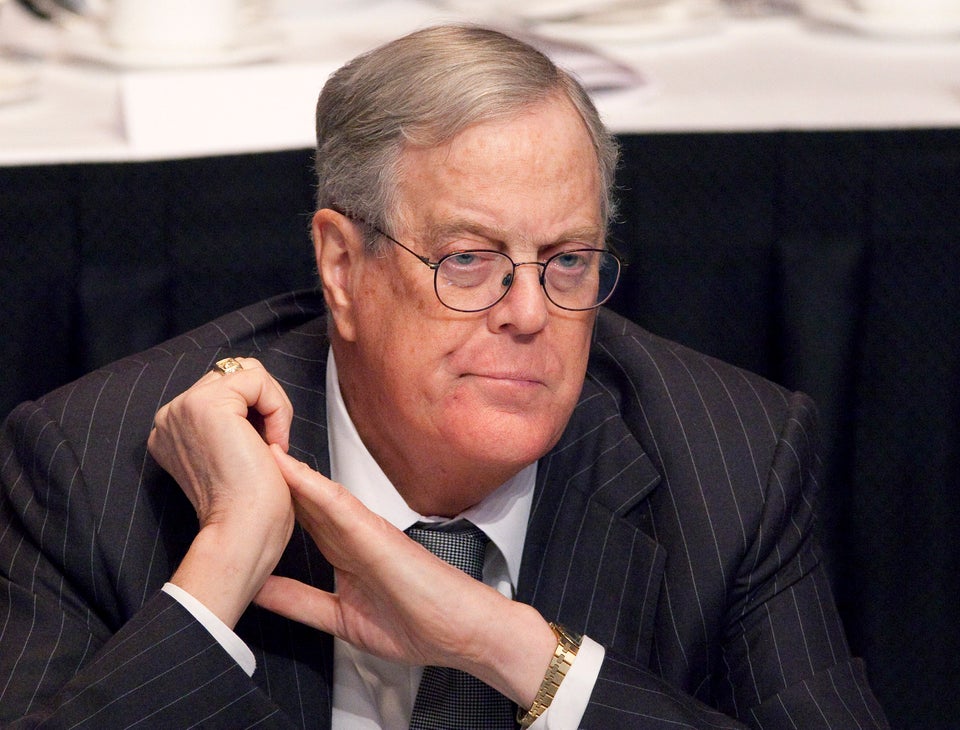 David Koch
Popular in the Community