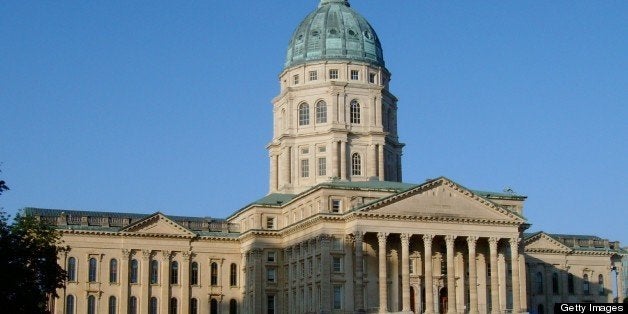 Kansas lawmakers continued a legislative session dominated by pro-gun measures with a bill that would prohibit using state funds to lobby for gun-control measures.
The Republican-controlled state House voted, 83-28, on Tuesday to pass legislation that would prohibit using money appropriated by the Legislature for a variety of lobbying and public relations campaigns related to gun control. The state Senate voted 31-6 on Friday to pass the bill.
"The state government has no business appropriating any funds to lobby for or against gun control," state Sen. Greg Smith (R-Overland Park) told The Huffington Post. "The government has no right."
The legislation passed by the House Tuesday says state funds could not be used for "publicity or propaganda," or any type of electronic, written or video presentation used to lobby on gun control. The ban would apply to the state government and local governments on the subject, and would cover pending legislation or executive action.
Smith, who helped write the measure, said that the bill is needed in order to prevent the state from funding groups that lobby on gun control. He said that he has seen tax money used by associations representing school boards or county prosecutors for lobbying.
Opponents of the measure, though, see it as hurting local governments' ability to express their views on a variety of legislation pending in either Topeka or Washington.
"I find it ironic that people who are conservative and want local control, now want to suppress thoughts and ideas," state Sen. Tom Holland (D-Baldwin City) said.
Holland expressed concern with the method used to push through the legislation. The original bill, which would have prohibited using state funds for any lobbying, had been pending in committees, and lawmakers wanted to advance the portion that applied to guns. A conference committee of Senate and House members, including Smith, took a bill relating to ballot-language that had passed both chambers, deleted its text and inserted the gun bill in its place.
The procedure is known as a "gut-and-go." Holland noted the strategy is often used for controversial measures. Kansas lawmakers cannot amend bills once they've passed through a conference committee.
Smith defended the "gut-and-go" saying that it was a way to advance the gun lobbying ban, which he said protected the Second Amendment.
State Rep. Brett Hildabrand (R-Shawnee) supports the legislation and said the bill will help the Bill of Rights. He said several local governments in the past have lobbied the Legislature to restrict guns.
"There are things the government should not do and that includes using tax money to lobby against the Bill of Rights," Hildabrand said. "It is no different than not using tax money to lobby for warrantless searches."
Smith said he expects Gov. Sam Brownback (R), a Second Amendment supporter, to sign the legislation once it passes the House. Brownback's spokeswoman told The Wichita Eagle last week that he would need to review the legislation first.
REAL LIFE. REAL NEWS. REAL VOICES.
Help us tell more of the stories that matter from voices that too often remain unheard.
BEFORE YOU GO
PHOTO GALLERY
Best Of Caption Contests