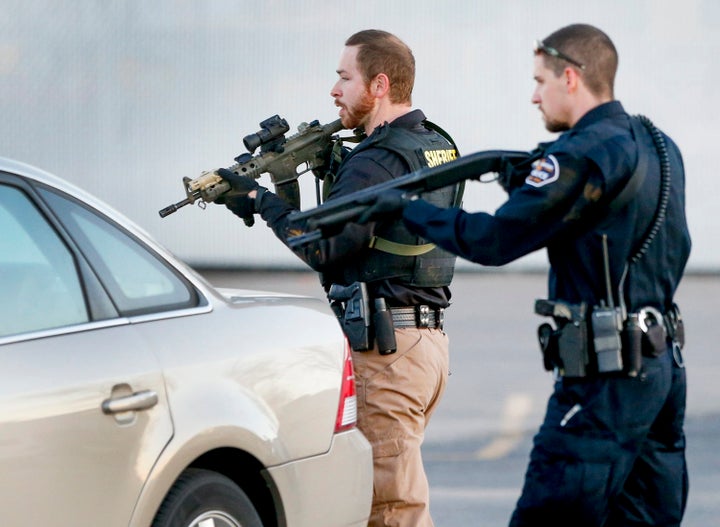 WASHINGTON -- Hours before Republican presidential contenders took the debate stage in Houston on Thursday, a gunman killed three people and injured 14 in Kansas. But neither the shooting nor the broader issue of gun violence in America came up in the debate.
Debate moderators didn't ask the five candidates about the rampage, which police said was committed by a man who fired from his car before continuing the violence inside a factory, where police killed him in a gunfight. Nor did they ask candidates about gun control.
The silence suggests mass shootings have become so common that ideas on how to curb them no longer merit attention during a presidential debate.
The Kansas shootings happened less than a week after an Uber driver was charged with shooting six people to death and attempting to kill two others in Kalamazoo, Michigan. It was one of dozens of shootings in the U.S. this year resulting in multiple deaths or injuries. Just over a week into the new year, more than 100 people were shot in Chicago alone.
Democratic presidential contenders have been far more vocal about gun violence, repeatedly sparring over the issue. In January, Hillary Clinton accused Sen. Bernie Sanders (I-Vt.) of siding with the gun lobby, which he denied.
Trump, the GOP front-runner, has promised to reverse Obama's executive actions. "All they want to do is blame the guns. And it is not the gun that pulls the trigger," Trump told CBS's John Dickerson on "Face the Nation," last month.
At least one GOP candidate commented on the Kansas shooting Thursday evening.
"Prayers for strength for all the victims & families affected," Ohio Gov. John Kasich wrote on Twitter.
Popular in the Community