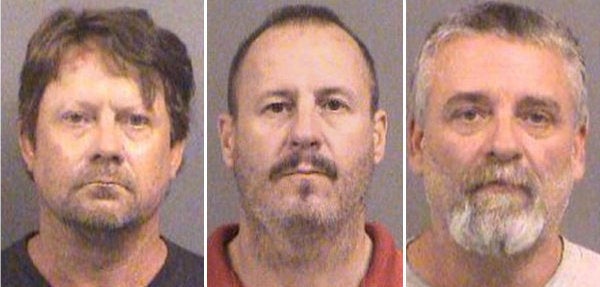 WICHITA, Kansas ― Jury selection begins here Tuesday in the trial of three militia members arrested by the FBI for allegedly plotting a terrorist attack against Muslims in southwest Kansas.
Patrick Stein, Gavin Wright and Curtis Allen were arrested in an FBI sting a few weeks before the 2016 presidential election. Operating under the belief that either Hillary Clinton would be elected or that President Barack Obama would declare martial law if Donald Trump won, they allegedly planned to "wake people up" by bombing a Garden City, Kansas, apartment complex and mosque occupied by "cockroaches" ― their term for Muslim immigrants.
"The only good Muslim is a dead Muslim," Stein allegedly said, adding that he would "enjoy" shooting Muslims and that he wouldn't even spare the life of a baby. "There's no leaving anyone behind, even if it's a one-year-old," he allegedly said. "I guarantee, if I go on a mission, those little fuckers are going bye-bye."
The trial of the defendants, who are facing both a terrorism-related charge as well as a civil rights charge, will be a test of the federal government's ability to prosecute non-Muslim extremists.
The trial, anticipated to last six weeks, comes amid heightened concerns about domestic terrorism and an increase in murders committed by white supremacists.
A series of bombings targeting Austin, Texas, this month have renewed calls for the federal government to treat apparent terrorist attacks seriously even if there's no readily apparent link to radical Islamic terrorism.
Stein, Wright and Allen appeared in a small federal courthouse in Wichita on Monday wearing either orange or blue jail jumpsuits and handcuffed at their feet, where a pretrial hearing and what U.S. District Judge Eric F. Melgren described as a "virtual tsunami of motions" gave a preview of their expected defense.
There's a dispute about when precisely the trio's plot began, and what exactly the conspiracy entailed. Melody J. Brannon, a federal public defender representing Allen, argued that the plot changed so much that there was no actual conspiracy the government could point to as a final plan.
"We don't have any specific plan that the government can point to that says this is the conspiracy and this is what we are planning to do," Brannon said.
Anthony Mattivi, one of the lead federal prosecutors on the case, told the court Monday that a "pivotal moment" in the plot came two days after the Pulse nightclub shooting in Orlando. Then-candidate Trump tweeted at the time that he appreciated "the congrats for being right on radical Islamic terrorism" and called for "toughness & vigilance."
Judge Melgren, the George W. Bush appointee overseeing the trial, said that all of the actions the trio contemplated were violent in nature. After all, he said, it wasn't as though they were conspiring to petition their lawmakers for legislative changes. Rather, they appeared to be in agreement to commit an act of violence against Muslims.
"The defendants said lots of things. They were extraordinary loquacious," Melgren said. "Obviously to their regret at this point."
Defense lawyers plan to argue that the violent rhetoric their clients used amounted to ugly, but protected, speech. There was a lot of discussion over their use of Facebook, where the defendants regularly posted anti-Muslim and pro-Trump memes and fake news stories.
As a result, Facebook could play a major role in the trial, and defense attorneys had sought to have all the Facebook evidence suppressed, arguing that a Facebook warrant that resulted in at least 28,000 pages of material was flawed as well as overbroad and "highly invasive."
There was also a dispute about what exactly Facebook likes indicate. The federal government argued that a Facebook like was an "affirmative gesture" indicating support. Judge Melgren said a Facebook like amounted to a "very mild statement" and told the government they would need to seek permission each time they wanted to introduce a Facebook like as evidence.
Defense attorneys tried to argue that the government should not be allowed to refer to their clients as terrorists, domestic terrorists or even extremists. Judge Melgren wasn't buying that argument.
"Terrorism is obviously stated in the indictment, it's part of the charge," Melgren said.
But Melgren isn't allowing the government to use video from a bomb test that would've illustrated what sort of damage the bombs could have done. "The jury probably didn't need the help" to know what an explosion looks like, Melgren said. The judge also said he wouldn't allow testimony from any of the residents who would have been victimized by the plot, saying that they only knew about the plot because the government told them about it.
As jury selection begins Tuesday, a major part of the defense strategy will also be packing the jury with as many Trump supporters as possible. Federal prosecutors have already expressed concern that the defense will attempt to discriminate against non-white potential jurors.
Next month, as the trial continues, the courthouse will host a naturalization ceremony for new U.S. citizens. Downstairs in the courthouse, an extensive display tells the history of immigration in Kansas.
HuffPost will be covering jury selection from Wichita this week.
Ryan Reilly is HuffPost's senior justice reporter, covering the Justice Department, federal law enforcement, criminal justice and legal affairs. Have a tip? Reach him at ryan.reilly@huffpost.com or on Signal at 202-527-9261.
Popular in the Community