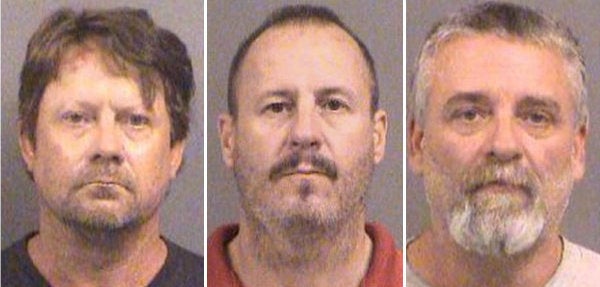 WASHINGTON ― A federal judge in Kansas on Friday denied bond for one of three men arrested last year as part of an alleged terrorist plot to use a weapon of mass destruction to kill Muslim immigrants, finding that Gavin Wright was "a strong threat to society" and a "danger to the community" who should be detained until his trial.
Wright, along with Patrick Stein and Curtis Allen, was arrested last October as part of a FBI sting operation. The federal government alleged that the trio was plotting an attack for Nov. 9, one day after the 2016 presidential election, that would "wake people up." Their militia group, referred to as "the Crusaders," was described as an organization that espoused "sovereign citizen, anti-government, anti-Muslim, and anti-immigrant extremist beliefs." Many of them traded in anti-Muslim rhetoric online, and some were vocally supportive of then-presidential candidate Donald Trump.
U.S. District Judge Eric Melgren ruled on Friday that Wright should be held ahead of his trial, saying he faced serious charges and a potential life sentence and was a flight risk.
"The charges against Wright include serious acts of violence and mass murder," Melgren said. "The evidence suggests that Wright was deeply involved in the planning of these atrocities, and intended to carry out the plan to fruition. In the eyes of the Court, there are very few charges more serious than a charge of planning to commit an act of terrorism, because that conduct undermines the very fabric of our society."
Melgren said that the evidence against Wright is "relatively strong" and made potential convictions and imprisonment a "significant" possibility.
"Wright has been charged with conspiring to use a weapon of mass destruction against people and property within the United States," Melgren wrote. "Specifically, the Government alleges that Wright and his co-defendants planned to use an improvised explosive device to destroy an apartment complex and mosque in Garden City, Kansas. The complex contains more than 100 units and is home to many Muslims of the Somali refugee community. The group, known as 'the Crusaders,' intended to accomplish this goal by obtaining four vehicles, filling them with explosives (made from aluminum powder and ammonium nitrate, amongst other components), and parking them at the four corners of the apartment complex to create a large explosion. Simply put, these allegations against Wright indicate a strong threat to society."
An attorney for Wright had argued that he only believed he was involved in "mere puffery and the venting of frustration" rather than an actual plot to kill Muslim immigrants. The lawyer argued that Wright was a "good, law-abiding man, who may be a not-so-good judge of character" who had exercised his First Amendment rights in way that was "distasteful but understandable given his loneliness."
The attorney said Wright was part of a group that "feared that then-President Obama was corrupt and in league with the Muslim Brotherhood" and that the "United Nations, China and Cuba were formulating an invasion of the United States that would have to be repelled by American partisans, such as themselves."
The group, the attorney wrote, "feared that then-President Obama would declare martial law if Donald Trump won the election. They feared massive social unrest would occur regardless of the outcome of the presidential election of 2016."
Ultimately, the judge was swayed by evidence from the government, which included recorded conversations, text messages and information obtained by an undercover FBI employee as well as a confidential FBI source.
Judge Melgren said that Wright had "expressed extreme hatred and threatened violence against Muslims" and "expressed his desire to kill Muslims via a variety of different methods." Wright, he said, "did more than simply vocalize his desire to murder Muslims" by taking an "active role in planning an actual attack on actual people."
A trial in the case is currently scheduled for Feb. 20, 2018.
Read the judge's order below.
Ryan Reilly is HuffPost's senior justice reporter, covering criminal justice, federal law enforcement and legal affairs. Have a tip? Reach him at ryan.reilly@huffingtonpost.com or on Signal at 202-527-9261.
Support HuffPost
The Stakes Have Never Been Higher
Popular in the Community