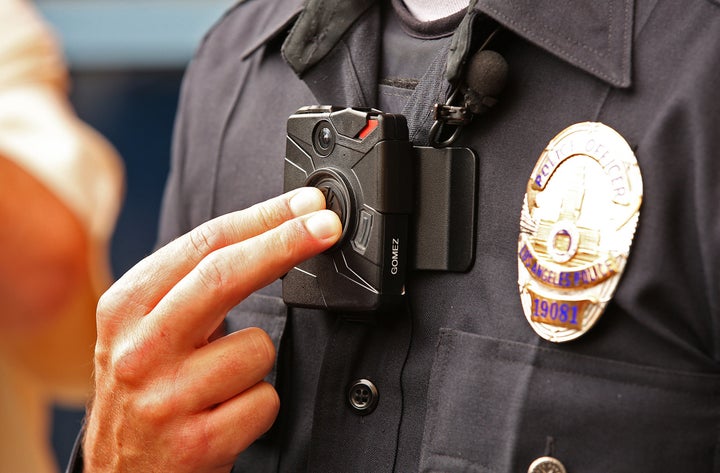 From the public's perspective, passing police body camera laws may seem like a cut-and-dry process: Fund the programs, tell officers they have to wear the equipment, and, in order to ensure transparency and accountability, make the footage obtained by these government employees a matter of public record.
But a Kansas body camera bill went from footage being accessible to blocked from public records requests in an instant, making video of police incidents essentially useless to the people, and, in turn, the press.
Kansas is not the first state to attempt to pass transparent body camera legislation only to later make footage private, but it's quickly becoming an example of how body camera laws can be chewed up and spit out.
Kansas Senate Bill 18 was introduced early last year by state Sen. David Haley (D-Kansas City) in an attempt to make officer interactions more transparent. It would obligate every state, county and municipal law enforcement officer to be equipped with a body camera while on patrol.
But within a month of SB-18's filing, the Republican-controlled Senate filed a substitute bill that turned Haley's on its head. The new bill would classify footage and audio recorded on body cameras as "criminal investigation records" that would be exempt from the state's open records act.
In an instant, body camera footage went from public to private, only available to parties directly involved in the case. The Senate passed the substitute bill, and it goes to the House this week.
Haley and local activists are floored over the substitute, which they say takes a practice in transparency and turns it into a "travesty" that allows publicly funded police departments to decide when footage should be released.
"The original bill, which I was the sole sponsor of, became perverted by the legislative process," Haley told The Huffington Post. "It is an absolute travesty."
The substitute bill also puts the onus back on civilians to record police interactions, and allows departments to release evidence when it supports an officer's case, but keep it sealed when there's wrongdoing on the officer's part, said Djuan Wash, communications director for Sunflower Community Action in Wichita.
"Look, we don't even want unequivocal access to all police videos, we just want a public that has access to subpoena power, especially in cases of officer-involved shootings," Wash said. "Instead, the state of Kansas is looking over a substitute bill that would continue to put a chokehold on communities of color."
"The people who are being shot and killed by officers here are African-American and Latino," he said. "We're asking for a little community control and limited access to that type of footage."
This is how body camera laws are treated. HuffPost's Nick Wing has reported previously that states across America are passing laws that make body camera footage essentially useless by exempting it from public records requests. According to the Reporters Committee for Freedom of the Press, 10 states passed laws last year that will limit access to these videos, and states like South Carolina and Texas have passed laws that make the footage completely exempt from public records requests.
How does that happen? Lawmakers all over the country -- including those on both sides of the bill in Kansas -- have acknowledged that the police, public and politicians all want body cameras. But the extent to which the footage is accessible determines who can use its power both in and out of the courtroom.
Many legislators say it's a matter of privacy, and Kansas state Sen. Greg Smith (R-Overland Park) agrees. The former cop told HuffPost that "there are a lot of things that could come out on a video that could be problematic for people who are subjects of that video."
He cited neighbors who aren't involved in an incident, domestic violence victims and possible evidence as reasons why openly accessible video could become an issue. He worried specifically that the footage might show up on YouTube.
"You can take it too far both ways -- the tough part for us is finding a balance," he said. "We don't want them used for the wrong reasons just like people on the other side of the issue don't want it secret for the wrong reasons."
He also said that Haley's admittedly short bill was a total mess. Initially, the bill demanded that cameras be running almost all the time (an impossibility, Smith said), and gave police departments that may only have one officer a "tremendous expense to deal with."
Haley said he'll be trying to amend the substitute bill, both to work out the kinks of his original and make body camera footage public again.
But does he think he'll get his old bill back?
"There's a high probability it will fail, unfortunately," he said.