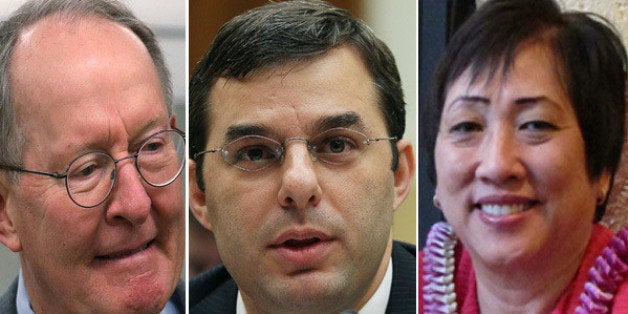 WASHINGTON -- Since Congress has left town for its five-week recess and focus is turning elsewhere, this week's elections across the country will be met with an even higher level of scrutiny.
Six states have primaries over the course of six days: Kansas, Michigan, Missouri and Washington on Tuesday; Tennessee on Thursday; and Hawaii on Saturday.
One of the Democratic Party's few competitive Senate primaries will be decided in Hawaii, while Republican Sens. Pat Roberts (Kan.) and Lamar Alexander (Tenn.) appear to have fended off challenges from more-conservative primary opponents.
Those accustomed to having a Rep. Dingell will probably continue having one -- John Dingell (D-Mich.), who is retiring after 59 years in Congress, will most likely be succeeded by his wife, Debbie. On the Republican side, an anti-abortion rights representative who pressured both his ex-wife and a patient who was his mistress to have abortions will see if voters have forgiven him for his hypocrisy. In another Republican race, a former Santa Claus impersonator and reindeer farmer could be booted out of Congress after just one term.
Here's a look at the key races The Huffington Post is watching:
KANSAS SENATE: In Tuesday's marquee Senate contest, Dr. Milton Wolf, a radiologist and President Barack Obama's second cousin once removed, is trying to dislodge Sen. Pat Roberts (R-Kan.). After it was revealed that Wolf in 2010 posted and mocked his patients' graphic X-ray images of fatal gunshot wounds and other injuries on a now-disabled personal Facebook page, Roberts' campaign capitalized on the controversy by running statewide television spots highlighting reports about the subsequent state medical board investigation into Wolf's conduct. Roberts has faced criticism as well; he was hit with questions about his residency after The New York Times wrote about how he owned a home in Alexandria, Virginia, but not one in Kansas. Though Roberts' approval rating took a hit after that report emerged, he is expected to prevail over Wolf, which would be a disappointment for tea party-affiliated groups like The Madison Project and Senate Conservatives Fund.
KANSAS-4: Rep. Mike Pompeo (R-Kan.) has benefited from seeking re-election where Koch Industries is based, in the backyard of billionaire conservative brothers Charles and David Koch. Former Rep. Todd Tiahrt (R-Kan.), who represented the district from 1995 to 2011, has faced attacks from the Koch-funded Americans for Prosperity (though he once also benefited from Koch largess) and the Club for Growth, which has been sending out emails highlighting Tiahrt's "Wasteful Earmark of the Day." Tiahrt, who has a predominantly conservative voting record, has been hitting Pompeo from the left in the hopes of picking up some momentum.
MICHIGAN-3: Rep. Justin Amash (R-Mich.) appears to have weathered a primary challenge from businessman Brian Ellis. Groups like the U.S., Michigan and Grand Rapids chambers of commerce hoped to knock off one of the Republican establishment's biggest irritants by backing Ellis, while Amash's dependable conservative vote garnered him strong backing from the Club for Growth and Americans for Prosperity. Amash's leadership in attempting to end the National Security Agency's bulk collection of phone records also won him fans across the aisle. Ellis didn't hesitate to turn the primary nasty, running ads calling Amash "Al Qaeda's best friend" and someone who "voted to allow gender-selection abortions." Recent polling shows Amash ahead by a wide margin, so the Chamber of Commerce seems destined to be stymied in this race.
MICHIGAN-11: One of the country's stranger primaries will be settled Tuesday in this suburban Detroit district. Rep. Kerry Bentivolio (R-Mich.) won almost inadvertently in 2012 after former Rep. Thaddeus McCotter (R-Mich.) failed to qualify for the Republican primary ballot and ultimately resigned his seat. Bentivolio, a former reindeer farmer and Santa Claus impersonator, has been polling poorly against attorney David Trott, Michigan's so-called "foreclosure king," who has been endorsed by the U.S. Chamber of Commerce and former Republican presidential nominee Mitt Romney.
TENNESSEE SENATE: In a rare Thursday primary, Sen. Lamar Alexander (R-Tenn.) is expected to survive a challenge from state Rep. Joe Carr (R). Those hoping for an upset argue there are parallels between this contest and the House primary between Rep. Eric Cantor (R-Va.) and professor David Brat: Carr -- like Brat -- has been promoted by conservative radio host Laura Ingraham, and he has run television ads -- as did Brat -- attacking his opponent for supporting immigration reform. However, conservative outside groups haven't spent much on Carr's behalf, and Alexander remains popular in the state.
TENNESSEE-4: Don't count out Rep. Scott DesJarlais (R-Tenn.). The anti-abortion rights physician is known for having encouraged an ex-wife to have two abortions, for pressuring a patient he had an extramarital affair with to undergo the procedure and for being fined by the state's medical authorities for having affairs with patients. Yet the scandal-ridden representative could still eke out a primary victory Thursday against state Sen. Jim Tracy (R). DesJarlais, who has struggled with fundraising and who was recently diagnosed with neck cancer, has said his past is behind him, and the conservative district's voters may agree. Tracy has done all he can to resurrect the abortion scandal by running television ads arguing DesJarlais' conduct has made him an ineffective congressman.
HAWAII SENATE: A deathbed wish has had lasting implications in this Senate contest. Just before he died in 2012, popular former Hawaii Sen. Daniel Inouye (D) requested that Gov. Neil Abercrombie (D) appoint Rep. Colleen Hanabusa (D) to serve out the rest of his Senate term. Abercrombie instead chose his lieutenant governor, Brian Schatz (D), who on Saturday will fight to defend his seat. Schatz has picked up endorsements from Obama, Sen. Elizabeth Warren (D-Mass.) and a host of other progressive groups and unions. Hanabusa, meanwhile, has the backing of EMILY's List, a group that works to elect Democratic women who support abortion rights. Since Hanabusa has trailed Schatz in the majority of recent polls, she worked to tie Schatz to Abercrombie, who may lose his own primary.
Calling all HuffPost superfans!
Sign up for membership to become a founding member and help shape HuffPost's next chapter
BEFORE YOU GO
PHOTO GALLERY
Senate Seats Up For Grabs In 2014