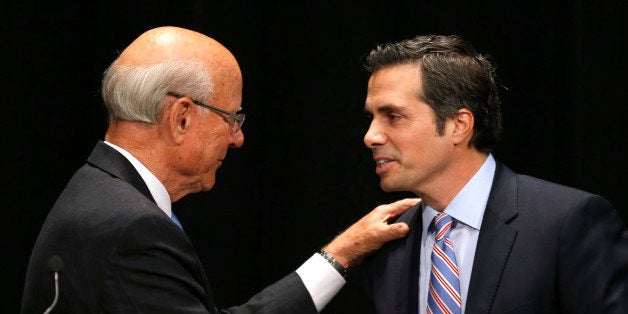 WASHINGTON -- The second debate in the unexpectedly tight Kansas race for U.S. Senate was marked by sharp jabs, bitter disagreements, backhanded compliments and fear, mainly about Ebola.
Sen. Pat Roberts (R-Kansas), the endangered incumbent, was often the aggressor against Greg Orman, the independent businessman challenging him in next month's election. In the night's sharpest exchange, Roberts called it "unconscionable" that Orman would say that the right to have an abortion was settled law -- a fuming look on his face as he stared across the stage.
The bitter tone was perhaps best encapsulated by the closing question, asking each candidate to say something nice about the other. Orman complimented Roberts' service as a Marine. Roberts, in turn, complimented Orman's sartorial choices, the bulge of his wallet, and the skill of his dentist.
"I would say that you're a very well-dressed opponent," said Roberts. "I admire your accumulation of wealth -– I have a little question about how you got there from here -– but I think that's the American dream and I would hope we can make the possible for everybody up and down every small Kansas community. I think yours has been a little bit different. You have a very nice smile."
Perhaps the sharpest policy exchange came near the top. Asked to address the influx of immigrant children crossing the southern border, Roberts turned the topic to terrorism and infectious diseases.
"We have ISIS. We have Ebola. We have to secure the border. And we cannot have amnesty," Roberts said. "We have to secure the border. That is the first thing. And in addition, with Ebola, ISIS, whoever comes across the border, the 167,000 illegals who are convicted felons, that shows you we have to secure the border and we cannot support amnesty."
Morphing ISIS and Ebola into a plea for tougher border security is a page of the campaign playbook being used by several Republicans. But there is no evidence that either ISIS terrorists or Ebola have crossed into the U.S. through Mexico. Neither the moderators nor Orman made a point of rebutting that argument, however.
Orman, for his part, urged the president to send the "best and brightest" in America to help combat the spread of Ebola (a point Roberts had made earlier). But Orman also endorsed a suspension of "air travel with West Africa, for the time being, until the crisis is contained."
Support for such a suspension has grown as fears mount about Ebola spreading within U.S. borders. But there is scant, if any, medical support for a travel ban. In fact, most officials argue it would worsen the situation, as it would become harder to send critical aid and workers to West Africa, and it would make tracking potential disease-carriers far more difficult.
HuffPost Pollster, which averages the publicly available polling in race, shows Roberts barely ahead of Orman.
*************************
What's happening in your district? The Huffington Post wants to know about all the campaign ads, mailers, robocalls, candidate appearances and other interesting campaign news happening by you. Email any tips, videos, audio files or photos to openreporting@huffingtonpost.com.
Before You Go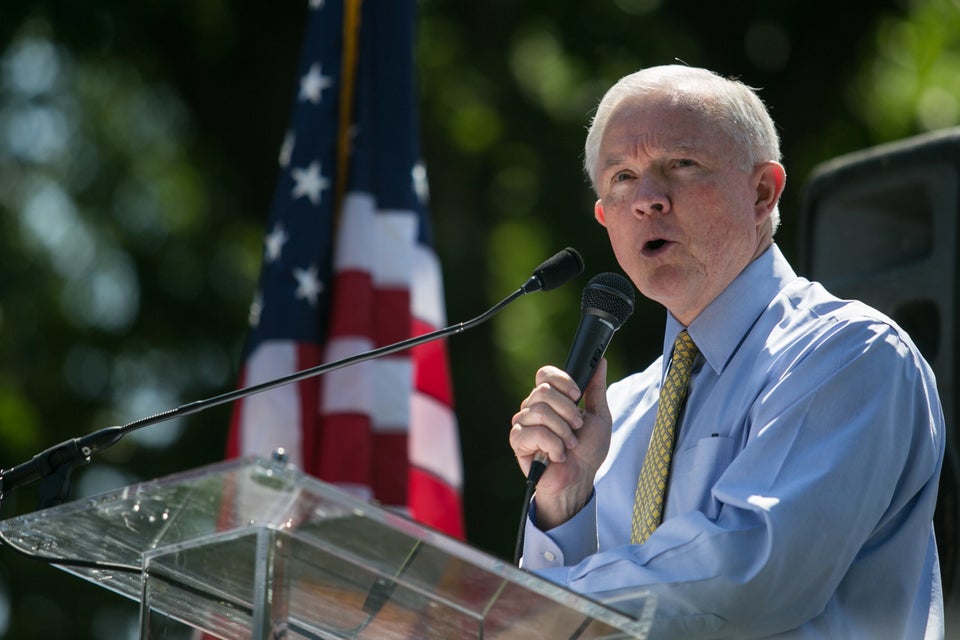 Senate Seats Up For Grabs In 2014
Popular in the Community