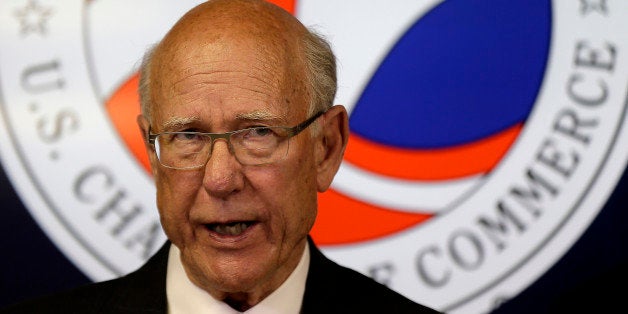 WASHINGTON -- Few Senate races have seen a gush of spending like the competition in Kansas between Sen. Pat Roberts (R) and independent challenger Greg Orman. That may be because, until lately, it had been unthinkable that a Republican incumbent could lose in the solidly red state.
Spending by super PACs and dark money nonprofits has exploded by at least 560 percent since then, fueling what will end up being the most expensive Senate race in Kansas history.
Overall, independent groups have pumped $10.5 million into the Senate contest, according to Federal Election Commission records, with more than $8.8 million coming in the first three weeks of October. The only Senate race seeing a similar surge in outside spending is the three-way competition in South Dakota.
"The acceleration in spending is remarkable," said Mark Johnson, a Kansas City-based lawyer at the law firm Dentons and a lecturer on campaign finance and elections at the University of Kansas.
The late flood of spending for Roberts has largely come from entrenched business interests in the state, led by the billionaires Charles and David Koch, and entrenched business interests in Washington, including the National Rifle Association and a billionaire-backed super PAC.
The biggest spender in the race is Freedom Partners Action Fund, a super PAC founded by the Koch brothers, which has paid out nearly $2 million attacking Orman. Koch Industries, the private company owned by the brothers, is based in Wichita, Kansas, and has long backed Roberts. Its employees and political action committee are the leading funders of the senator's political career.
The latest independent group entering the Kansas Senate race is a nonprofit formed in July. The Alliance for a Free Society Inc., a 501(c)(4) nonprofit registered in Delaware, reported more than $380,000 in expenses opposing Orman on Thursday. The organization, which also funds radio ads against Kansas Democratic gubernatorial candidate Paul Davis, has no website and a faint paper trail.
"I'm not really sure what that one is," said Johnson, who closely tracks the political campaigns and outside groups in Kansas.
The Alliance for a Free Society appears tied to the Koch political empire. According to documents filed with the FEC and local television stations, the group's chairman is Michael K. Morgan, a former Koch Industries lobbyist and board member of the American Legislative Exchange Council.
Koch Industries communications director Missy Cohlmia told The Huffington Post in an email, "Mike Morgan worked at Koch for a number of years; he left in 2006. Since then, he has worked as a consultant to Koch."
Roberts also has received the backing of corporate lobbying groups, including the U.S. Chamber of Commerce, National Association of Realtors, American Hospital Association and National Federation of Independent Business. All of these groups are lobbying powerhouses in Washington. They have combined to spend $1.6 million so far in October to boost Roberts.
The billionaire-backed Ending Spending Action Fund has put $1.1 million into the race to help Roberts. This super PAC, founded by billionaire TD Ameritrade founder Joe Ricketts, is largely funded by Forbes 400 members, including Ricketts, hedge fund executives Paul Singer and Ken Griffin, World Wrestling Entertainment co-founder Linda McMahon, and coal titan Joe Craft.
Orman, meanwhile, is finding support from campaign finance reformers.
Mark McKinnon, a longtime consultant for Republican politicians and a co-founder of Mayday PAC, told The Huffington Post that Mayday supports Orman because of his support of campaign finance reforms.
"As expected, all the traditional special influence interests are now swamping Kansas with late money to try and save Pat Roberts," McKinnon said in an email. "The only way Orman will survive the onslaught is with the help of Mayday and the few others who have stepped up with rocks in our slingshots to take on this Goliath of the status quo."
Mayday PAC is funded by a small collection of big-dollar donors, mostly Silicon Valley titans like LinkedIn's Reid Hoffman, Facebook billionaire Sean Parker and venture capitalist Peter Thiel, and tens of thousands of smaller donations.
Orman also is backed by millionaire investor Peter Ackerman, who has teamed up with tech industry entrepreneur Thomas Layton to fund the Committee to Elect an Independent Senate.
Ackerman, who made his millions trading junk bonds with Michael Milken in the 1980s, is best known in political circles for funding the online presidential primary site, Americans Elect. The effort aimed to let the public select an independent ticket for the presidency, but was seen as a platform for a pro-business moderate. The effort ultimately failed to find a candidate.
Felicia Knight, spokeswoman for the committee, said in an email that those involved in creating the pro-Orman group met the candidate through Americans Elect. Layton is a friend of Orman's and serves as the committee's treasurer. "We support systemic political reforms aimed at leveling the playing field for independent candidates," she said.
"Our Committee is working to make sure there is a level playing field for the independent candidate," Knight added.
Another pro-Orman super PAC called Kansans Support Problem Solvers PAC received $500,000 from John Arnold, the Texas-based billionaire energy investor and supporter of centrist political candidates.
Arnold, a self-described moderate Democrat, is a major funder of public school privatization, including charter schools and attacks on teachers unions. He has dedicated large sums to advocating cutting public pensions. (Arnold and his wife Laura stepped in to fund the Head Start program during the 2013 government shutdown.)
This outside spending onslaught relieves the campaigns of spending their own money on television. But Johnson argued there are downsides for both campaigns.
"I'm not sure the Orman campaign is happy with all the outside spending," Johnson said, noting that the divergent interests may distract from the candidates' message of party independence. Of the Roberts campaign, Johnson said, "I think they believe that if there were no campaign, they'd win, and so the quieter things are, the better they'd be."
As for the people of Kansas inundated with election ads, Johnson said the novelty may outweigh the annoyance. After all, there hasn't been a competitive Senate race in the state in at least 40 years.
"I don't think they're sick of seeing these ads on TV because they've never been exposed to it," Johnson said. "We're not used to seeing this."
Calling all HuffPost superfans!
Sign up for membership to become a founding member and help shape HuffPost's next chapter
BEFORE YOU GO
PHOTO GALLERY
Senate Seats Up For Grabs In 2014